Diseño tecno-pedagógico
wps.prenhall.com/chet_smaldino_instruct_8/
•García Aretio, L. (2006). La educación a distancia: De la teoría a la práctica.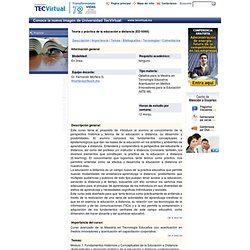 Teoría y práctica de la educación a distancia (ED-5060)
Michael Simonson Ph.D
María Gregoria Benítez Lima Profesor Investigador de la Facultad de Contaduría y Administración Universidad Autónoma de San Luis Potosí (México) gregoriabenitez@uaslp.mx Resumen
EL MODELO DE DISEÑO INSTRUCCIONAL ASSURE  APLICADO A LA EDUCACIÓN A DISTANCIA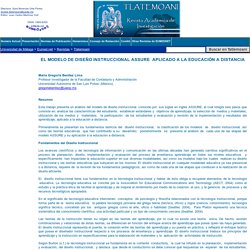 Apertura - Revista de Innovación Educativa
PLN para docentes
¿En qué consiste este TAAC?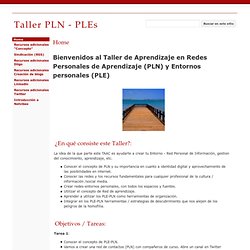 All sizes | Smile
E-learning
Electrical Engineering and Computer Science | 6.831 User Interface Design and Implementation, Fall 2004 | Projects
Dossier_rev (1).docx - Google Docs
This groundbreaking book offers a down-to-earth resource for the practical application of blended learning in higher education as well as a comprehensive examination of the topic. Well-grounded in research, Blended Learning in Higher Education clearly demonstrates how the blended learning approach embraces the traditional values of face-to-face teaching and integrates the best practices of online learning.
Blended Learning in Higher Education ... - D. Randy Garrison, Norman D. Vaughan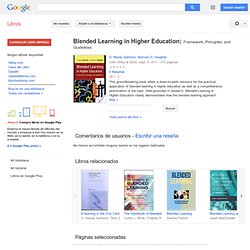 The world's largest professional association dedicated to the training and development field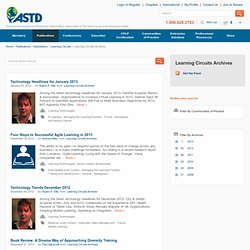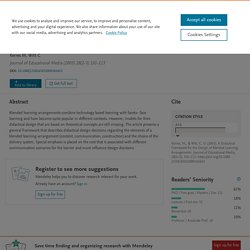 Journal of Educational Media, Vol. 28, Nos. 23, October 2003 A Didactical Framework for the Design of Blended Learning Arrangements MICHAEL KERRES & CLAUDIA DE WITT University Duisburg-Essen, Germany ABSTRACT Blended learning arrangements combine technology based learning with face- to-face learning and have become quite popular in different contexts.
A Didactical Framework for the Design of Blended Learning Arrangements
GRUPO1_portfolio digital_act2_Diseño programas y cursos_sem1_11 - Google Docs
www.sav.us.es/pixelbit/pixelbit/articulos/n23/PIXEL_BIT_23.pdf
Chapter 7
Chapter 7 The Development of Online Courses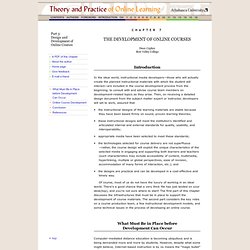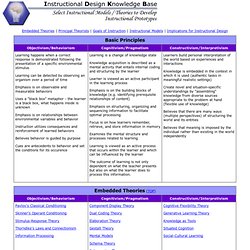 Learning happens when a correct response is demonstrated following the presentation of a specific environmental stimulus Learning can be detected by observing an organism over a period of time
IDKB - Models/Theories
Theory of Technology
Studies of human artifacts as cause and consequence of socio-cultural development. Resources Readings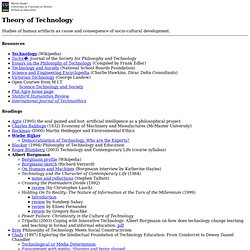 Instructional Design Models Models, like myths and metaphors, help us to make sense of our world.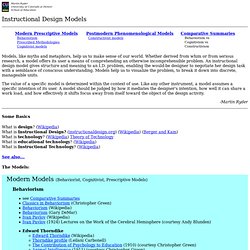 Chapter 1 Foundations of Educational Theory for Online Learning Mohamed Ally Athabasca University
Chapter 1
www.um.es/ead/red/16/laaser.pdf
RED num. 16 - Septiembre 2006
Dirección: Manuel Esteban Albert.- Director científico Miguel Zapata Ros.- Director de edición
Developing A Blended Learning Strategy: Instructional Media & Pedag...
Drupal + Moodle: Instructional Design for Blended Learning Communities | Western Mass Drupal Camp
sites/default/files/slides/Drupal and Moodle.pdf
Teach Elements: Project-Based Approaches
tyce.ilce.edu.mx/tyce/41/cedal.pdf
redalyc.uaemex.mx/pdf/688/68800206.pdf
Educación Superior y Continua en Línea - Libros De Marta Mena
La Educacion a Distancia en America Latina | Libros
www.isea.edu.gt/addie/chamilo/courses/DESARROLLODECURSOSVI/document/addie.pdf
www.nmc.org/pdf/Elusive_Vision
www.educared.org/global/congresoiii/doc/EducacionEnValores.Vol.II.pdf
www.soarem.org.ar/Documentos/41 Engler.pdf
www.utpl.edu.ec/ried/images/pdfs/volumen11/bartolome.pdf
ADDIE Instructional Design Model | Presented by Intulogy
A Structured Training Methodology
Blended Learning Design.pdf (application/pdf Object)
Repurposing with a purpose: A story with a happy ending | Greaves | Journal of Interactive Media in Education
AprendizajeMixto - 1.0 Principal
Grupos actividad 2 - Diseño tecno-pedagógico - Google Docs
actividades - La vida en la Edad Media: Los Monasterios
Este paquete de actividades se ha elaborado como material complementario a la propuesta de trabajo del SEDEC (Servicio de Enseñanza del Catalán) "Monestirs de Catalunya" . La aplicación se organiza en cinco bloques: La vida en la edad media La vida en los monasterios El gótico y el románico Los cistercienses y los benedictinos Un vistazo global Se trabajan cuatro tipos distintos de ejercicios (asociación, texto, puzzles y sopas de letras). Se da mas importancia a los dos primeros tipos y se intercalan ejercicios de puzzles y sopas de letras como herramienta lúdica entre trabajos de relación de contenidos y de respuesta escrita.
Media Smart - Resources
Taxonomía de Bloom para la Era Digital