Terminal
David Sokol -- Interior Design, 9/1/2009 12:00:00 AM
The Party's Over: P.S.1 and MOS Architects - 2009-09-01 00:00:00 EDT The new municipality building of Netanya, located in the old part of the city introduces a unique public park for the city – a green heart – that like a ribbon gradually transforms from a horizontal landscape to a vertical climatic structure.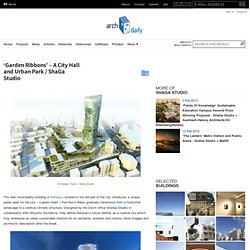 'Garden Ribbons' – A City Hall and Urban Park / ShaGa Studio
Hoto Fudo / Takeshi Hosaka Architects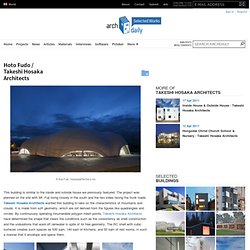 This building is similar to the inside and outside house we previously featured. The project was planned on the site with Mt. Fuji rising closely in the south and the two sides facing the trunk roads.
This month, UNStudio' s Ponte Parodi, a waterfront design for Genoa , Italy , will be presented at the MAPIC in Cannes as one of the most iconic waterfront developments currently being realized. The harbor project is part of a larger vision to revitalize the entire waterfront area, and merge the local urban and economic fabric to create a point of interest for Genoa 's varied waterfront users.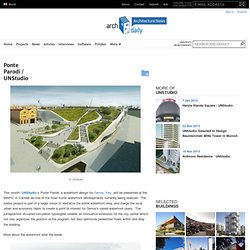 Ponte Parodi / UNStudio
Oslo Central Station / Space Group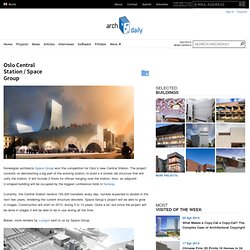 Norwegian architects Space Group won the competition for Oslo´s new Central Station.
We just got the news that MOS Architects won the competition to build a temporary installation at MoMA´s P.S.1 during this summer. For this competition the P.S.1 invites each year a group of emerging architects to experiment with new shapes and materials, as Work AC did last year with their PF1 project . MOS project is entitled Afterparty , a design that Micheal Meredith and Hilary Sample (MOS partners) say is meant to honor and reflect current economic realities, by using basic materials.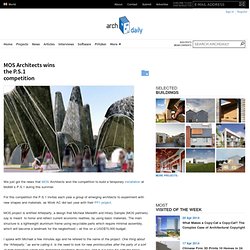 MOS Architects wins the P.S.1 competition
Eco-Sustainable Housing – Parametric Design
Special Mention - 2007 Housing Competition Project by: Federico Rossi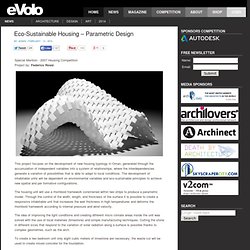 Lambda Table by Gianluigi Landoni for Sovet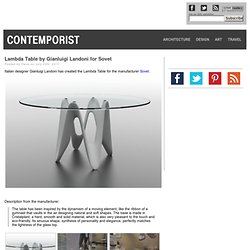 Italian designer Gianluigi Landoni has created the Lambda Table for the manufacturer Sovet .
New terminal for Stockholm / C. F. Møller Architects
C. F.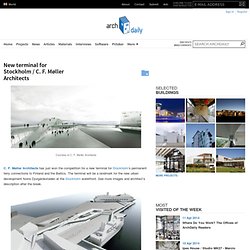 Yeoju Golf Club, 2008
Digging on Shigeru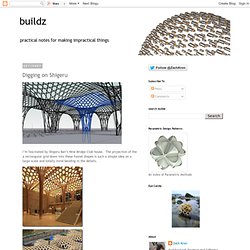 I'm fascinated by Shigeru Ban's Nine Bridge Club house. The projection of the a rectangular grid down into these funnel shapes is such a simple idea on a large scale and totally mind bending in the details.
Voussoir Cloud
This project called Voussoir Cloud is a site specific installation created (2008) by IwamotoScott Architecture and Buro Happold for the Southern California Institute of Architecture gallery, Los Angeles. Voussoir Cloud explores the structural paradigm of pure compression coupled with an ultra-light material system. The design fills the gallery with a system of vaults to be experienced both from within and from above.
Building in South Africa - james
web.mit.edu/masonry/papers/Mapungubwe_Holcim.pdf
Equilibrium y'all !!
web.mit.edu/masonry/papers/Block_PhD_2009.pdf
michigan taubmancollege
LUMANOTUS | Double Torus Geometry November 20th, 2012 Below is a sequence of slides showing how we constructed the double torus geometry in the LUMANOTUS project.
area
Kaohsiung Port and Cruise Service Terminal Competition proposal / HMC Architects
Los Angeles-based HMC Architects shared with us their proposal for the Kaohsiung Port and Cruise Service Terminal Competition in Taiwan . They were selected as one of the five finalists.
Ferry Terminal / F451 Arquitectura
Asymptote Architecture and Artech Architects were awarded a close second place finish for the Kaohsiung Marine Gateway project. The project proposes a 200m long structure situated between two 14 story towers located at the cities newly developed harbor edge.
Kaohsiung Port Terminal Competition Proposal / Asymptote Architecture and Artech Architects
JET Architecture in joint venture with CXT Architects and Archasia Design Group earned an Honorable Mention for the Kaohsiung Port and Cruise Service Center International Competition in September 2010.
Kaohsiung Port and Cruise Service Center Proposal / JET Architecture, CXT Architects & Archasia Design Group
Cruise Ship Terminal in Bilbao / [baragaño]
Ferry Terminal by C. F. Møller
Kaohsiung Port Terminal by Reiser + Umemoto