Diorami
Miniature Projects - Make Miniatures for Dollhouses, Scale Model and Miniature Displays. Learn how to make miniatures using these free photo illustrated instructions.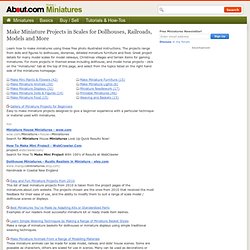 The projects range from dolls and figures to dollhouses, dioramas, detailed miniature furniture and food. Great project details for many model scales for model railways, Christmas villages and terrain items for gaming miniatures. For more projects in themed areas including dollhouse, and model horse projects - click on the "miniatures" tab at the top of this page, and select from the topics listed on the right hand side of the miniatures homepage.
Gallery of Miniature Projects for BeginnersEasy to make miniature projects designed to give a beginner experience with a particular technique or material used with miniatures. Easy and Fun Miniature Projects from 2010This list of best miniature projects from 2010 is taken from the project pages of the miniatures.about.com website. Plan du site - PERRY'S HEROES. PERRY'S HEROES >> Site Map Information Articles Contact.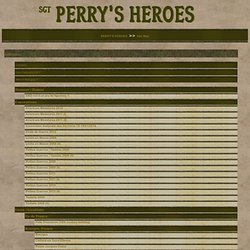 C44-Gebäude. C44-Gebäude. Home | Timewarp Entertainement. The Miniature Way iMag, Archives, May 2011, Issue 16. Techniques articles, tips, and tricks. Cave Entrance. SPANISH TEAM :: View topic - Viajando por la red: todo de escultura y conversiones. Vien chicos, me he dedicado ha hacer una mini escursion por la red, en busca de cosas que puedan interesar al foro.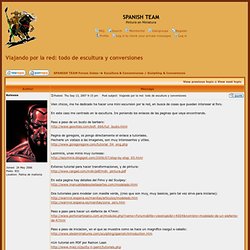 En este caso me centrado en la escultura. Ire poniendo los enlaces de las paginas que vaya encontrando. Paso a paso de un busto de barbaro: Pagina de goregore, os pongo directamente el enlace a tutoriales. Cool sites. Necromundicon. Games Workshop is a registered trademark and Necromunda, Warhammer 40,000 and Space Marine are trademarks of Games Workshop Ltd.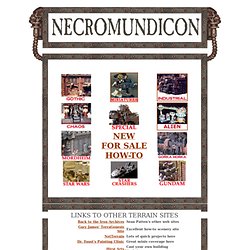 No challenge is intended to the status of these trademarks or other trademarks which may have been used but not listed above. Sean Patten and this site have no connection with Games Workshop Ltd. All images and text content (with the exception of the caution stripes) were created by Sean Patten and are Copyright 1999-2008 Sean Patten. Home Page. Miniatures wargame buildings, fantasy terrain ruins, wargame terrain. Making Miniature Buildings. Here are some pictures of miniature buildings.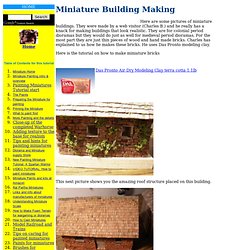 They were made by a web visitor (Charles B.) and he really has a knack for making buildings that look realistic. They are for colonial period dioramas but they would do just as well for medieval period dioramas. For the most part they are just thin pieces of wood and hand made bricks. Charles has explained to us how he makes these bricks. He uses Das Pronto modeling clay.
CoolMiniOrNot - The Internet's largest gallery of Painted Miniatures and Miniature Painting art. Home - Matakishi's Tea House. Sierra Toy Soldier Photo Gallery. Updated February 28, 2009 Welcome to our new photo gallery.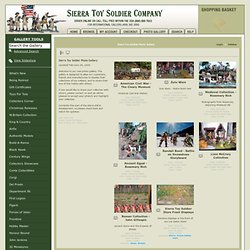 The gallery is designed to allow our customers, friends and manufactures to display their collections of toy soldiers, and to share their love of this hobby with others. If you would like to share your collection with others, please contact us and we will be pleased to accept your photo's and highlight your collection. Soldatini on Line - Il portale italiano dei soldatini - Tecniche. Pics of the full village... By popular request (well, Malamute asked, so... ) here's the Green Man Inn plus the church in situ in the full village board.
Yes, that's one hell of a lot of resin The inn is by Forgeworld, the church by Scenic Effects, the market hall by TM Terrain, the Peel tower by PMC, all the rest by Conflix and Sellthatstuffboy/PMC, including the bridge. River sections and boards by moi. Hirst Arts Fantasy Architecture Inc. Build your own castles easily. Forum Index. Building the medieval city - WarSeer. Hello friends, we are couple of enthusiasts who, back in 1997, started to create scenic pieces for our own gaming table.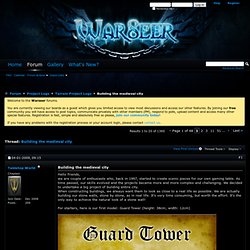 As time passed, our skills evolved and the projects became more and more complex and challenging. We decided to undertake a big project of building entire city. When constructing buildings, we always want them to look as close to a real life as possible. We are actually building our stone walls, stone by stone, as in real life. TABLETOPMODELLE.DE. Medieval Buildings – Part 1 « Do-it-Yourself Terrain. Assembled medieval building Wargaming doesn't generally bode well with full intact buildings.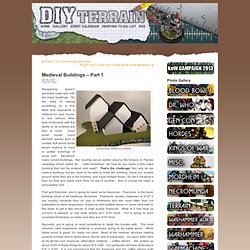 So the odds of seeing something on a 4×4 table that represents a medival inn, pub, house, or any various other type of structure with the ability to be entered are slim to none. Miniature Medieval Terrain. Abaroth's World. Tabletop World. Benvenuto su 000 - Triplozero.com. Manorhouse Workshop versione italiana « Manorhouse Workshop – Mindstalkers Magazine. Gidian Gelände.
---