Digital Native
The technology generation gap - 180 Free Technology Tip #65
Technology Tip Number 65 Feeling Old Yet? Have you ever considered the number of "new" technologies that have become obsolete during your lifetime.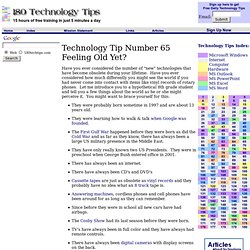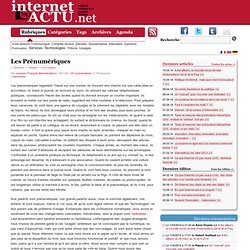 Les Prénumériques
Les prénumériques regardent l'heure sur une montre, ils trouvent leur chemin sur une carte pliée en accordéon, ils lisent le journal, ils écrivent au stylo. Ils utilisent les cabines téléphoniques publiques, connaissent l'heure des levées quand ils doivent envoyer un courrier important. Ils écoutent la météo sur leur poste de radio, regardent les infos routières à la télévision.
New Infographic – I just love these things; don't you? Whether or not you agree with the term "digital native" and what it stands for, this is an interesting infographic - from the Voxy Blog.
Are We Wired for Mobile Learning? - Social Learning Blog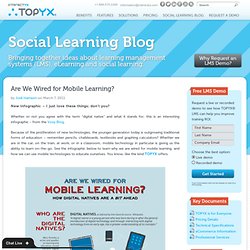 Hybrid Learning: How to Reach Digital Natives by Alan Rudi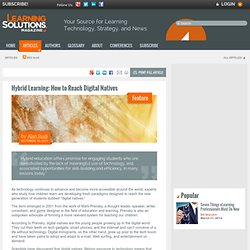 "Hybrid education offers promise for engaging students who are demotivated by the lack of meaningful use of technology, and associated opportunities for skill-building and efficiency, in many lessons today." As technology continues to advance and become more accessible around the world, experts who study how children learn are developing fresh paradigms designed to reach the new generation of students dubbed "digital natives."
Digital Native Myth
"Digital natives" need help understanding search – Boing Boing
A report from Ethnographic Research in Illinois Academic Libraries documents research done on "digital native" college students to evaluate their skill with refining searches, evaluating search results, and navigating thorny questions of authority and trust in online sources.