Digital Media
E-book management
Among certain circles (my family, some of my coworkers, etc.) I'm known for my Googling skills. I can find anything, anywhere, in no time flat. My Google-fu is a helpful skill, but not one that's shrouded in too much mystery — I've just mastered some very helpful search tricks and shortcuts and learned to quickly identify the best info in a list of results. Sadly, though web searches have become and integral part of the academic research landscape, the art of the Google search is an increasingly lost one.
How to Use Google Search More Effectively [INFOGRAPHIC]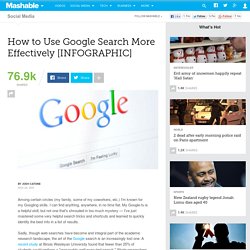 Encyclopedia - Britannica Online Encyclopedia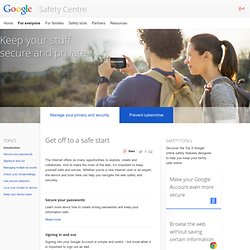 Sign in to your Google Account and navigate to the "Me on the Web" section. Click Manage my Web Alerts, and then click the red button to create an alert. Your name will show up in the text field. Click the text field to view more suggested alerts. Click Add to add an alert.
Stay safe online – Good to Know – Google
LibraryThing | Catalog your books online
JISC Collections - The trusted experts in negotiating, procuring, and licensing digital content for libraries
We are pleased to announce that the renewal agreement for free access to the 19th Century British Library Newspapers through Cengage is now available. Commencing on the 1 January 2011, the agreement has been extended a further three years until 31 July 2013. Part of the JISC Digitisation Programme, this resource provides access to national, regional and local 19th century British newspapers.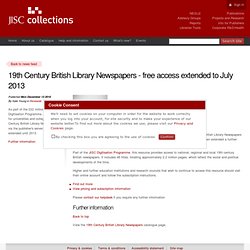 We have updated our Privacy Policy and our Terms and Conditions as we need to ask for your consent to set cookies on your computer. Authorised account users can now log in to their Jisc Collections account using their Institutional Login Jisc Collections news Dove Medical Press Open Access membership available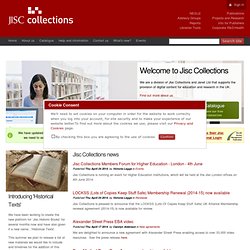 JISC Collections - The trusted experts in negotiating, procuring, and licensing digital content for libraries
JISC MediaHub
little-guide-to-digital-media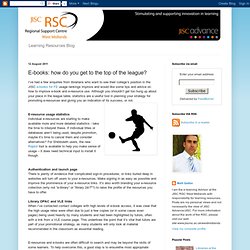 I've had a few enquiries from librarians who want to see their college's position in the JISC e-books for FE usage rankings improve and would like some tips and advice on how to improve e-book and e-resource use. Although you shouldn't get too hung up about your place in the league table, statistics are a useful tool in planning your strategy for promoting e-resources and giving you an indication of its success, or not. E-resource usage statisticsIndividual e-resources are starting to make available more and more detailed statistics - take the time to interpret these. If individual titles or databases aren't being used, despite promotion, maybe it's time to cancel them and consider alternatives?
how do you get to the top of the league?