Microblogging / twitter
The Healthcare Blogger Code of Ethics and HIPAA | The Social Medic. One of the problems that early health care bloggers faced was trying to figure out what was and what was not permissible or ethical in the blogosphere.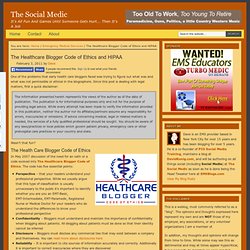 Since this post is dealing with legal matters, first a quick disclaimer: The information presented herein represents the views of the author as of the date of publication. The publication is for informational purposes only and not for the purpose of providing legal advice. While every attempt has been made to verify the information provided in this publication, neither the author nor its affiliates/partners assume any responsibility for errors, inaccuracies or omissions.
If advice concerning medical, legal or related matters is needed, the services of a fully qualified professional should be sought. A guide to using Twitter in university research, teaching, and impact activities. Social media for schools: a guide to Twitter, Facebook and Pinterest | Teacher Network Blog | Guardian Professional. • For advice on e-safety in schools, click here The use of social media in education continues to be something of a hot topic with arguments both for and against.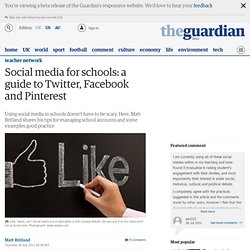 So I carried out a small survey of 27 teaching professionals in order to create a baseline of understanding into the use (or not) of social networking in schools, and also any concerns over some of the e-safety risks. The full survey results can be found here. There are many uses of social media in education - below are just a few of the ways they can be effectively used. The 100 Best Twitter Tools For Teachers (2012 Edition) What should a networked educational leader tweet about? Cc licensed flickr photo shared by Rosaura Ochoa This week, I begin a cohort based in Alberta, Canada, working with educational leaders that are both school and division based.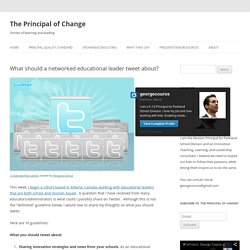 A question that I have received from many educators/administrators is what could I possibly share on Twitter. Although this is not the "definitive" guideline below, I would love to share my thoughts on what you should tweet: Here are 10 guidelines: What you should tweet about: How Twitter in the Classroom is Boosting Student Engagement. Professors who wish to engage students during large lectures face an uphill battle.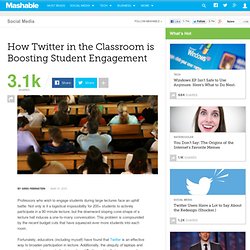 Not only is it a logistical impossibility for 200+ students to actively participate in a 90 minute lecture, but the downward sloping cone-shape of a lecture hall induces a one-to-many conversation. This problem is compounded by the recent budget cuts that have squeezed ever more students into each room. Fortunately, educators (including myself) have found that Twitter is an effective way to broaden participation in lecture. Additionally, the ubiquity of laptops and smartphones have made the integration of Twitter a virtually bureaucracy-free endeavor. This post describes the two main benefits professors find when using Twitter in lecture. 10 New Ways Twitter Is Changing The College Lecture. Continuing our theme of using Twitter in education this week , we bring you a look at the ways Twitter is causing the current lecture model to evolve.
The following analysis is brought to you by our content partners over at Online Universities . Gone is the time when PowerPoint was the most impressive communication technology in the lecture hall. These days, students and professors enjoy the power of Twitter, a tool that allows for digital discussions to supplement and even guide lecture sessions. So how exactly is Twitter changing the college lecture as we know it? Read on to find out about 10 different ways.
---