Digital content curation
30+ Cool Content Curation Tools for Personal & Professional Use. As the web becomes more and more inundated with blogs, videos, tweets, status updates, news, articles, and countless other forms of content, "information overload" is something we all seem to suffer.
It is becoming more difficult to weed through all the "stuff" out there and pluck out the best, most share-worthy tidbits of information, especially if your topic is niche. Let's face it, Google definitely has its shortcomings when it comes to content curation and the more it tries to cater to all audiences, the less useful it becomes. The demand for timely, relevant content that is specific to our unique interests and perspectives has given rise to a new generation of tools that aim to help individuals and companies curate content from the web and deliver it in a meaningful way. These new tools range from simple, application-specific types such as social media aggregators and discovery engines, to more complex, full-blown publishing solutions for organizations. Projeqt: A Creative Storytelling Platform. By Maria Popova The new language of the creative polyglot, or what tweets have to do with portfolios.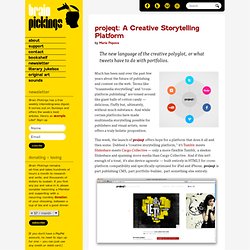 Much has been said over the past few years about the future of publishing and content on the web. Terms like "transmedia storytelling" and "cross-platform publishing" are tossed around like giant balls of cotton candy — delicious, fluffy but, ultimately, without much substance. And while certain platforms have made multimedia storytelling possible for publishers and visual artists, none offers a truly holistic proposition. Developing a Social Media Strategy in 7 Steps. Curate Content Like a Museum to Attract an Audience & Revenue.
Crowdfounding
David Karp, il mio Tumblr "Social network per creare. Parla il 25enne Ceo della piattaforma di microblogging che vanta 16 miliardi di pagine viste al mese, più di Twitter.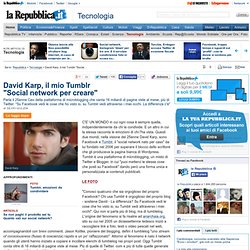 "Su Facebook vedi le cose che ho visto io, su Tumblr vedi attraverso i miei occhi. La differenza c'è" di SILVIO GULIZIA C'E' UN MONDO in cui ogni cosa è sempre quella, indipendentemente da chi la condivide. E un altro in cui la stessa racconta le emozioni di chi l'ha vista.
Storytelling
Digital content curation tools. Facebook e similari. Maps. Blog Tool, Publishing Platform, and CMS. 10 strumenti per il Social Marketing. Nell'era dei social media diventa sempre più importante e necessario allargare più gli orizzonti della Search Engine Optimization al servizio del Social Marketing.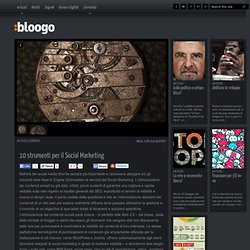 L'ottimizzazione dei contenuti sociali ha già dato, infatti, prove evidenti di garantire una migliore e rapida visibilità sulla rete rispetto ai risultati generati dal SEO, soprattutto in termini di visibilità e ricerca in tempo reale. Il punto nodale della questione è che se l'ottimizzazione standard dei contenuti di un sito web per essere realmente efficace deve passare attraverso la gestione e il controllo di un'oligarchia di specialisti dotati di strumenti e soluzioni specifiche, l'ottimizzazione dei contenuti sociali parte invece – in perfetto stile Web 2.0 – dal basso, ossia dalla miriade di blogger e utenti che usano gli strumenti che vengono dati loro liberamente dalla rete per promuovere e condividere la visibilità dei contenuti di loro interesse.
Content Curation World. Content Curation. Capture, Annotate and Organize Content Into Collages, Books or Flows with Surfmark. I'm seeing more Scoopit links in my Twitter stream and I'm not crazy about it.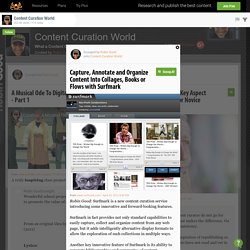 Sure it's quick and easy to share with Scoopit. But it not quick and easy to consume. For me it's all about the econ... Marty Note (here is comment I wrote on Dr. V's blog) X_nena_uno95.
Articoli, tools, mirabilia Content Curation
Presentation | CreArt. The European Commission announced 1 March 2012, that the cultural cooperation project CreArt, coordinated by Valladolid and with the participation of 13 European cities and institutions, has been selected to receive EU funds for the next 5 years within the framework of the Culture Programme (2007-2013).
The CreArt project will be initially developed for 5 years and has a total budget of 3.437.300 €. Placing art and creativity at the centre of its activities, CreArt seeks to foster: Siena Capitale della cultura 2019: il Comitato internazionale si insedia - siena, notizie, capitale, cultura, 2019, membri, comitato, internazionale, insediamento, - Il Cittadino Online. Iena capitale della cultura 2019: il 20 e 21 dicembre si insedierà il Comitato internazionale Bernd Fesel; Donato Giuliani; Leo van Loon; Ragnar Siil; Martin Krammer; Pascal Kaiser; Adam Chmielewski; Michal Hladky; Christer Gustafsson; Elisa Bortoluzzi; Jordi Pascual; Anamaria Wills; Greg Richards; Faruk Malhan e Yuriy Vulkovsky.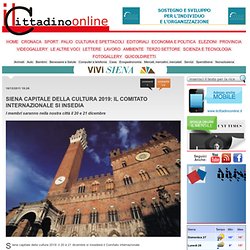 Sono questi i quindici membri del Comitato Internazionale per Siena Capitale Europea della Cultura 2019 che, martedì 20 e mercoledì 21 dicembre prossimi si ritroveranno a Siena per la riunione di insediamento della struttura di lavoro.
---