Digital content curation
As the web becomes more and more inundated with blogs, videos, tweets, status updates, news, articles, and countless other forms of content, "information overload" is something we all seem to suffer. It is becoming more difficult to weed through all the "stuff" out there and pluck out the best, most share-worthy tidbits of information, especially if your topic is niche.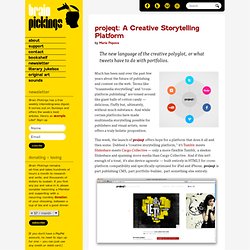 by Maria Popova
projeqt: A Creative Storytelling Platform
Developing a Social Media Strategy in 7 Steps
Curate Content Like a Museum to Attract an Audience & Revenue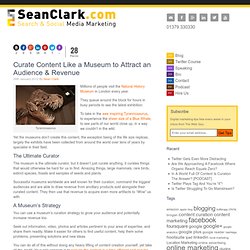 Tyrannosaurus Millions of people visit the Natural History Museum in London every year. They queue around the block for hours in busy periods to see the latest exhibition.
David Karp, il mio Tumblr "Social network per creare
Parla il 25enne Ceo della piattaforma di microblogging che vanta 16 miliardi di pagine viste al mese, più di Twitter.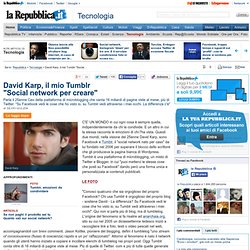 digital content curation tools
10 strumenti per il Social Marketing
Nell'era dei social media diventa sempre più importante e necessario allargare più gli orizzonti della Search Engine Optimization al servizio del Social Marketing. L'ottimizzazione dei contenuti sociali ha già dato, infatti, prove evidenti di garantire una migliore e rapida visibilità sulla rete rispetto ai risultati generati dal SEO, soprattutto in termini di visibilità e ricerca in tempo reale. Il punto nodale della questione è che se l'ottimizzazione standard dei contenuti di un sito web per essere realmente efficace deve passare attraverso la gestione e il controllo di un'oligarchia di specialisti dotati di strumenti e soluzioni specifiche, l'ottimizzazione dei contenuti sociali parte invece – in perfetto stile Web 2.0 – dal basso, ossia dalla miriade di blogger e utenti che usano gli strumenti che vengono dati loro liberamente dalla rete per promuovere e condividere la visibilità dei contenuti di loro interesse.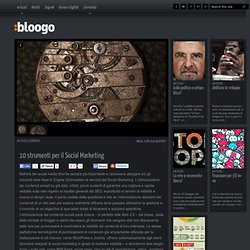 Content Curation
If you are curating content with the idea of saving time, posting more content and getting away with more traffic, greater visibility and ranking in Google, or if you are using some cheap content marketing tactics sold to you as "content curation" you probably don't even care whether what you are doing is "ethical" or not. Content curation is an ethical activity by definition, as it requires you to study, analyze, dissect, find patterns and relationships and to distill, personalize and contextualize them for your readers / viewers, while fully crediting and attributing all sources and relevant references. Everything else, and that is the majority of what is promoted and created in the name of "content curation" around the web nowadays (by the very companies producing many of these content curation tools), is not unethical. It's valueless. There's not any such thing as unethical loving. If you love something, you do.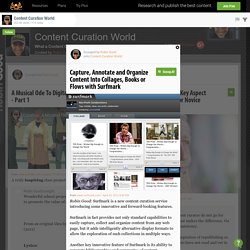 Capture, Annotate and Organize Content Into Collages, Books or Flows with Surfmark
Articoli, tools, mirabilia Content Curation
Presentation | CreArt
The European Commission announced 1 March 2012, that the cultural cooperation project CreArt, coordinated by Valladolid and with the participation of 13 European cities and institutions, has been selected to receive EU funds for the next 5 years within the framework of the Culture Programme (2007-2013). The CreArt project will be initially developed for 5 years and has a total budget of 3.437.300 €. Placing art and creativity at the centre of its activities, CreArt seeks to foster: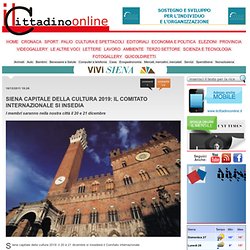 iena capitale della cultura 2019: il 20 e 21 dicembre si insedierà il Comitato internazionale Bernd Fesel; Donato Giuliani; Leo van Loon; Ragnar Siil; Martin Krammer; Pascal Kaiser; Adam Chmielewski; Michal Hladky; Christer Gustafsson; Elisa Bortoluzzi; Jordi Pascual; Anamaria Wills; Greg Richards; Faruk Malhan e Yuriy Vulkovsky.
Siena Capitale della cultura 2019: il Comitato internazionale si insedia - siena, notizie, capitale, cultura, 2019, membri, comitato, internazionale, insediamento, - Il Cittadino Online