Articoli, tools, mirabilia Content Curation
SixDegrees.org | It's a small world. You can make a difference. Kevin Bacon Explains "Six Degrees" Story. » Know About Content Curation: What, Why And How! » Hey content marketers out there!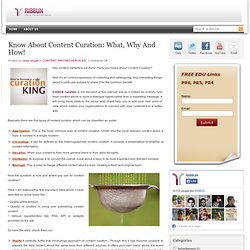 Have you heard about Content Curation? Well it's an online expression of collecting and cataloguing only interesting things about a particular subject to share it for the common benefit. Confused About Curation? Find Out The Easy Way To Curate Your Content And Drive Traffic. How to be a formidable content curator: a 17-step guide. Over the past few years I must have heard the phrase 'everyone is a publisher nowadays' a thousand times or more.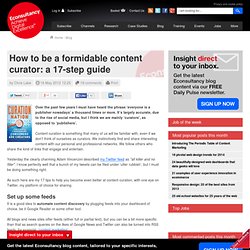 It's largely accurate, due to the rise of social media, but I think we are mainly 'curators', as opposed to 'publishers'. Content curation is something that many of us will be familiar with, even if we don't think of ourselves as curators. We instinctively find and share interesting content with our personal and professional networks. We follow others who share the kind of links that engage and entertain. Yesterday the clearly charming Adam Vincenzini described my Twitter feed as "all killer and no filler". Embedding creative commons licences into digital resources - SCA briefing paper. Download the briefing paper1 Creative Commons licences (also referred to as CC licences) can facilitate the copying, reuse, distribution, and in some cases, the modification of the original owner's creative work without needing to get permission each time from the rights holder.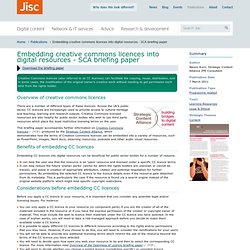 Overview of creative commons licences. 8 must-reads detail how to verify information in real-time, from social media, users. Over the past couple of years, I've been trying to collect every good piece of writing and advice about verifying social media content and other types of information that flow across networks.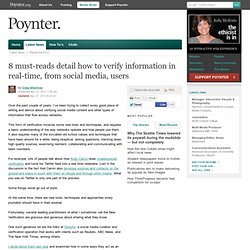 This form of verification involves some new tools and techniques, and requires a basic understanding of the way networks operate and how people use them. It also requires many of the so-called old school values and techniques that have been around for a while: being skeptical, asking questions, tracking down high quality sources, exercising restraint, collaborating and communicating with team members.
For example, lots of people talk about how Andy Carvin does crowdsourced verification and turns his Twitter feed into a real time newswire. Lost in the discussion is the fact that Carvin also develops sources and contacts on the ground and stays in touch with them on Skype and through other means. What you see on Twitter is only one part of the process. The Fallacy of Information Overload. InShare381 Some of you know me through my work in studying how social media and disruptive technology impact business and culture.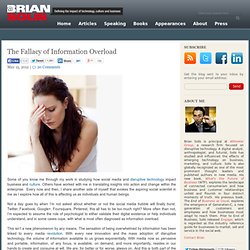 Others have worked with me in translating insights into action and change within the enterprise. Urban Etiquette Project | Le Projet D'Étiquette Urbaine. 5 Tips for Great Content Curation | Yes, They Apply To Curated Email Newsletters | FlashIssue Blog. ByPhil Hill - Founder & CEOFollow me on Twitter here.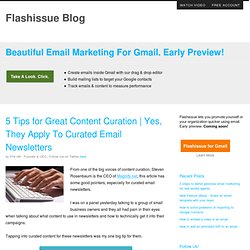 From one of the big voices of content curation, Steven Rosenbaum is the CEO of Magnify.net, this article has some good pointers, especially for curated email newsletters. I was on a panel yesterday talking to a group of small business owners and they all had pain in their eyes when talking about what content to use in newsletters and how to technically get it into their campaigns. Tapping into curated content for these newsletters was my one big tip for them. You've heard the buzz word — curation — being thrown around like it's a gadget we all know how to work. In reality,good content curation isn't as simple as pushing a share button. A DRAMATIC SURPRISE ON A QUIET SQUARE. So what is SolarCurator and why should you care? | | Solar CuratorSolar Curator. Expert curation: a fresh antidote to content proliferation On recent road trips to the SolarTech leadership summit and PV America West show, I started telling folks about SolarCurator.com and the concept on which this new site is based: "content curation."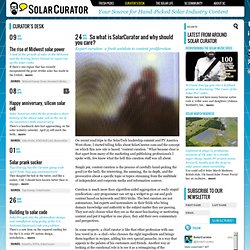 What became clear is that apart from many of the marketing and publishing professionals I spoke with, few knew what the hell this curation stuff was all about. Simply put, content curation is the process of carefully hand-picking the good (or the bad), the interesting, the amusing, the in-depth, and the provocative about a specific topic or topics streaming from the multitude of independent and corporate media and information sources. Curation is much more than algorithm-aided aggregation or really stupid syndication—any programmer can set up a widget to go out and grab content based on keywords and SEO tricks. The-Blueprint-For-the-Perfect-Blog-Post.png (800×1200) 20 Free and Fun Ways To Curate Web Content. Do you suffer from info overload?
Is your RSS reader bursting at the seams? Have your bookmarks gone bonkers? Tumblr Does Its Own Curating With New Storyboard Project. Aiming to help curate the site's vast array of content, Tumblr has launched a new initiative called Storyboard, billed as "tales from behind the dashboard.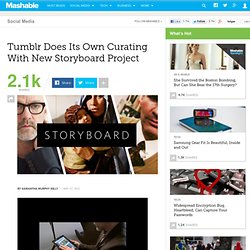 " The micro-blogging platform and social networking website will be posting regular features from those within the Tumblr community with an interesting story to tell. Whether it's highlighting content from writers and musicians to animators, scientists and comedians, Storyboard will highlight one new story each day and become a hub for in-depth conversations within its community. What is Content Curation. Content Curation, in simple terms, is to discover, gather and present web content based on their specific subject matter.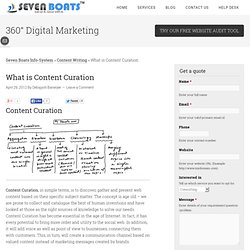 The concept is age old – we are prone to collect and catalogue the best of human inventions and have looked at those as the right sources of knowledge to solve our needs. Content Curation has become essential in the age of Internet. In fact, it has every potential to bring more order and utility to the social web. In addition, it will add voice as well as point of view to businesses, connecting them with customers. What Makes A Great Curator Great? How To Distinguish High-Value Curation From Generic Republishing. Today content curation is "sold", promoted and marketed as the latest and trendiest approach to content production, SEO visibility, reputation and traffic building. But is it really so? Is it really true that by aggregating many content sources and picking and republishing those news and stories that you deem great is really going to benefit you and your readers in the long run? Is the road to easy and effortless publishing via curation tools a true value creation business strategy, or just a risky fad?
iMedia 25 - 2011 East Coast Agencies to Watch. The most captivating stories are usually told around campfires, so with a name like Campfire, expectations are naturally high. Thankfully, the folks at this agency really know what they're talking about, and -- even better -- they're willing to share their insights to help lead digital forward. Here's a clip of Mike Monello, co-founder and executive creative director at Campfire, speaking at length about transmedia story telling: Babies, Buns And Buzzers: What 100 years of experiential entertainment can teach us about transmedia storytelling from Campfire on Vimeo.
Of course, it's not just about lecturing at Campfire. The agency has a lot of really compelling, attention-grabbing work. A step-by-step guide to curate your company's news. There's plenty of evidence that business is adopting content curation, but the practice hasn't been around long enough for organizations to innovate more targeted, results-focused uses. Business takes many of its lessons from how everyone else makes use of social tools. To start applying content curation, communicators need to pay attention to how others are using the crop of curation tools that have found acceptance online. There are dozens of free tools, but Storify is the one that has demonstrated one of curation's emerging strengths: Curating news that the media isn't covering can lead to media coverage.
Incorporating Personal Learning Networks into Course Projects. Last semester I introduced a brand new project into my social media class which I've been meaning to report on for a while now. I decided to set 25% of the final grade aside for an assignment the students were allowed to design themselves (the project is described in detail here). The idea was to help students develop independent learning skills by teaching them how to use social media tools to create a personal learning network (PLN) capable of supporting their project goals. Students were able to tailor the assignment to their own learning needs by: Become a Content Curation King. Sean Carton | August 29, 2011 | 18 Comments inShare79 Nine ways to make curation work for your brand.
"Curation" is a buzzword (even if it isn't technically a word…unless you count the 14th century French definition meaning "to cure") that's smokin' up the interwebs these days. Launching into the blogosphere virtually from nowhere in 2009, it's now one of those terms that's essential to any digital marketer on the cutting edge (or for anyone who wants to sound like one). Curation has now come to mean the act of sorting through the vast amounts of content on the web and presenting it in a coherent way, organized around a specific topic(s).
A Brief History of Children's Picturebooks and the Art of Visual Storytelling. 9 Real-Life Rules For Creating Shareable Content. 8 Tweetable Facts from Curation Habits Report 2012. Curation per giornalisti - extended version. Pictify. Storybird. Digital Curation Exchange | A space for all things 'digital curation'
Curation Tools. Facebook, arriva il tasto "ascolta". Come promuoversi sul Web? Moved Temporarily. Cos'è la Content Curation? Perché è utile? Upload video. Aggregate and curate video from multiple sources. Mix your pro, user gen, and web gathered content with Magnify.net. Real-Time News Curation - The Complete Guide Part 6: The Tools Universe. International Journal of Digital Curation. The best content curation tools online. Content Curation. Customers, Curation, and Conversion + 3 easy action steps | Phoenix Industry Expert Blog.
30+ Cool Content Curation Tools for Personal & Professional Use. New Social Curation And Visual Research App: Vilize - Official Release: 16th April 2012 | Social Media Content Curation. 16th April 2012. Vilize. The Curator's Guide to the Galaxy - Atlantic Mobile. Smart Notebooks. How to Archive Your Twitter Chats and Conference Hashtags Using Keepstream.com Plus Eight Other Twitter Content Curation Tools. Curator's ǝpoɔ.
---