Webdev
A number of stunning functionalities, such as design, content editing or development are in real time and at your fingertips (managing pages, blocks, creation of a new module). In fact, this is the goal: simplify web development! Our opinion in the field of webapps development is that the fusion of back ends into front ends simplifies development. No more back ends when possible! Real-time fetaures: edit in line, dropping blocks, dropping fields, creating pages, managing permissions, controlling your designs with CSS properties, file explorer At your fingertips: in-browser code Editor, managing pictures (resizing, shrinking, and cropping), settings of the cache, the pages, RESS, RWD etc.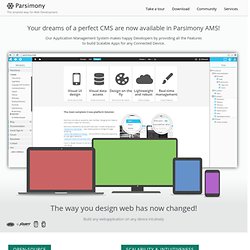 Advertisement Before drawing anything in a browser, ask yourself three questions: Do you need to support older browsers?If the answer is yes, then your only choice is Raphaël. It handles browsers all the way back to IE 7 and Firefox 3.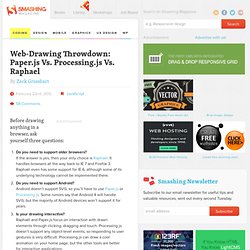 What is it? Raphaël is a small JavaScript library that should simplify your work with vector graphics on the web. If you want to create your own specific chart or image crop and rotate widget, for example, you can achieve it simply and easily with this library.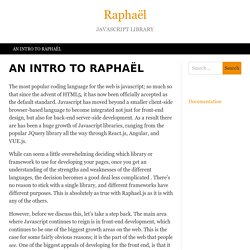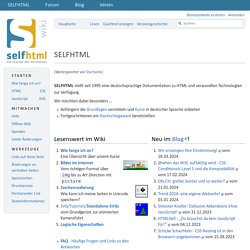 Nous regrettons de devoir vous informer que le projet "SELFHTML en français" ne peut pas être maintenu. Les sites Web sont restés longtemps sans entretien et les responsables du projet doivent s'engager en priorité dans la continuation de la version allemande. Wir bedauern mitteilen zu müssen, dass wir das Projekt "SELFHTML auf Französisch" vorerst eingestellt haben. Das Projekt ist vor einer ganzen Weile zum Stillstand gekommen und das Redaktionsteam konzentriert sich aktuell auf die Weiterentwicklung der deutschen Version.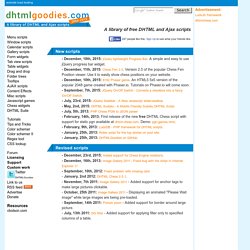 New scripts - July, 5th, 2013: PHP Chess PGN to JSON parser - February, 14th, 2013: First release of the new free DHTML Chess script with support for static pgn available at dhtml-chess.com. Demo: pgn-games.html. - February, 9th, 2013: LudoDB - PHP framework for DHTML scripts. - January, 25th, 2013: Roller script for the top stories on your site. - January, 25th, 2013: DHTMLGoodies on GitHub. - November, 21st, 2012: Early alpha release of ludoJS framework released at ludojs.com. - September, 12th, 2012: New Drag And Drop script. - July, 1st, 2012: Samples/Demo's of the upcoming DHTML Chess 3 - November, 1st, 2011: New tutorial: Create a clock using HTML Canvas and Javascript - October, 10th, 2011: DHTMLGoodies Grid Revised scripts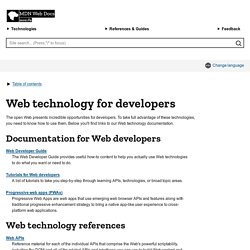 The open Web presents incredible opportunities for developers. To take full advantage of these technologies, you need to know how to use them. Below you'll find links to our Web technology documentation. Web technologies
Web tools, services and jQuery plugins - do.web.com
Le réseau Olympe est une association à but non lucratif investie dans de nombreux projets . L'un de ses objectifs est de fournir un service d' hébergement gratuit et sans publicité de qualité et ouvert à tous. Notre solution s'appuie sur une infrastructure en forme de nuage (cloud computing). Tous les services sont parfaitement redondants et la charge ajustée par un processus de supervision automatisé. Flux Twitter 05/05/2012 01:56 : Nous avons rencontré des soucis avec la nouvelle version du système de fichiers.
Olympe Network - Hébergement gratuit et sans publicité - Cloud computing gratuit
MySQL Documentation: Other MySQL Documentation
One Click to Application Awesomeness Run your favorite apps locally or in the cloud in minutes. Drupal Drupal v7.26 Launch Now Launch Drupal Server Now or Download Joomla! Joomla! v3.2.1 Launch Now Launch Joomla!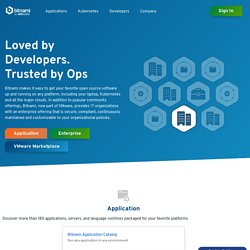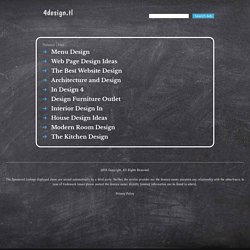 Cela fait longtemps que j'envisage de mettre mon thème WordPress Basics et son thème enfant Beyond Basics sur Github. L'intérêt est double : 1) mieux gérer les mises à jour et les tests de nouvelles fonctionnalités, et 2) faciliter le côté «thèmes à emporter» pour les développeurs qui sont les destinataires principaux de ce «blank thème». Par ailleurs, la création des .zip à la volée m'évitera de jongler avec la mise à disposition des téléchargements pour les versions intermédiaires. Pour tout savoir sur l'installation de Git et l'utilisation de Github, je vous conseille la lecture du tutoriel Gérez vos codes source […] Voulez-vous en savoir plus ? Github: Social Coding