Développement commercial
Les éditeurs CRM à suivre selon Paul Greenberg.
Bases de données B2B
Communiqués de presse. Réseaux sociaux, des clients potentiels pour vos newsletters - EmailStrategie. Landing Pages That Convert. So, you SEOed, Tweeted, Facebooked, wrote articles, did PPC, used banner ads, sent out press releases, wrote email campaigns, connected on LinkedIn, commented on Blogs, set up joint ventures.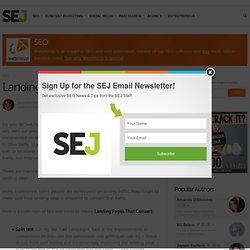 You've done everything possible to drive traffic to your pages, BUT you still don't have sales (or leads or phone calls or whatever it is you wanted from that traffic). Or you've actually gotten traffic, but they just aren't taking action. There are many possible reasons, but the one you should look at first is your landing page. In my experience, some people are so focused on driving traffic, they forget to make sure their landing page is prepared to convert that traffic. Here is a collection of tips and tricks to create Landing Pages That Convert:
Devenez Directeur Commercial Independant. Prospactive - Développement commercial externalisé à destination des PME.
---