SOCIAL BUSINESS
Social Business - Google+
Social Business - Community - Google+
Welcome to the Sustainable Business Leader Program! | Sustainable Business Leader Program
facebook twitter linked-in
How Can Big Data Have a Social Impact?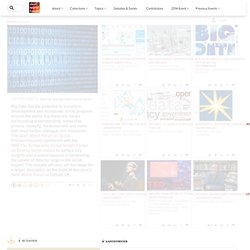 US SIF: Socially Responsible Investing (SRI) Facts
social-impact international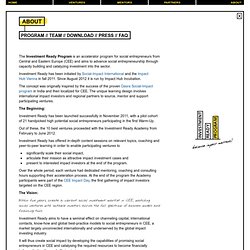 About | Investment Ready
The Investment Ready Program is an accelerator program for social entrepreneurs from Central and Eastern Europe (CEE) and aims to advance social entrepreneurship through capacity building and catalyzing investment into the sector. Investment Ready has been initiated by Social-Impact International and the HUB Vienna in fall 2011.
Lessons from a Failed Social Entrepreneur - Mike McGlade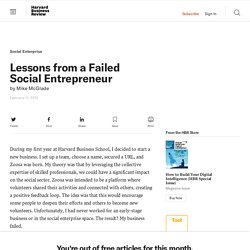 by Mike McGlade | 9:00 AM February 11, 2013 During my first year at Harvard Business School, I decided to start a new business.
by Alan Hirzel | 2:07 PM January 9, 2013 We can't ask social enterprises to have a big impact if they can't get the resources they need to grow bigger. In Britain, for example, fewer than 10% of the tens of thousands of social enterprises generate more than £1 million in revenue.
To Grow, Social Enterprises Must Play by Business Rules - Alan Hirzel
Knowledge Base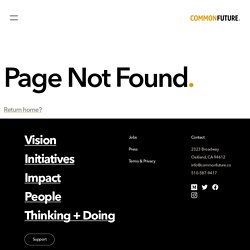 About BALLE | BALLE - Business Alliance for Local Living Economies
Within a generation, we envision a global system of human-scale, interconnected local economies that function in harmony with local ecosystems to meet the basic needs of all people, support just and democratic societies, and foster joyful community life.
In Search of the Hybrid Ideal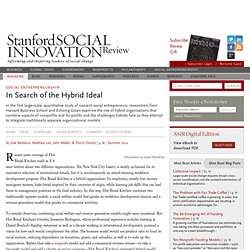 In the first large-scale, quantitative study of nascent social entrepreneurs, researchers from Harvard Business School and Echoing Green examine the rise of hybrid organizations that combine aspects of nonprofits and for-profits and the challenges hybrids face as they attempt to integrate traditionally separate organizational models. (Illustration by Justin Renteria) R ecent news coverage of Hot Bread Kitchen reads as if it were written about two different organizations. The New York City bakery is widely acclaimed for its innovative selection of international breads, but it is simultaneously an award-winning workforce development program.
www.partneringforglobalimpact.com/sites/default/files/2012/PGI Glossary_FINAL.pdf
www.schwabfound.org/pdf/schwabfound/Governance_Social_Enterprises.pdf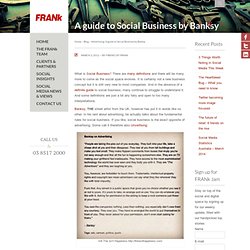 What is S ocial Business ? There are many definitions and there will be many more to come as the social space evolves. It is certainly not a new business concept but it is still very new to most companies. And in the absence of a definite guide to social business, many continue to struggle to understand it. And some definitions are just a bit airy fairy and open to too many interpretations.
A guide to Social Business by Banksy
Social enterprises in China are being shaped by several interconnecting forces: the country's cultural and linguistic history, new state approaches to economic and social development, and the strategic framing of social enterprises by leaders and supporters. " In foreign countries, the charity has developed for hundreds of years and then the social enterprise organically came up. In China, we have everything within a few decades. We now have grassroots nonprofit organizations, social enterprises, venture philanthropy funds, and so on—all of a sudden."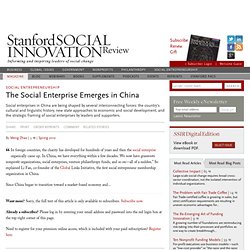 The Social Enterprise Emerges in China
The State of Social Enterprise Infographic | Give to Get Jobs
This entry was posted in Social Enterprise and tagged Give To Get Jobs , infographic , infographic of social enterprises , internships that give back , job creation , job creation programs , jobs that give back , social enterprise , social enterprise infographic , social enterprise internships , social enterprise jobs , social entrepreneur , social good infographic , the state of social enterprise . Bookmark the permalink . Sharing Buttons by Linksku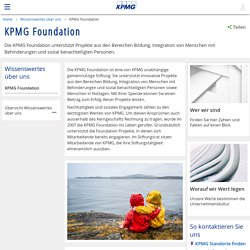 KPMG Foundation: about
"For KPMG, success and responsibility go hand in hand. As a successful company, we feel a sense of responsibility toward society which extends beyond the scope of our business activities – that is the core idea behind the KPMG Foundation." Dr. Hubert Achermann (Chairman of the KPMG Foundation)
Four Social Incubators That Can Rock Your Startup World | The Dutiee Blog
www.connect4climate.org/slideshow
Distilled Wisdom, Annotation 2: Open Innovation and Globalisation
Donate animals to poor countries | Heifer International charity gifts | Heifer.org
J.P. Morgan and the GIIN release new impact investing research Perspectives on Progress , the latest report by J.P. Morgan and the GIIN, reveals the experiences, expectations, and perceptions of 99 impact investors in 2012, as well as their plans for 2013. The report indicates a growing market, with respondents planning to commit USD 9 billion to impact investing in 2013, up from a total commitment of USD 8 billion in 2012. GIIN Receives GBP 10.5 Million Commitment from DFID The funding is part of DFID's new Impact Programme, and will support the GIIN's role in developing and growing the impact investing market in sub-Saharan Africa and Asia. GIIN Launches Network Membership The new membership program is for organizations interested in deepening their engagement with the impact investing industry.
Global Impact Investing Network
www.static-ubs.com/global/de/wealth_management/philanthropy_valuesbased_investments/_jcr_content/rightpar/teaser_a5b7/linklist/link_324f.2124835608.file/bGluay9wYXRoPS9jb250ZW50L2RhbS91YnMvZ2xvYmFsL3dlYWx0aF9tYW5hZ2VtZW50L3BoaWxhbnRocm9weV92YWx1ZXNiYXNlZF
Want to change the world? Start here. Create a social enterprise or nonprofit organization. Raise and invest money for your organization. Manage your organization , assets, and team.
Home
I ncreasingly, corporate executives must find new ways to address the social, economic, and environmental effects of doing business while balancing conflicting demands on their attention, time, and resources. Emphasizing the alignment of corporate social responsibility (CSR) with business strategy, this program helps you define priorities, integrate social responsibility throughout your business, and build social and business value. You will strengthen your ability to define and implement powerful CSR strategies that position the firm, its reputation, and its way of doing business for enduring success. What You Can Expect
Corporate Social Responsibility - Executive Education Program - Harvard Business School
columbiasocialenterprise.wordpress.com
columbiasocialenterprise.org
The Forbes Impact 30 List
Sosense | Your Social Impact
Understanding Social: An Infographic of a New Business Idea
Social Business