Dessins-de-presse
Dessine-moi les médias : pluie de poncifs sur les Japonais
Le Devoir
Le Devoir
d-apres-sous-la-vague-au-large-de-kanagawa-d-hokusai.jpg (600×428)
Le Devoir
Tout va bien!
Le jour d'après
Menace nucléaire au Japon
Japon : une vague de dessins
Disaster Emerges
Quake
Japans Final Four
Japans Nuclear Scare
Evolution des niveaux d'alerte nucléaire - L'actu en patates - Blog LeMonde.fr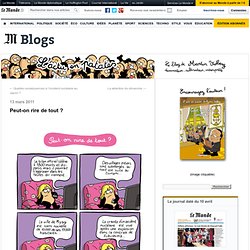 Peut-on rire de tout ? - L'actu en patates - Blog LeMonde.fr
Je me suis fait plaisir à dessiner cette petite planche en réaction aux quelques commentaires offusqués postés à la suite de celle d'hier. Bonne ou pas bonne, juste ou pas juste, elle n'avait rien de bien méchant. Pour moi qui je ne joue pas trop sur cette carte-là, je m'amuse d'avoir pu choquer, même involontairement. Je continuerai évidemment à dessiner sur le sujet cette semaine, si je trouve l'inspiration (à moins que l'actualité brûlante des cantonales ne vampirise la une des journaux comme c'est le cas depuis le début d'année). Suivez l'actualité du séisme sur LeMonde.fr Partager le dessin :
Peut-on se passer du nucléaire ? - L'actu en patates - Blog LeMonde.fr
John Cole Cartoons » For Japan
Une catastrophe naturelle donne à voir la mondialisation des cœurs. by lapasserelle Mar 13
Okusai Kanagawa - Wikipédia
oui, tu as bien fait, c'est la référence pour comprendre les caricatures sur le tsunami by spoutnik Mar 13
L'original pour comprendre les caricatures. by rodes31 Mar 13
Chappatte : The Editorial Cartoon Site - EDITORIAL CARTOONS on World Affairs - Political Cartoons by Chapatte - www.globecartoon.com
Struggle
Japan's Enormous Earthquake
Nuclear Crisis
Cartoons: Japan's Earthquake Many of the early cartoons about the Japanese earthquake and tsunami are inspired by Hokusai 's famous woodcut The Great Wave off Kanagawa .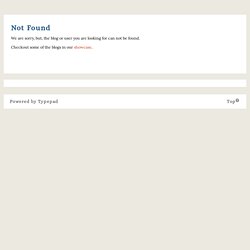 Cartoons: Japan's Earthquake