Design
Tiberius Viris - Digital Matte Painter | Environment Artist | Concept Artist | Illustrator | VUE Artist. Behance Network :: Gallery. Daniel becker design studio. Daniel Simon - Car Designer Daniel Simon's Work. Designerblog. Ads of the World | Creative Advertising Archive & Community. Desigg | Daily Design Inspiration. LivingDesign by Asif R Naqvi | A creative and inspiration resource dedicated to design and life, and everything in between.
Create floor plans, house plans and home plans online with Floor. Project Dragonfly - Free Home Design Software. Sweet Home 3D. The online room planning platform - GET THE IDEA! Favwork - Show Off Your Best Work.
Ikea hacker. Recensioni sedie ergonomiche e poltrone da ufficio Stokke Varier e HAG. Anche se le sedie ergonomiche sono scandalosamente costose, negli ultimi 5 anni sono riuscito a provarle tutte per scrivere la recensione che trovate in questa pagina, il cui obiettivo è esaminare tutte le sedie ortopediche che attenuano il mal di schiena e le contratture del lavoro sedentario e al computer: sedie da ufficio scomode ma economiche, ergonomiche Varier (ex Stokke) e purtroppo costose o sedie anatomiche e trasformabili?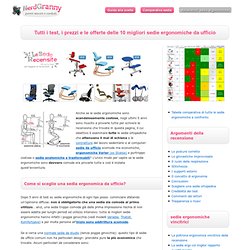 L'unico modo per capire se le sedie ergonomiche sono davvero comode era provarle tutte e così è iniziata quest'avventura. Come si sceglie una sedia ergonomica da ufficio? Come scegliere la poltrona ergonomica corretta. Ogni poltrona ergonomica per ufficio o sedia da studio ha diversi modelli e dimensioni.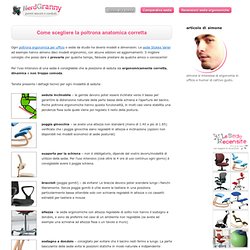 Le sedie Stokke Varier ad esempio hanno almeno dieci modelli ergonomici, con alcune edizioni ed aggiornamenti. Il migliore consiglio che posso dare è provarle per qualche tempo, fatevele prestare da qualche amico o conoscente! Per l'uso intensivo di una sedia è consigliabile che la posizione di seduta sia ergonomicamente corretta, dinamica e non troppo comoda. Herman Miller Unveils the SAYL Task Chair | Apartment Therapy Unplggd. Previous image Next image Several months back at the annual International Contemporary Furniture Fair, Unplggd and the team from Herman Miller discussed the recent proliferation of affordable task seating from the realm of higher end furniture manufacturers; designs like the Herman Miller Setu have been redefining features and expectations at price points previously unheard of.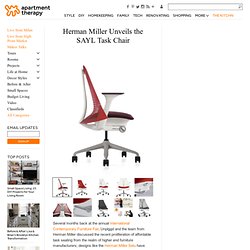 Knoll Generation. Generation by Knoll Unplggd Test Lab. Previous image Next image Product: Generation by Knoll Price: $897 (w/polished base, high performance arms options)Rating: Strong Recommend*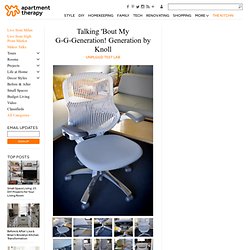 Home - Varier Furniture - A Human Idea. It's a Diffrient World: Humanscale Diffrient World Task Chair | Apartment Therapy Unplggd. Previous image Next image If there was a piece of furniture that represented the last 2 decades in form and function, we wouldn't hesitate to offer the Herman Miller Aeron as the symbolic icon of the age of the internet, alongside being the product which introduced ergonomics into the lexicon of mainstream America.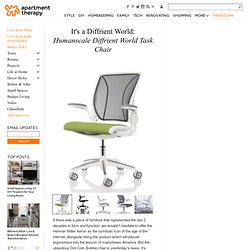 But the ubiquitous Dot Com Bubble chair is yesterday's news, it's complicated and feature heavy controls being replaced by a whole new generation of tasks chairs which take a much more reductive approach to the art of being seated. We're yet again the market for a new task chair that can meet the rigors of sitting in front of the monitor for hours (our better half is now working from home, so a second task chair is needed), while also lending a decor-friendly presence.
Non-Aeron Office Chair Picks? Good Questions. Q - Okay, I may be in the minority here, but I find Herman Miller's Aeron Chair is the perfect example of form over function.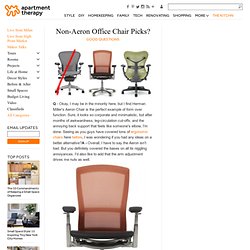 Sure, it looks so corporate and minimalistic, but after months of awkwardness, leg-circulation cut-offs, and the annoying back support that feels like someone's elbow, I'm done. Seeing as you guys have covered tons of ergonomic chairs here before, I was wondering if you had any ideas on a better alternative? A - Overall, I have to say the Aeron isn't bad. But you definitely covered the bases on all its niggling annoyances. The Fox Is Black.
Archive. Welcome to Ember! The best way to share your design inspiration! The Architecture Blog. The lobby at The Leela Goa is a contemporary celebration of the palatial architecture of ancient Vijayanagara empire and Goa's rich portuguese heritage.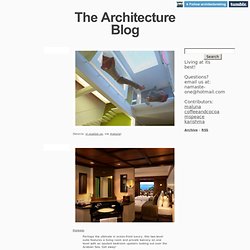 An intricate frieze, depicting the highly prized elephants which comprised the powerful armies of the 14th and 15th century Vijayanagara kings, adorns the upper and lower outer cornices of this entrance. Drawing an inspiration from the Thousand Pillared Hall in the Meenakshi Temple at Madurai, the central columns form a corridor guarded by the Yalis, which leads to an impressive image of the dancing God Natraj.
Apartment Therapy. Decor8. Desire to inspire - desiretoinspire.net. Dezeen architecture and design magazine. Interior Design, Interior Decorating Ideas & Architecture Magazine. Wood Sprout LED Mushroom Lights. Yes, your eyes are playing tricks on you.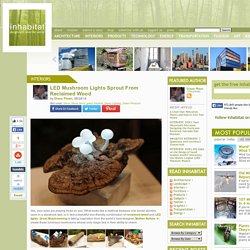 What looks like a mythical treasure one would stumble upon in a storybook tale, is in fact a beautiful eco-friendly combination of reclaimed wood and LED lights. Great Mushrooming is taking inspiration from the world's best designer, Mother Nature, to create these luminous mushrooms whose only magic lies in their ability to charm. Candela's Evolution. Good design for modern living. Nick Foley's Pear Tree LEDs | Apartment Therapy New York. Tanya Clarke's Liquid Lights | Blue Ant Studio.
---