Layouts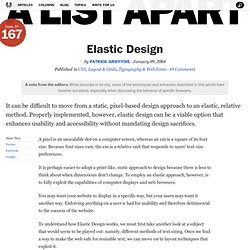 It can be difficult to move from a static, pixel-based design approach to an elastic, relative method. Properly implemented, however, elastic design can be a viable option that enhances usability and accessibility without mandating design sacrifices.
Elastic Design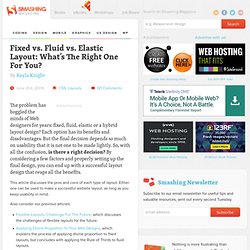 Advertisement The problem has boggled the minds of Web designers for years: fixed, fluid, elastic or a hybrid layout design? Each option has its benefits and disadvantages. But the final decision depends so much on usability that it is not one to be made lightly. So, with all the confusion, is there a right decision?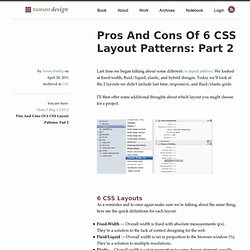 Last time we began talking about some different css layout patterns.
Pros And Cons Of 6 CSS Layout Patterns: Part 2
Pros And Cons Of 6 CSS Layout Patterns: Part 1
There are a number of css layout patterns you can use when developing a website.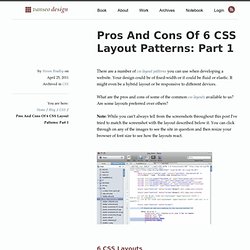 How To Develop Elastic Grid Layouts In CSS
Flexible layouts are created by using relative measurements as opposed to absolute measurements. The question is relative to what? With elastic layouts the measurements are set relative to something internal to the design, usually the size of the type.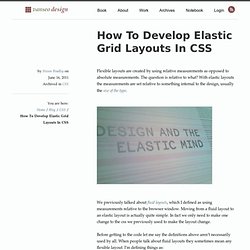 Early last year, I worked on the redesign of a rather content-heavy website.