Design stuff
Ew! A Pulsating Dress Made Of Realistic Fake Skin [NSFW] You know how some people's temples pulse wildly when they're mad or spooked or nervous?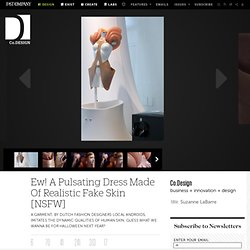 That's more or less the idea behind Like Living Organisms, by Dutch fashion designers Cor Baauw and Leonie Baauw of Local Androids. A futuristic neckpiece (or dress, depending on whether you think boob coverage is a requirement for the latter), it's made of freakishly life-like fake skin and has "veins" that beat visibly in the company of other people, then deflate when touched as a "sign of trust," the designers say. How it works: The garment comes equipped with two sensors and air pumps.
When the wearer approaches another person, one sensor forces air to flow through the veins, simulating a pulse. A second sensor, which responds to touch, then flattens the veins. Animated Engines - Home. Looks like good Paper work by Jonathan Shackleton. Listomania-1-1.jpg (1600×1045) Stylish Ideas to Make Your Small Space Feel Bigger. Wanderlust: GOOD traces the most famous trips in history. Amazing cube gears [Video] UPDATE: Thanks to the kinds words from Dan Herkimer I have found out that the video for this post has been switch to private and is no longer available.
My apologies for this turn of events and I will update further if the video turns up again. Looking at that image above and the last thing you would think is that it can actually act like interlocking gears after all there isn't a completely round gear to be seen anywhere on that cube. Well prepare for Thingiverse user dougc314 to blow your mind with this screwless cube gears that does what would seem to be the impossible. And people wonder why I love technology and people's incredible ability to move beyond the common place and accepted norms to bring us the incredible. via Geeks are Sexy and MAKE.
4 Glasses in 1: From Water to Wine, Champagne or Cognac. Does it ever strike you as strange that we have so many objects dedicated to drinking?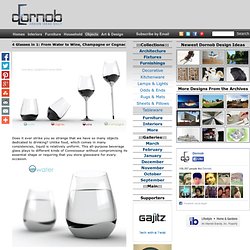 Unlike food, which comes in many consistencies, liquid is relatively uniform. This all-purpose beverage glass plays to different kinds of Connoisseur without compromising its essential shape or requiring that you store glassware for every occasion. Simply want water? Deadly Glasses. Transition Shoes by Nicholas Couch. Discover a new material: NewspaperWood. NewspaperWood // Image Courtesy of Vij5 When we think of wood and paper, we usually see it in this manner; wood=source, paper=result.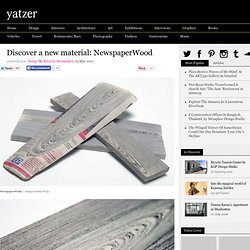 What if we flipped the model and saw paper as the source and wood as the end product? This was the concept behind Mieke Meijer's project at the Design Academy Eindhoven. To think of paper as the end state of the product was limiting. With so much paper as the end result of making newspapers, Mieke envisioned an opportunity to upcycle the process and re-create wood. A Rollercoaster Designed to Kill Humanely. It's a ride definitely not for the faint-hearted—a PhD candidate in Design Interactions at the Royal College of Art has designed a hypothetical rollercoaster meant to kill.
Julijonas Urbonas created his coaster as a hypothetical euthanasia machine; it will, he claims, take lives as humanely and euphorically as possible. "Riding the coaster's track, the rider is subjected to a series of intensive motion elements that induce various unique experiences: from euphoria to thrill, and from tunnel vision to loss of consciousness and, eventually, death," he wrote on his website. The 500-meter structure is designed to kill its rider from cerebral hypoxia, or a lack of oxygen supply to the brain. Information is beautiful: 30 examples of creative infography. Unfortunatly I never had the opportunity to do client work on an infography, but it seems to be one of the most challenging task for a graphic designer.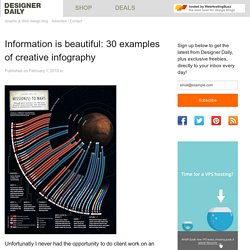 The perfect infography must synthetize complex information in a simple visual representation, which is not easy. The following examples take information architecture to another level by making it beautiful. 10 Bizarre Green Ideas! « Epic Swag. If you waste too much water, you might end up killing your pet!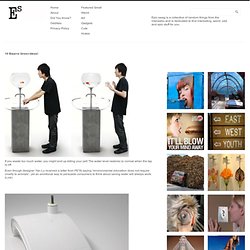 The water level restores to normal when the tap is off. Even though designer Yan Lu received a letter from PETA saying "environmental education does not require cruelty to animals", yet an emotional way to persuade consumers to think about saving water will always work. Color your Food with Food Finish by The Deli Garage. Great Resume Designs that Catch Attention–and Got People Hired. Inspiration June 21, 2011 When applying for a job, you have no choice but to do your best to outshine competition.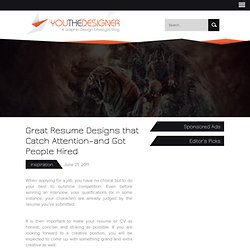 Even before winning an interview, your qualifications (or in some instance, your character) are already judged by the resume you've submitted. It is then important to make your resume or CV as honest, concise, and striking as possible. If you are looking forward to a creative position, you will be expected to come up with something grand and extra creative as well. Take a look at how other designers compose their creative resumes. A Suspended Glass Greenhouse Lamp. Space Saving Tiny Apartment, New York. This tiny but highly sophisticated studio apartment in the East Village of NYC has made us very proud, thanks to JPDA.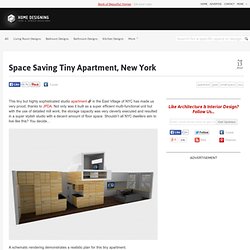 Not only was it built as a super efficient multi-functional unit but with the use of detailed mill work, the storage capacity was very cleverly executed and resulted in a super stylish studio with a decent amount of floor space. Shouldn't all NYC dwellers aim to live like this? You decide… 60 Highly Clever Minimal Logo Designs. Depending on the flavor of your business, your logo may appear big and flashy, bold and colorful or just plain simple and clever.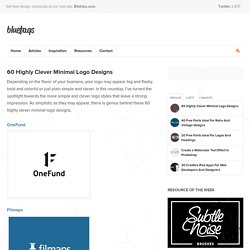 In this roundup, I've turned the spotlight towards the more simple and clever logo styles that leave a strong impression. As simplistic as they may appear, there is genius behind these 60 highly clever minimal logo designs. OneFund Filmaps. ALT/1977: WE ARE NOT TIME TRAVELERS on the Behance Network. Science and Tech Ads. Uh, Wanted? Creepy Face-Distorting Jewelry for the Lady Gaga Age | Co.Design. It's something we've all known since the dawn of the hemp choker: Jewelry can actually make you uglier. Case in point: Burcu Büyükünal's face-distorting pendants.
These creepy curios make smooth cheeks look like they've undergone botched reconstructive surgery and twist perfectly symmetrical lips into a happy-frown a la Abe Lincoln. Peter Rolfe Gen II Chest of Drawers / Jewelry Chest. 50+ Conceptual Logos for your Inspiration. Compact House for your Backyard. Kitchens And Appliances Of The Future - Announcing The Top 25 Entries of Electrolux Design Lab 2010.
---