Yin Gao
while movement is a key aspect of fashion design, montréal-based designer ying gao takes it to a new level. while her work seems very simple and tailored on the surface, pneumatic pistons and pumps are cleverly concealed beneath bring her clothing to life. her collection 'walking city' is a perfect example of this. three different garments come to life based on specific triggers such as movment, wind and touch. each one moves in it own way, expanding, contracting and articulating in a way not normally seen in clothing.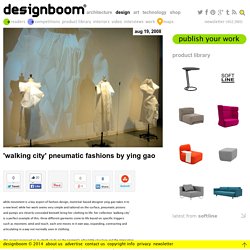 'walking city' pneumatic fashions by ying gao
3 robes interactives. Coton, nylon et composants électroniques. L'air. Élément fascinant à l'intersection de la couleur, de la lumière et des vibrations, c'est aussi un des matériaux de base des trois robes du projet Walking City. Réalisées en 2006, ces pièces interactives se jouent du spectateur: elles semblent respirer, le nylon et le coton se déplaçant avec fluidité grâce à un dispositif pneumatique relié à un détecteur de mouvement, de son et de toucher. Les vêtements acquièrent ainsi une dimension ludique, accentuée par leur forme modulable.
ying gao - designer