Fast Co Design
After Steve Jobs: What We Can Learn From The Nest Thermostat | Co. Design. The central question about Apple these days is what it will become without Steve Jobs's passionate conviction and daily direction in the design of the company's products and services.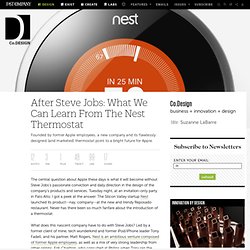 Tuesday night, at an invitation-only party in Palo Alto, I got a peek at the answer. The Silicon Valley startup Nest launched its product--nay, company--at the new and trendy Reposado restaurant. Never has there been so much fanfare about the introduction of a thermostat. Wanted: Terra, Incase's Playful But Stylish New Collection Of Carrying Cases | Co. Design.
Incase has designed bag collections for bona fide hipster brands like A.P.C. and the Ace Hotel.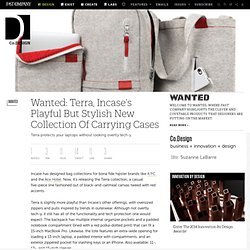 Now, it's releasing the Terra collection, a casual five-piece line fashioned out of black-and-oatmeal canvas tweed with red accents. Terra is slightly more playful than Incase's other offerings, with oversized zippers and pulls inspired by trends in outerwear. Although not overtly tech-y, it still has all of the functionality and tech protection one would expect: The backpack has multiple internal organizer pockets and a padded notebook compartment (lined with a red polka-dotted print) that can fit a 15-inch MacBook Pro. Likewise, the tote features an extra-wide opening for loading a 13-inch laptop, a padded interior with compartments, and an exterior zippered pocket for stashing keys or an iPhone. Simple Genius: A Lamp That Emulates The Cycle Of The Sun | Co. Design.
Used to be, our daily rhythms were determined by the sun: We arose at sunrise and went to bed at sunset.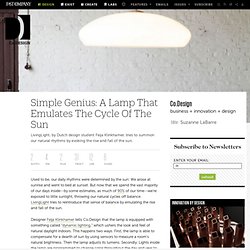 But now that we spend the vast majority of our days inside--by some estimates, as much of 90% of our time--we're exposed to little sunlight, throwing our natural cycles off balance. LivingLight tries to reintroduce that sense of balance by emulating the rise and fall of the sun. Designer Feija Klinkhamer tells Co.Design that the lamp is equipped with something called "dynamic lighting," which ushers the look and feel of natural daylight indoors.
This happens two ways. Thu, 10/27/2011 | Co. Design. Why Microsoft's Vision Of The Future Is Dead On Arrival | Co. Design. This just in: In the future, everything will be lushly luxurious, gleamingly clean, and digitally magical.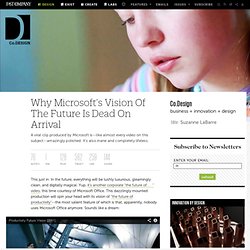 Yup, it's another corporate "the future of . . . " video, this time courtesy of Microsoft Office. This dazzlingly mounted production will spin your head with its vision of "the future of productivity"--the most salient feature of which is that, apparently, nobody uses Microsoft Office anymore. Sounds like a dream: Infographic Of The Day: China's Checkbook Diplomacy | Co. Design. We hear incessantly about the rise of China.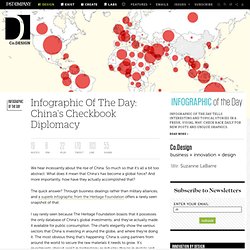 So much so that it's all a bit too abstract: What does it mean that China's has become a global force? And more importantly, how have they actually accomplished that?
---