An Inconvenient Truth
An inconvenient truth. Al Gore's "Inconvenient Truth" Movie: Fact or Hype? Updated May 25, 2006 The message in An Inconvenient Truth, the new movie starring former U.S.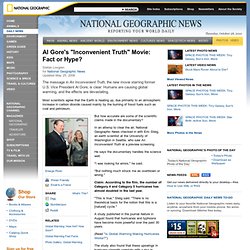 Vice President Al Gore, is clear: Humans are causing global warming, and the effects are devastating. Most scientists agree that the Earth is heating up, due primarily to an atmospheric increase in carbon dioxide caused mainly by the burning of fossil fuels such as coal and petroleum. But how accurate are some of the scientific claims made in the documentary? An Inconvenient Truth. All Critics (167) | Top Critics (38) | Fresh (147) | Rotten (11) | DVD (28) It grabs you like a thriller with an ending that will haunt your dreams.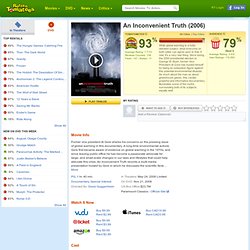 November 24, 2006 Just because truths are inconvenient is no reason to suppose they are not real. An Inconvenient Truth Trailer. 35 Inconvenient Truths: The errors in Al Gore's movie | Monckton. Al Gore's spokesman and "environment advisor," Ms.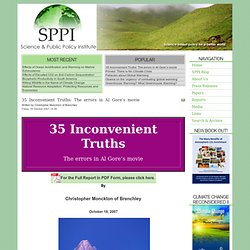 Kalee Kreider, begins by saying that the film presented "thousands and thousands of facts." It did not: just 2,000 "facts" in 93 minutes would have been one fact every three seconds. The film contained only a few dozen points, most of which will be seen to have been substantially inaccurate. The judge concentrated only on nine points which even the UK Government, to which Gore is a climate-change advisor, had to admit did not represent mainstream scientific opinion.
An Inconvenient Truth (2006. Edit Storyline Director Davis Guggenheim eloquently weaves the science of global warming with Mr.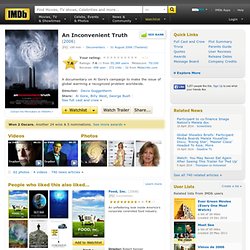 Gore's personal history and lifelong commitment to reversing the effects of global climate change. A longtime advocate for the environment, Gore presents a wide array of facts and information in a thoughtful and compelling way. "Al Gore strips his presentations of politics, laying out the facts for the audience to draw their own conclusions in a charming, funny and engaging style, and by the end has everyone on the edge of their seats, gripped by his haunting message," said Guggenheim. An Inconvenient Truth. An Inconvenient Truth is a 2006 Academy Award winning documentary film directed by Davis Guggenheim about former United States Vice President Al Gore's campaign to educate citizens about global warming via a comprehensive slide show that, by his own estimate made in the film, he has given more than a thousand times.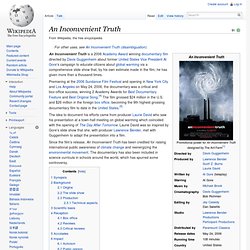 The idea to document his efforts came from producer Laurie David who saw his presentation at a town-hall meeting on global warming which coincided with the opening of The Day After Tomorrow. Laurie David was so inspired by Gore's slide show that she, with producer Lawrence Bender, met with Guggenheim to adapt the presentation into a film.
Since the film's release, An Inconvenient Truth has been credited for raising international public awareness of climate change and reenergizing the environmental movement.
---