An Inconvenient Truth
an inconvenient truth
Al Gore's "Inconvenient Truth" Movie: Fact or Hype?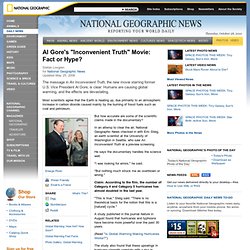 Updated May 25, 2006 The message in An Inconvenient Truth, the new movie starring former U.S. Vice President Al Gore, is clear: Humans are causing global warming, and the effects are devastating. Most scientists agree that the Earth is heating up, due primarily to an atmospheric increase in carbon dioxide caused mainly by the burning of fossil fuels such as coal and petroleum. But how accurate are some of the scientific claims made in the documentary?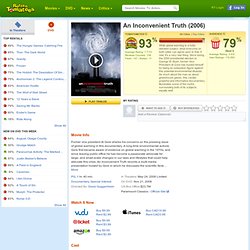 An Inconvenient Truth
All Critics (167) | Top Critics (37) | Fresh (153) | Rotten (11) | DVD (28) It grabs you like a thriller with an ending that will haunt your dreams. November 24, 2006 Just because truths are inconvenient is no reason to suppose they are not real.
An Inconvenient Truth Trailer
35 Inconvenient Truths: The errors in Al Gore's movie | Monckton
Al Gore's spokesman and "environment advisor," Ms.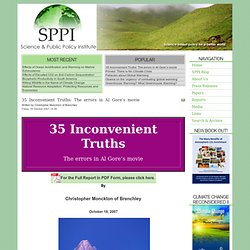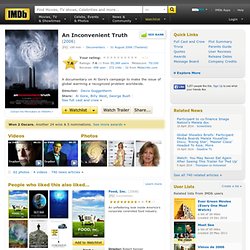 An Inconvenient Truth (2006
Edit Storyline
An Inconvenient Truth
An Inconvenient Truth is a 2006 documentary film directed by Davis Guggenheim about former United States Vice President Al Gore 's campaign to educate citizens about global warming via a comprehensive slide show that, by his own estimate made in the film, he has given more than a thousand times. Premiering at the 2006 Sundance Film Festival and opening in New York City and Los Angeles on May 24, 2006, the documentary was a critical and box-office success, winning 2 Academy Awards for Best Documentary Feature and Best Original Song . [ 4 ] The film grossed $24 million in the U.S. and $26 million in the foreign box office , becoming the 9th highest grossing documentary film to date in the United States . [ 5 ] The idea to document his efforts came from producer Laurie David who saw his presentation at a town-hall meeting on global warming which coincided with the opening of The Day After Tomorrow .