Russia
250,000 sign petition against St Petersburg "gay propaganda" law. Nearly a quarter of a million people have signed a petition calling on world leaders to hold Russia to account for a draft law in St Petersburg which threatens to silence its gay community.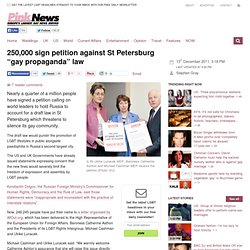 The draft law would punish the promotion of LGBT lifestyles in public alongside paedophilia in Russia's second largest city. The US and UK Governments have already issued statements expressing concern that the new fines would severely limit the freedom of expression and assembly by LGBT people. Russia : Don't Go There. We Will Not Be Silenced - AllOut.org. Russia Gay Pride Demonstrators Attacked, Detained In St. Petersburg (PHOTOS) ST.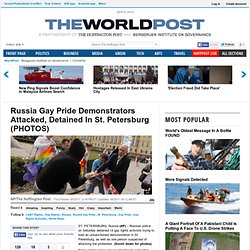 PETERSBURG, Russia (AP) – Russian police on Saturday detained 14 gay rights activists trying to hold an unsanctioned demonstration in St. Petersburg, as well as one person suspected of attacking the protesters. (Scroll down for photos) Police detained two groups of activists protesting their lack of rights in two central districts of the city. An Associated Press photographer saw unidentified individuals attack the demonstrators, trying to seize their banners before police moved in.
News Desk: What's Russian for "Homosexual Propaganda"? In a near unanimous vote on Wednesday, the St.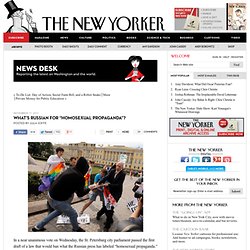 Petersburg city parliament passed the first draft of a law that would ban what the Russian press has labeled "homosexual propaganda." Actually, and if we're to be precise, the law would fine people for "public actions, aimed at propagandizing sodomy"—literally, "man-laying" in Russian—"lesbianism, bisexuality, [and] transgenderness among minors." Violators would be subject to fines ranging from three thousand rubles (about $100), for individuals, to fifty-thousand rubles ($1,600), for organizations. Anti-Gay Law Stirs Fears in Russia.
---