Russia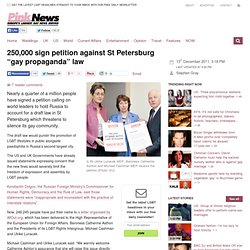 Nearly a quarter of a million people have signed a petition calling on world leaders to hold Russia to account for a draft law in St Petersburg which threatens to silence its gay community. The draft law would punish the promotion of LGBT lifestyles in public alongside paedophilia in Russia's second largest city. The US and UK Governments have already issued statements expressing concern that the new fines would severely limit the freedom of expression and assembly by LGBT people.
250,000 sign petition against St Petersburg "gay propaganda" law
Russia : Don't Go There. We Will Not Be Silenced - AllOut.org
Russia Gay Pride Demonstrators Attacked, Detained In St. Petersburg (PHOTOS)
ST.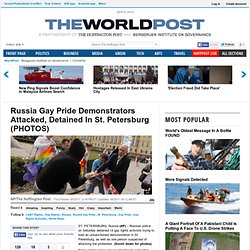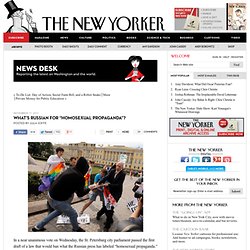 News Desk: What's Russian for "Homosexual Propaganda"?
In a near unanimous vote on Wednesday, the St.
Anti-Gay Law Stirs Fears in Russia