ACTA
Get flash to fully experience Pearltrees
This page lists different ways to take action against ACTA right now and to learn more about this dangerous agreement. ACTA is a multi-lateral trade agreement which threatens to change the Internet as we know it and puts fundamental freedoms at risk. The European Parliament will vote on ACTA this Wednesday July 4th and has the occasion to reject it once and for all. You will find on this page different ways you can act to defeat ACTA as a citizen. As a citizen, the main two things to do are: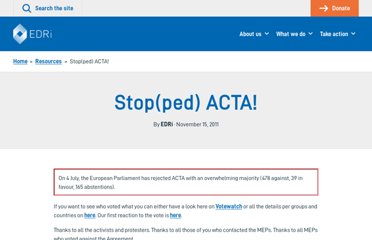 On 4 July, the European Parliament has rejected ACTA with an overwhelming majority (478 against, 39 in favour, 165 abstentions). If you want to see who voted what you can either have a look here on Votewatch or all the details per groups and countries on here . Our first reaction to the vote is here . Thanks to all the activists and protesters. Thanks to all those of you who contacted the MEPs. Thanks to all MEPs who voted against the Agreement.
Official Office of the U.S. Trade Representative Response to End ACTA and Protect our right to privacy on the Internet By Ambassador Miriam Sapiro
Today the EU and member states including the UK signed the Anti-Counterfeiting Trade Agreement in Japan. You may remember the healthy debate held here about whether this international treaty was something that the UK should commit itself to, helping policy makers arrive at a collectively taken decision. No? Good spot - there was no such debate! It was waived through the committees responsible for scrutinising the agreement, being deemed a 'document not raising legal or political questions requiring a report to the House'.