Technology Space
Digital Divide: If You're Reading This, You're One of the Lucky Ones [INFOGRAPHIC] Even in the richest countries on the planet such as the U.S., not everyone has easy access to this cornucopia of connectivity, the Internet.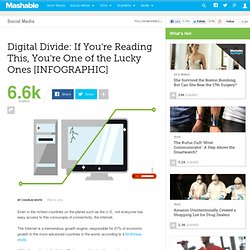 The Internet is a tremendous growth engine, responsible for 21% of economic growth in the more advanced countries in the world, according to a McKinsey study. While those of us in the United States complain about how we have to pay more for Internet service that's slower than those of other first-world countries, within the United States there's a gaping chasm between the haves and the have-nots. In this infographic by OnlineITdegree.net, an ad-free website describing itself as "an online informational resource for individuals looking to pursue IT degree of related education and careers," you'll find surprising information about the differences in Internet access in the United States. Physics or Fashion? What Science Lovers Link to Most [Interactive] People who are intrigued with physics are somewhat intrigued with computer science, too, but they are crazy about fashion.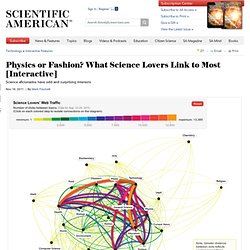 Who knew? Hilary Mason did. Top Tech Trends of 2011 (infographic) Stay Connected with Us!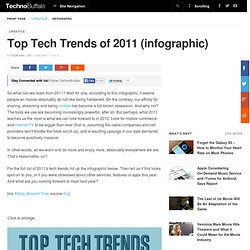 Follow TechnoBuffalo So what can we learn from 2011? Well for one, according to this infographic, it seems people en masse absolutely do not like being hardwired. On the contrary, our affinity for sharing, streaming and being mobile has become a full-blown obsession. Internet of Things. Surface. The Manual Photography Cheat Sheet. The Manual Photography Cheat Sheet by Miguel "Mig" Yatco is a very cool infographic for anyone who is ready to move off of Automatic Mode on their camera!
Yes, that means you! Quit taking average photos with average settings! No matter if you shoot with film or digital, understanding of these four aspects of photography are key to taking good shots. I love how each one shows the reader the range of values, the impact of moving along the range to the pcitures and what the actual display looks like in the viewfinder on both Nikon and Canon cameras. Submarine-cable-map-2012.telegeography.com. Camera Selection Infographics - The 'What Type of Camera Should I Get' Chart is Realistic.
If you are thinking about purchasing photography equipment, consider checking out the 'What Type of Camera Should I Get' infographic before buying more than what you need.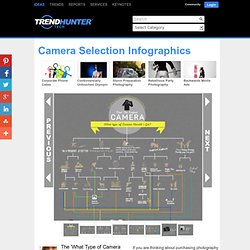 Although many assume a DSLR is the ideal choice, it is important to consider what you really use your camera for before blowing hundreds on a high-powered device. A DSLR is ideal for those who practice photography as their profession or when photo quality is of the upmost importance. If you are looking for DSLR quality without the bulk, mirror-less interchangeable lens cameras are quickly popping up on today's market. But if you see yourself taking everyday photos of your friends at parties, consider saving your money for brewskis and opt for a compact camera or simply use your phone's camera.
What topics science lovers link to the most. Hilary Mason, chief scientist at bitly, examined links to 600 science pages and the pages that those people visited next : The results revealed which subjects were strongly and weakly associated.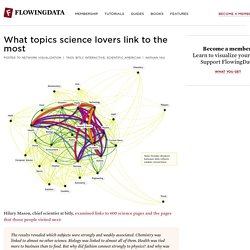 Chemistry was linked to almost no other science. Biology was linked to almost all of them. Health was tied more to business than to food. But why did fashion connect strongly to physics? The Elements Revealed: An Interactive Periodic Table. Metals That Enable Our Gadgets Are Vanishing. It's been widely reported that we're running out of the rare-earth elements and various other metals that make our smartphones and computers run.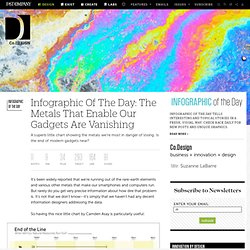 But rarely do you get very precise information about how dire that problem is. It's not that we don't know--it's simply that we haven't had any decent information designers addressing the data. So having this nice little chart by Camden Asay is particularly useful: Given its clarity and concision, its no wonder that the chart actually won the $2,000 first-place prize in a contest run by David McCandless's Information Is Beautiful. Of course, its very clarity makes you wonder about the data. End-of-theLine-Camden-Asay-Full.jpg (2550×1650) Mining and Metals. History of the U.S. Space Shuttle Program. Planets Large and Small Populate Our Galaxy (Infographic) | NASA's Kepler Planet-Hunting Spacecraft | Search for Earth-like Alien Planets.
Buy This Infographic as a Full-Size Poster Astronomers have discovered more than 700 alien planets beyond the solar system, and the count is rising all the time.
Some are large and hot, and others are smaller and cooler, but scientists are still on the lookout for an Earth twin. They just got closer, with the announcement Dec. 5 of a planet found by NASA's Kepler space telescope to lie in the habitable zone around its star where liquid water, and perhaps life, could exist. You can purchase a 20"x60" poster of this SPACE.com infographic on high-quality 14G Photo Paper from the SPACE.com store here: Buy Poster Embed: Paste the code below into your site. NASA's Virtual Snow Globe Looks at 10 Years of the White Stuff. NASA has released a video that highlights where snow graced the Earth during every month for more than 10 years.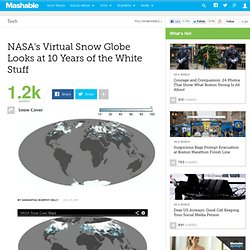 The clip starts with a snow-covered map of the Earth on February 2000 and runs all the way up until last month. The maps show observations collected by the Moderate Resolution Imaging Spectroradiometer (MODIS) on NASA's Terra satellite. 12 Visualizations That Will Change the Way You View Scale in Your World. Scale is a simple concept.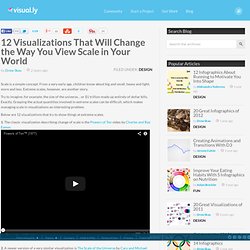 From a very early age, children know about big and small, heavy and light, more and less. Extreme scales, however, are another story. Try to imagine, for example, the size of the universe… or $1 trillion made up entirely of dollar bills. Exactly. "The Scale Of The Universe 2″ Animation Made By 14-Year-Olds Is Mind Blowing. The "Scale Of The Universe 2" is an awesome Flash animation packed with info. *UPDATE: Cary Huang, creator of "Scale Of The Universe 2″, answers some questions for the Hub. See his comments below.* An interactive Flash animation titled "Scale Of The Universe 2", covering everything in the universe from the fabric of space-time to the estimated size of the universe, was posted earlier this year, and it is awesome. Infographic Captures The Amazing Scale Of Space, Through Scrolling. Depending where you define the edges, our solar system has a diameter of at least 10 billion kilometers (and arguably more). How can the human mind begin to process such an expanse?
We can't compare it to any meaningful time/distance relationship we've experienced--neither a football field nor a long road trip can serve as a reasonable metric--so what do we do? This extra-long infographic of our solar system, by Information Is Beautiful Studio, uses clever design schemes to scale the unfathomable expanses of planetary systems right within our browsers.
Prepare to scroll for a looooong time: At its core is a waveform that serves as a scaling legend of distance. How Much Americans Spend on Electronics [INFOGRAPHIC] Think you've got bad gadget spending habits? If you're a single male between the ages of 50 and 65 living in San Jose, Calif. your tech splurges might be par for the course, according to research by Bundle.com. By aggregating anonymous data from the U.S. government, banks and other third-parties, Bundle has broken down Americans' gadget spending by city, age, household type and income level. While some of the findings are expected (monthly tech spending increases as the household gets larger), some are less so. For example, Madison, Wis. beats Seattle, Wash. in monthly spending, and 50 to 65-year-olds outspend their younger counterparts, on average. History of Apple. Apple iPad Buyer Is a Male, Pet-Owning Gamer. While the iPad is clearly a hit among lots of demographics, from non-reading toddlers to senior citizens, there are still certain sets of people that are more likely to go out and buy one of the Apple tablets.
The folks at marketing firm BlueKai have compiled some of that data into a handy infographic. Among the three characteristics most tied to iPad purchasing are being male, a pet-owner and into video games. Close behind are scientists, travelers (both international and domestic) and, bizarrely, organic food proponents. Apple Evolution: 30 Years in 2 Minutes. I personally am ambivalent about Macintosh as a brand, so I'll skip the PC vs Mac part and focus on the amazing evolution of computer technology and the impact of design awareness that has become part of Mac's identity. Here is an awesome video that shows Mac computers and laptops morphing through their various incarnations. I find it fascinating how the utilitarian tan colored plastic boxes eventually turned into a pieces of decor and eye candy. [Via Geekologie] Android Market: 10 Billion Downloads. All About The Mobile App Market. App-market-larger.jpeg (1000×5710) The Problem with Patents. The Best Airports and Airlines for Tech-Dependent Travelers [INFOGRAPHIC]
---