Introduction to Data Visualization
▶ Making data visualisations: a survival guide
Milestones in the History of Thematic Cartography, Statistical Graphics, and Data Visualization
The 2013 Awards Are Open!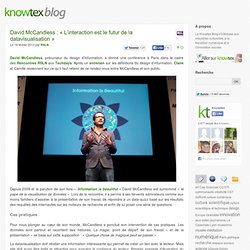 David McCandless, précurseur du design d'information, a donné une conférence à Paris dans le cadre des Rencontres RSLN aux Techdays. Après un entretien sur les définitions du design d'information, Claire et Camille reviennent sur ce qu'il faut retenir de ce rendez-vous entre McCandless et son public. Depuis 2009 et la parution de son livre « Information is beautiful » David McCandless est surnommé « le pape de la visualisation de données ».
David McCandless : « L'interaction est le futur de la datavisualisation » | Knowtex Blog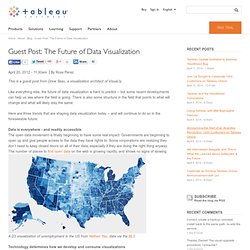 Data is everywhere - and readily accessible The open data movement is finally beginning to have some real impact.
Guest Post: The Future of Data Visualization
What Exactly Is Visualization?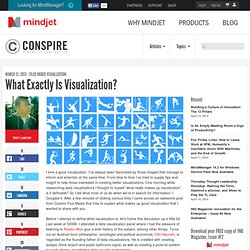 I love a good visualization. I've always been fascinated by those images that manage to inform and entertain at the same time.
Some thoughts on visualisation
A few years ago, we started doing info graphics by actually doing a lot of research on data and then working with a great group of guys to create art and visualization.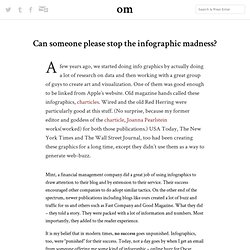 Can someone please stop the infographic madness?
Information graphics or infographics are graphic visual representations of information, data or knowledge intended to present complex information quickly and clearly.[1][2] They can improve cognition by utilizing graphics to enhance the human visual system's ability to see patterns and trends.[3][4] The process of creating infographics can be referred to as data visualization, information design, or information architecture.[2]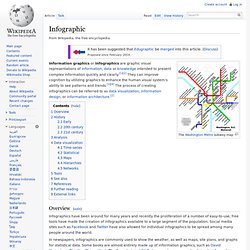 Scientists Say Infographics Can Save Morons From Themselves. Really? | Co.Design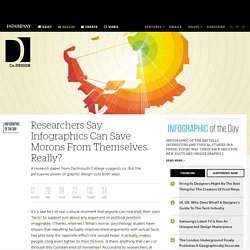 It's a sad fact of our cultural moment that anyone can marshall their own "facts" to support just about any argument or political position imaginable. (Thanks, Internet.) What's worse, psychology studies have shown that rebutting factually impoverished arguments with actual facts has precisely the opposite effect one would hope: it actually makes people cling even tighter to their fictions. Is there anything that can cut through this Gordian knot of nonsense?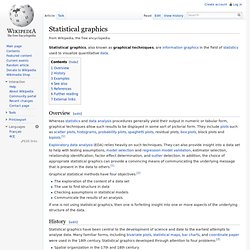 Statistical graphics
Statistical graphics, also known as graphical techniques, are information graphics in the field of statistics used to visualize quantitative data.
The current issue of the Statistical Computing and Graphics Newsletter features two invited articles, which both look at the "graphical display of quantitative data" – one from the perspective of statistical graphics, and one from the perspective of information visualization. Robert Kosara writes from an InfoVis view: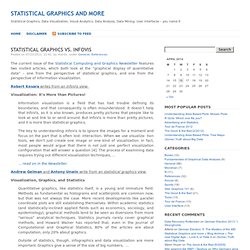 Data visualization or data visualisation is the creation and study of the visual representation of data, meaning "information that has been abstracted in some schematic form, including attributes or variables for the units of information".[1]