Data and maps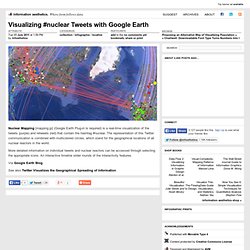 Nuclear Mapping [mapping.jp] (Google Earth Plug-in is required) is a real-time visualization of the tweets (purple) and retweets (red) that contain the hashtag #nuclear.
Visualizing #nuclear Tweets with Google Earth
Safecast
311 SCALE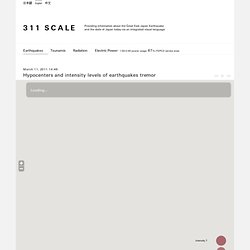 We would like to offer our deepest sympathies to all of those affected by the Great East Japan Earthquake.
_lnnwq4NhNw1qzfnm5o1_1280.jpg (925×1280)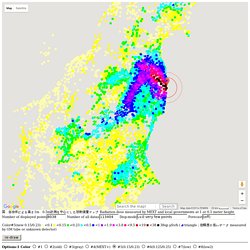 Color#5(new 0.15/0.23)
国・自治体による高さ1m・0.5m計測を中心とした放射線量マップ Radiation dose measured by MEXT and local governments at 1 or 0.5 meter height.
Xenon-133 Northern hemisphere - radiation | FLEXPART: dispersion model
Iodine-131 Japan - radiation | FLEXPART: dispersion model
Over the weekend I came across some data on levels of radiation in Japan collected by the Japanese government, and helpfully translated into English by volunteers.
Radiation visualizations paint a different picture of Japan - O'Reilly Radar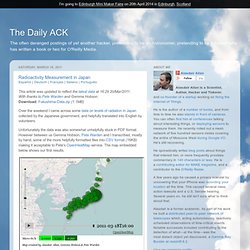 #geigermaps
Pachube - data infrastructure for the Internet of Things