Curation Tools
Like me, you may be a "content curator" and not even know it. Lately, I have noticed a number of articles and blog posts with headlines referencing the concept of content curation. I have to admit, before reading these posts, I wasn't quite sure what exactly it was. I am familiar with content marketing and have found it to be an excellent marketing tool both for Marketri and our clients, so I figured content curation was worth investigating.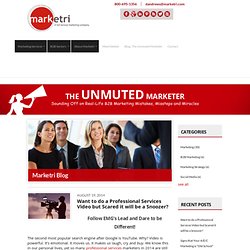 Are You a Content Curator? 5 Great Tools for Content Curation and Sharing | Marketri
Steven Rosenbaum is a curator, author, filmmaker and entrepreneur. He is the CEO of Magnify.net, a real-time video curation engine for publishers, brands, and websites. His book Curation Nation is slated to be published this spring by McGrawHill Business.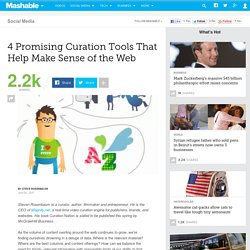 Content Curation Tool Scoop.It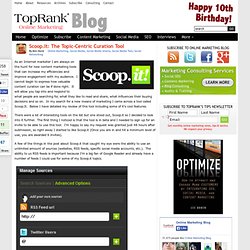 As an Internet marketer I am always on the hunt for new content marketing tools that can increase my efficiencies and improve engagement with my audience. I cannot begin to express how valuable content curation can be if done right. It will allow you tap into and respond to what people are searching for, what they like to read and share, what influences their buying decisions and so on. In my search for a new means of marketing I came across a tool called Scoop.It.
As the web becomes more and more inundated with blogs, videos, tweets, status updates, news, articles, and countless other forms of content, "information overload" is something we all seem to suffer. It is becoming more difficult to weed through all the "stuff" out there and pluck out the best, most share-worthy tidbits of information, especially if your topic is niche. Let's face it, Google definitely has its shortcomings when it comes to content curation and the more it tries to cater to all audiences, the less useful it becomes. The demand for timely, relevant content that is specific to our unique interests and perspectives has given rise to a new generation of tools that aim to help individuals and companies curate content from the web and deliver it in a meaningful way. These new tools range from simple, application-specific types such as social media aggregators and discovery engines, to more complex, full-blown publishing solutions for organizations.
3 Free Tools That Make Content Curation Super Easy
You may have already seen our mega-popular list of 30+ Content Curation Tools that has been making the rounds on Twitter lately (and if not, we strongly recommend checking it out). Today we'd like to dive a little deeper and highlight three simple but powerful tools we use on a regular basis that make content curation super easy. Here they are: Now let's look at each of these tools individually, plug in some sample data, and show you how easy it is to use them in combination with each other to curate content! Google Search Tools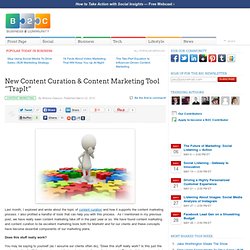 Popular Today in Business: All Popular Articles Last month, I explored and wrote about the topic of content curation and how it supports the content marketing process. I also profiled a handful of tools that can help you with this process. As I mentioned in my previous post, we have really seen content marketing take off in the past year or so. We have found content marketing and content curation to be excellent marketing tools both for Marketri and for our clients and these concepts have become essential components of our marketing plans. Does this stuff really work?
New Content Curation & Content Marketing Tool "TrapIt"