Curation
Where have I been? I'm dropping pearls as I traverse the internet to help find my way back to the best information I've discovered during my travels... ptamaro Aug 10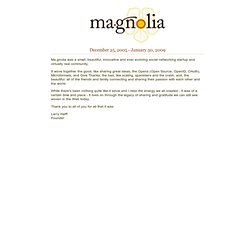 Ma.gnolia was a small, beautiful, innovative and ever evolving social networking startup and virtually real community. It wove together the good, like sharing great ideas, the Opens (Open Source, OpenID, OAuth), Microformats, and Give Thanks; the bad, like scaling, spammers and the crash; and, the beautiful: all of the friends and family connecting and sharing their passion with each other and the world. While there's been nothing quite like it since and I miss the energy we all created - it was of a certain time and place - it lives on through the legacy of sharing and gratitude we can still see woven in the Web today. Thank you to all of you for all that it was. Larry Halff Founder
Blastgroups - Create a Free Group Website and Email List for any Group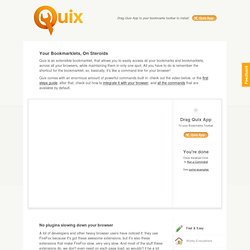 Your Bookmarklets, On Steroids Quix is an extensible bookmarklet, that allows you to easily access all your bookmarks and bookmarklets, across all your browsers, while maintaining them in only one spot. All you have to do is remember the shortcut for the bookmarklet, so, basically, it's like a command line for your browser! Quix comes with an enormous amount of powerful commands built in: check out the video below, or the first steps guide, after that, check out how to integrate it with your browser, and all the commands that are available by default.
Shortwave ~ an extensible quick-search and shortcut bookmark
Shortwave webclip Drag this bookmark onto your browser bookmarks bar. Clicking the bookmark will result in a JavaScript prompt. Shortwave responds to commands. A command consists of a predefined trigger plus optional search terms.
Modische Geschenkideen für verschiedene Anlässe Sie sind auf einem Geburtstag oder einer anderen Feier eingeladen und möchten dem Gastgeber etwas mitbringen. In der Vergangenheit stellte sich nicht häufig die Frage nach dem "Was", denn in erster Linie nahm man Blumen... sehen Sie die Auflistung Haas nach Leistungssteigerung im Viertelfinale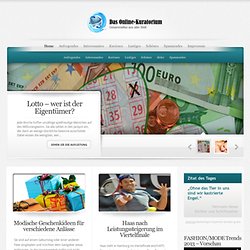 for the web worker tribe
Publishing your bookmark collections as "magazines" on the web Posted by Pietro Polsinelli on October 6, 2010 · 2 Comments Once you have collected a list of bookmarks, wouldn't it be nice to share them on the web à la Flipboard or as Paper.li does?
Publishing your bookmark collections as "magazines" on the web « Pietro Polsinelli's meditations on software