Curation
Curator, curation... Néologisme, buzzword ou simple phénomène marketing, un constat est à faire : de plus en plus de plateformes dédiées à cette activité se développent sur le web. Outils qui, au-delà de leur utilité pour formaliser, classer et diffuser une veille, se révèlent aussi intéressant à observer dans une problématique de gestion de la réputation en ligne.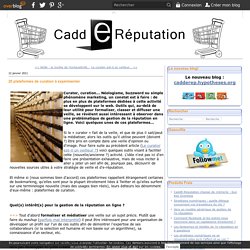 CNNI-POWNAR.pdf - Powered by Google Docs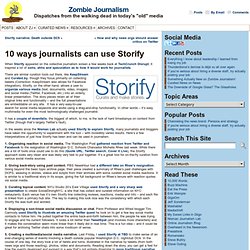 When Storify appeared on the collective journalism screen a few weeks back at TechCrunch Disrupt , it inspired a lot of oohs, ahhs and speculation as to how it would work for journalists . There are similar curation tools out there, like KeepStream and Curated.by , though they focus primarily on collecting tweets (Correction: KeepStream also allows for Facebook integration). Storify, on the other hand, allows a user to organize various media (text, documents, video, images) and social media (Twitter, Facebook, etc.) into an orderly, linear presentation. The story pieces retain all of their original links and functionality – and the full presentations are embeddable on any site. It has a very easy-to-use search for social media keywords and works using a drag-and-drop functionality.
The time it takes to follow and go through multiple web sites and blogs takes tangible time, and since most sources publish or give coverage to more than one topic, one gets to browse and scan through lots of useless content just for the sake of finding what is relevant to his specific interest. Even in the case of power-users utilizing RSS feed readers, aggregators and filters, the amount of junk we have to sift through daily is nothing but impressive, so much so, that those who have enough time and skills to pick the gems from that ocean of tweets, social media posts and blog posts, enjoy a fast increasing reputation and visibility online. Photo credit: dsharpie and franckreporter mashed up by Robin Good " What we need to get much better at is scaling that system so you don't have to pay attention to everything, but you don't miss the stuff you care about... " Ev Williams at a Girls in Tech event at Kicklabs via Stowe Boyd's blog