Curation Tools
Get flash to fully experience Pearltrees
Steve Rosenbaum is the CEO of Magnify.net , a video Curation and Publishing platform. Rosenbaum is a blogger, video maker and documentarian. You can follow him on Twitter @magnify and read more about Curation at CurationNation.org . For website content publishers and content creators, there's a debate raging as to the rights and wrongs of curation. While content aggregation has been around for a while with sites using algorithms to find and link to content, the relatively new practice of editorial curation — human filtering and organizing — has created what I'm dubbing, "The Great Creationism Debate." The debate pits creators against curators, asking big questions about the rules and ethical questions around content aggregation.
This post is part of a weekly series called "5 Questions With…" featuring Q&As with Social Media Week Global Advisory Board members. Steve Rosenbaum is CEO and Founder of Magnify.net , a video publishing platform that makes it easy to integrate user-generated video, video that you produce, or video that you discover into your website.
Why we created Paper.li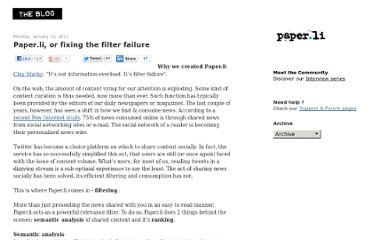 Steven Rosenbaum is a curator, author, filmmaker and entrepreneur. He is the CEO of Magnify.net , a real-time video curation engine for publishers, brands, and websites. His book Curation Nation is slated to be published this spring by McGrawHill Business.
magnify.net is it a good tool ? by trackingnewtech Sep 17
For this week's post, I sat down with Burt Herman ( @burtherman ), entrepreneurial journalist who is the CEO of Storify and founder of Hacks/Hackers .