Design and cool material things
Snapzoom: The Universal Smartphone Scope Adapter by HI Resolution Enterprises — Kickstarter - Iceweasel (Build 20120314104625)
Aloha Kickstarter we are Daniel Fujikake and Mac Nguyen of HI Resolution Enterprises.
Better than knives
Build Last.fm: Extend your Last.fm experience – Last.fm
Just Rain - A dedicated rainmeter website
Endless Possibilities With Can Ring Pulls
VIBE Headphones | VIBE Audio
Game changer
Any artist or designer who works with color knows that the best inspiration and perfect coloration can often be found in real-life objects all around us. What if you could take your trusty drawing pen and simply scan any color you want and then turn around and draw with it? This innovative pen design by Jin Sun Park allows you to do just that.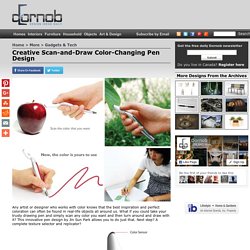 Plumber Bookshelves | Stella Bleu Designs - The Archtivist
Kreativne vizitke | Komšija
Awesome Diy - The Awesomer - Page 10
Architecture Home
As many of you know I grew up during the 80′s and spent a lot of time with the fun 8-bit computers of those days. One of my favorites was the Apple IIgs, and when someone requested I build a portable version of it I jumped at the chance. A custom-built Apple IIgs laptop. Click for larger version , suitable for framing. Some quick specs: Large 15″ color screen.
The Official Blog of Benjamin J Heckendorn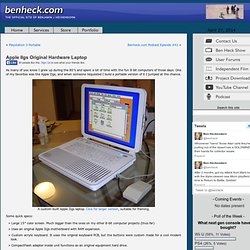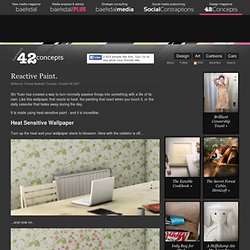 Shi Yuan has created a way to turn normally passive things into something with a life of its own. Like this wallpaper that reacts to heat, the painting that react when you touch it, or the daily calendar that fades away during the day. It is made using heat sensitive paint - and it is incredible. Heat Sensitive Wallpaper Turn up the heat and your wallpaper starts to blossom.