CSR
CSR counsellor met with anger, allegations | Embassy - Canada's Foreign Policy Newspaper
CSR: Mining
TORONTO (miningweekly.com) – The Canadian Institute of Mining, Metallurgy and Petroleum (CIM), in partnership with the government and other stakeholders, has set up a website to help mining, oil and gas companies based in the country and operating abroad meet their social and environmental responsibilities. "This new website will be a one-stop shop with the latest information on corporate social responsibility rules, laws and best practices," said Canadian Minister of International Trade and Minister for the Asia-Pacific Gateway Stockwell Day . "It will also feature timely, practical information and advice on foreign countries, local networks and relevant experiences of Canadian companies, civil society and other stakeholders operating abroad," he said in a statement. The site is hosted by the CIM and was developed in consultation with the federal government, industry, civil society, academia, indigenous representatives and expert practitioners.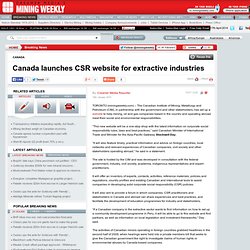 Canada launches CSR website for extractive industries
Mining, People and the Environment - Corporate Social Responsibility (CSR)
This page lists all articles relating to Corporate Social Responsibility (CSR). Bookmark this page or subscribe to the RSS feed to see new articles as they are added. A memorandum of understanding that creates a training alliance to develop an aboriginal workforce focused on mining activities was signed at the Prospectors and Developers Association of Canada (PDAC) annual convention Full story... Special report: From global to local Anglo American's next CEO used Indaba to highlight the importance of local communities Full story... Country Risk: India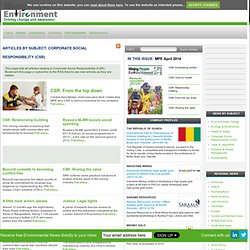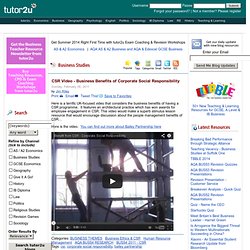 Sunday, February 06, 2011 Print Email Tweet This! Save to Favorites Here is a terrific UK-focused video that considers the business benefits of having a CSR programme. It features an architectural practice which has won awards for employee engagement in CSR. This video would make a superb stimulus lesson resource that would encourage discussion about the people management benefits of CSR…
Business Studies - CSR Video - Business Benefits of Corporate Social Responsibility
Corporate Social Responsibility - Forbes.com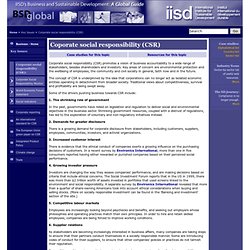 Corporate social responsibility (CSR) | Current issues
Corporate social responsibility (CSR) promotes a vision of business accountability to a wide range of stakeholders, besides shareholders and investors. Key areas of concern are environmental protection and the wellbeing of employees, the community and civil society in general, both now and in the future. The concept of CSR is underpinned by the idea that corporations can no longer act as isolated economic entities operating in detachment from broader society. Traditional views about competitiveness, survival and profitability are being swept away. Some of the drivers pushing business towards CSR include:
IBM study highlights the commercial benefits of CSR : greentelecomlive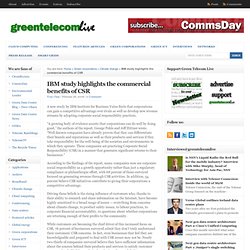 A new study by IBM Institute for Business Value finds that corporations can gain a competitive advantage over rivals as well as develop new revenue streams by adopting corporate social responsibility practices. "A growing body of evidence asserts that corporations can do well by doing good," the authors of the report, George Pohle and Jeff Hittner wrote. "Well-known companies have already proven that they can differentiate their brands and reputations as well as their products and services if they take responsibility for the well-being of the societies and environments in which they operate.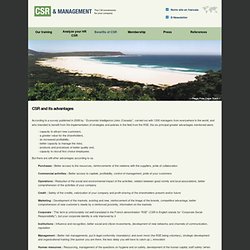 Benefits of CSR - CSR & MANAGEMENT
According to a survey published in 2008 by " Economist Intelligence Links (Canada)", carried out with 1200 managers from everywhere in the world, and who intended to benefit from the implementation of strategies and policies in the field from the RSE, the six principal greater advantages mentioned were: - capacity to attract new customers, - a greater value for the shareholders, - an increased profitability, - better capacity to manage the risks, - products and processes of better quality and, - capacity to recruit first choice employees. But there are still other advantages according to us.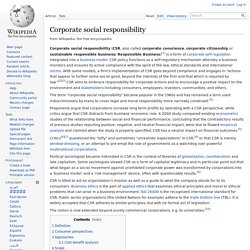 Corporate social responsibility ( CSR , also called corporate conscience , corporate citizenship , social performance , or sustainable responsible business/ Responsible Business ) [ 1 ] is a form of corporate self-regulation integrated into a business model . CSR policy functions as a built-in, self-regulating mechanism whereby a business monitors and ensures its active compliance within the spirit of the law, ethical standards, and international norms . CSR is a process with the aim to embrace responsibility for the company's actions and encourage a positive impact through its activities on the environment, consumers, employees, communities, stakeholders and all other members of the public sphere who may also be considered as stakeholders. The term "corporate social responsibility" came into common use in the late 1960s and early 1970s after many multinational corporations formed the term stakeholder , meaning those on whom an organization's activities have an impact.
The Benefits of Corporate Social Responsibility - Corporate Counsel
Companies may be exposed to a variety of legal and reputational risks if they do not have adequate social compliance or corporate social responsibility/sustainability programs in place. Attorney Michael A. Levine gives examples of CSR issues embedded in the risks companies face, and describes benefits of CSR programs. He also summarizes the recent work of the United Nations' Special Representative for Business and Human Rights, who has recently proposed a three-part framework for CSR. The ALM ® and LexisNexis ® Content Alliance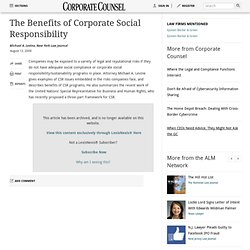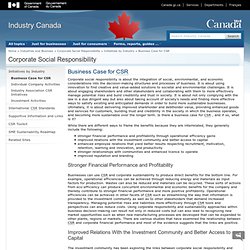 Corporate social responsibility is about the integration of social, environmental, and economic considerations into the decision-making structures and processes of business. It is about using innovation to find creative and value-added solutions to societal and environmental challenges. It is about engaging shareholders and other stakeholders and collaborating with them to more effectively manage potential risks and build credibility and trust in society. It is about not only complying with the law in a due diligent way but also about taking account of society's needs and finding more effective ways to satisfy existing and anticipated demands in order to build more sustainable businesses. Ultimately, it is about delivering improved shareholder and debtholder value, providing enhanced goods and services for customers, building trust and credibility in the society in which the business operates, and becoming more sustainable over the longer term.
Business Case for CSR - Corporate Social Responsibility
The business benefits of corporate social responsibility