Crowdsourcing
38 :: Crowdsourcing for dummies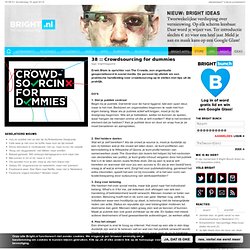 Erwin Blom is oprichter van The Crowds, een organisatie gespecialiseerd in social media. De persoon bij uitstek om een praktische handleiding voor crowdsourcing op te stellen met tips uit de praktijk. 1. Stel je publiek centraal Begin bij je publiek. Dat klinkt voor de hand liggend, lijkt een open deur, maar is het niet.
Dolf Jansen in Pauw & Witteman 15 november 2011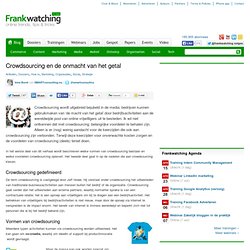 Crowdsourcing wordt uitgebreid bejubeld in de media: bedrijven kunnen gebruikmaken van 'de macht van het getal' door bedrijfsactiviteiten aan de wereldwijde pool van online vrijwilligers uit te besteden. Ik wil niet ontkennen dat met crowdsourcing belangrijke voordelen te behalen zijn. Alleen is er (nog) weinig aandacht voor de keerzijden die ook aan crowdsourcing zijn verbonden. Terwijl deze keerzijden voor onverwachte kosten zorgen en de voordelen van crowdsourcing (deels) teniet doen. In het eerste deel van dit verhaal wordt beschreven welke vormen van crowdsourcing bestaan en welke voordelen crowdsourcing oplevert. Het tweede deel gaat in op de nadelen die aan crowdsourcing kleven.
Crowdsourcing en de onmacht van het getal
Search - Crowdsourcing.org
» Top 2000: een gruwel voor wie echt van crowdsourcing houdt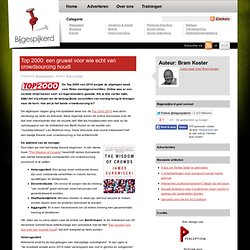 Datum: 02-01-2011 - Categorie: Bijgespijkerd - Auteur: Bram Koster De Top 2000 van 2010 zorgde de afgelopen week voor flinke meningsverschillen. Online was er een verbale strijd tussen voor- en tegenstanders gaande.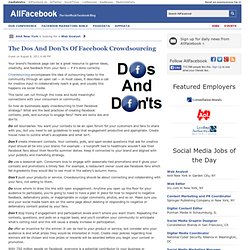 The Dos And Don'ts Of Facebook Crowdsourcing
Your brand's Facebook page can be a great resource to garner ideas, creativity, and feedback from your fans — if it's done correctly. Crowdsourcing encompasses the idea of outsourcing tasks to the community through an open call — in most cases, it describes a call for creative input to collaboratively reach a goal, and usually this happens via social media. This tactic can cut through the noise and build meaningful connections with your consumers or community. So how do businesses apply crowdsourcing to their Facebook strategy? What are the best practices of creating Facebook contests, polls, and surveys to engage fans? Here are some dos and don'ts.
Investigate your MP's expenses
Below is a list of projects that rely on crowdsourcing . See also open innovation . [ edit ] A Adaptive Vehicle Make is a project overseen by DARPA to crowdsource the design and manufacture of a new armoured vehicle .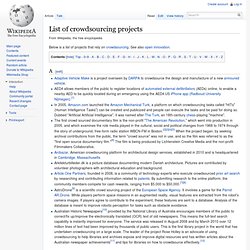 Film, deel en kijk evenementen /  Film It Yourself
De Publieke Omroep is wettelijk verplicht toestemming te vragen voor het gebruik van cookies.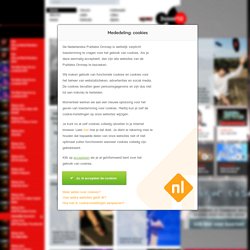 Kaarten, E-cards en Echte Kaarten Versturen - Boomerang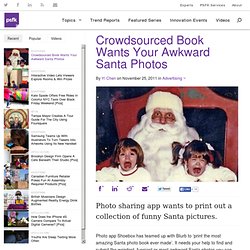 Crowdsourced Book Wants Your Awkward Santa Photos
Photo app Shoebox has teamed up with Blurb to 'print the most amazing Santa photo book ever made'. It needs your help to find and submit the weirdest, funniest or most awkward Santa photos you can find. In return, the best photo will win a plane ticket home for the holidays. To enter, you can submit the photo via Twitter or Facebook before 1 December.
Eerste Hulp bij Plaatopnamen