Crowdsourcing
38 :: Crowdsourcing for dummies. Erwin Blom is oprichter van The Crowds, een organisatie gespecialiseerd in social media.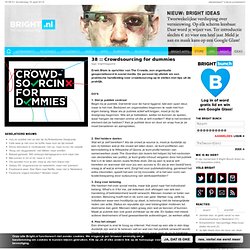 De persoon bij uitstek om een praktische handleiding voor crowdsourcing op te stellen met tips uit de praktijk. 1. Stel je publiek centraalBegin bij je publiek. Dat klinkt voor de hand liggend, lijkt een open deur, maar is het niet. Dolf Jansen in Pauw & Witteman 15 november 2011. Crowdsourcing en de onmacht van het getal. Crowdsourcing wordt uitgebreid bejubeld in de media: bedrijven kunnen gebruikmaken van 'de macht van het getal' door bedrijfsactiviteiten aan de wereldwijde pool van online vrijwilligers uit te besteden.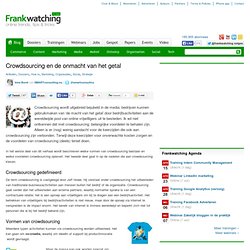 Ik wil niet ontkennen dat met crowdsourcing belangrijke voordelen te behalen zijn. Alleen is er (nog) weinig aandacht voor de keerzijden die ook aan crowdsourcing zijn verbonden. Terwijl deze keerzijden voor onverwachte kosten zorgen en de voordelen van crowdsourcing (deels) teniet doen. In het eerste deel van dit verhaal wordt beschreven welke vormen van crowdsourcing bestaan en welke voordelen crowdsourcing oplevert. Het tweede deel gaat in op de nadelen die aan crowdsourcing kleven. Search. Content Type Articles Blogs Questions Documents Videos Sites Editorials Most RelevantLatest TrendingMost Viewed Crowdsourcing's Seven Deadly Sins Distributed Knowledge, Open Innovation.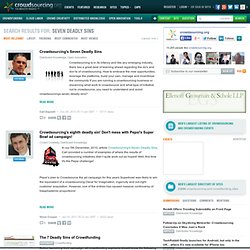 » Top 2000: een gruwel voor wie echt van crowdsourcing houdt. De Top 2000 van 2010 zorgde de afgelopen week voor flinke meningsverschillen.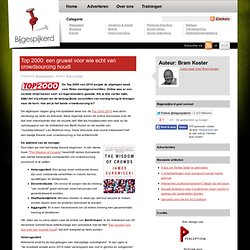 Online was er een verbale strijd tussen voor- en tegenstanders gaande. Als je iets verder kijkt, blijkt het vrij simpel om de belangrijkste verschillen van mening terug te brengen naar de kern: hoe zet je het beste crowdsourcing in? The Dos And Don'ts Of Facebook Crowdsourcing. Your brand's Facebook page can be a great resource to garner ideas, creativity, and feedback from your fans — if it's done correctly.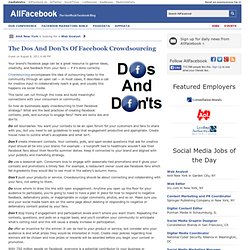 Crowdsourcing encompasses the idea of outsourcing tasks to the community through an open call — in most cases, it describes a call for creative input to collaboratively reach a goal, and usually this happens via social media. This tactic can cut through the noise and build meaningful connections with your consumers or community. So how do businesses apply crowdsourcing to their Facebook strategy? What are the best practices of creating Facebook contests, polls, and surveys to engage fans? Here are some dos and don'ts. Investigate your MP's expenses. Wired 14.06: The Rise of Crowdsourcing. Remember outsourcing?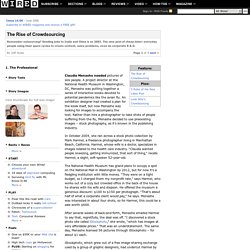 Sending jobs to India and China is so 2003. The new pool of cheap labor: everyday people using their spare cycles to create content, solve problems, even do corporate R & D. By Jeff HowePage 1 of 4 next » 1. List of crowdsourcing projects. Below is a list of projects that rely on crowdsourcing.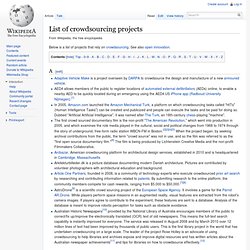 See also open innovation. A[edit] Adaptive Vehicle Make is a project overseen by DARPA to crowdsource the design and manufacture of a new armoured vehicle.AED4 allows members of the public to register locations of automated external defibrillators (AEDs) online, to enable a nearby AED to be quickly located during an emergency using the AED4.US iPhone app (Radboud University Nijmegen).[1]In 2005, Amazon.com launched the Amazon Mechanical Turk, a platform on which crowdsourcing tasks called "HITs" (Human Intelligence Tasks") can be created and publicized and people can execute the tasks and be paid for doing so. Jeff Howe - Crowdsourcing. Film, deel en kijk evenementen /  Film It Yourself. De Nederlandse Publieke Omroep maakt gebruik van cookies.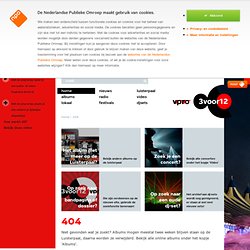 We maken een onderscheid tussen functionele cookies en cookies voor het beheer van webstatistieken, advertenties en social media. De cookies bevatten geen persoonsgegevens en zijn dus niet tot een individu te herleiden. Met de cookies voor advertenties en social media worden mogelijk door derden gegevens verzameld buiten de websites van de Nederlandse Publieke Omroep. Bij instellingen kun je aangeven deze cookies niet te accepteren. Kaarten, E-cards en Echte Kaarten Versturen - Boomerang. Logo Design, Web Design and More. Design Done Differently | 99designs.com. THE JOHNNY CASH PROJECT.
Crowdsourced Book Wants Your Awkward Santa Photos. Photo app Shoebox has teamed up with Blurb to 'print the most amazing Santa photo book ever made'.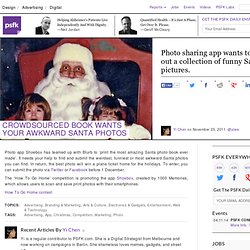 It needs your help to find and submit the weirdest, funniest or most awkward Santa photos you can find. In return, the best photo will win a plane ticket home for the holidays. To enter, you can submit the photo via Twitter or Facebook before 1 December. The 'How To Go Home' competition is promoting the app Shoebox, created by 1000 Memories, which allows users to scan and save print photos with their smartphones. Eerste Hulp bij Plaatopnamen.
---