CROWDFUNDING GERMANY
Marktplatz für Eigenkapitalbeteiligungen | Bergfürst
Top German Crowdsourcers
Kreative Finanzierung für kreative Projekte Eine Plattform für Künstler, Filmemacher, Musiker, Fotografen, Aktivisten, Veranstalter, Designer, Autoren, Illustratoren, Kuratoren, Entdecker, Erfinder, Performer … Inkubato macht aussergewöhnliche Ideen, Aktionen und Vorhaben bekannt, damit sie realisiert werden können. Wie das geht?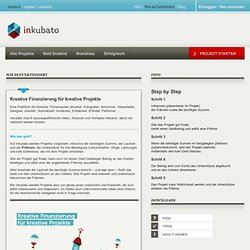 How it works | INKUBATO
Crowdfunding on the Rise in Germany
In the Anglo-American world, crowdfunding is already established as an alternative form of fundraising. Yet in Germany, Austria and Switzerland, crowdfunding is also increasing its volume. A dozen crowdfunding platforms have been launched to cater to the needs of the German-speaking creative industry and technology start-ups.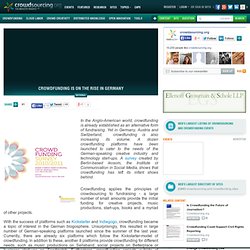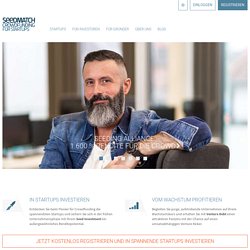 Sie sind Gründer eines zukunftsweisenden Unternehmens und suchen Investoren mit Kapital und Unterstützer Ihres Geschäftsmodells? Bei Seedmatch können Menschen, die Ihre Geschäftsidee spannend finden, unkompliziert online und bereits ab 250 € in Ihr Startup investieren – mit einem Crowdfunding bei Seedmatch, der größten Crowdfunding-Plattform für Startups in Deutschland. Nicht jedes Gründungsvorhaben ist für ein Crowdfunding bei Seedmatch geeignet. Erfahren Sie jetzt, welche Startups am besten zu Seedmatch passen und ob eine Finanzierung mit der Crowd das Richtige für Ihre Geschäftsidee ist: So starten Sie ein Crowdfunding bei Seedmatch