CROWDFUNDING GERMANY
Marktplatz für Eigenkapitalbeteiligungen | Bergfürst. Top German Crowdsourcers. Crowd Funding for INKUBATO. How it works | INKUBATO. Kreative Finanzierung für kreative Projekte Eine Plattform für Künstler, Filmemacher, Musiker, Fotografen, Aktivisten, Veranstalter, Designer, Autoren, Illustratoren, Kuratoren, Entdecker, Erfinder, Performer … Inkubato macht aussergewöhnliche Ideen, Aktionen und Vorhaben bekannt, damit sie realisiert werden können.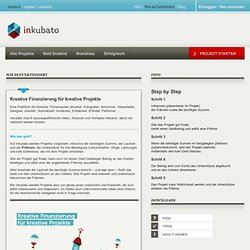 Wie das geht? Crowdfunding on the Rise in Germany. In the Anglo-American world, crowdfunding is already established as an alternative form of fundraising.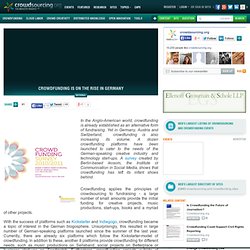 Yet in Germany, Austria and Switzerland, crowdfunding is also increasing its volume. A dozen crowdfunding platforms have been launched to cater to the needs of the German-speaking creative industry and technology start-ups. Crowd funding, project funding to artists, designers ... to start next - start. VisionBakery. Seedmatch. Cofundos.org - community innovation and funding. Www.pling.de - pling - Finanzierung von kreativen Projekten! Innovestment - Invest in innovation!
---