Useful Websites
MyPicot. Design on a Dime: Crochet Projects, Second-Hand Style | Second Hand Social. We are excited to once again feature Morgan Roberts, owner and designer behind King Soleil, a boutique specializing in children's wear and home decor.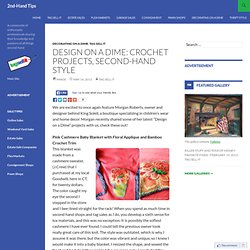 Morgan recently shared some of her latest "Design on a Dime" projects with us, check these out! Pink Cashmere Baby Blanket with Floral Applique and Bamboo Crochet Trim. Digital Resources from the Knitting Reference Library WSA :: Library. Richard Rutt is a scholar and former bishop who is widely known for his classic book 'A history of hand knitting', published by Batsford in 1987.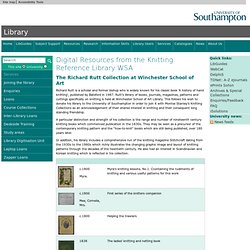 Rutt's library of books, journals, magazines, patterns and cuttings specifically on knitting is held at Winchester School of Art Library. This follows his wish to donate his library to the University of Southampton in order to join it with Montse Stanley's Knitting Collections as an acknowledgement of their shared interest in knitting and their consequent long standing friendship. A particular distinction and strength of his collection is the range and number of nineteenth century knitting books which commenced publication in the 1830s.
They may be seen as a precursor of the contemporary knitting pattern and the "how-to-knit" books which are still being published, over 180 years later. A Yarnified Life. Crochet Insider. Ravelry - a knit and crochet community. Free, Online Crochet Patterns - Beginner Crochet Instructions - Crochet Tips, Tricks, Testimonials and More! Crochetville. Thread Crochet and Snowflakes. Stiffening your snowflakes is really just step one in the whole blocking process.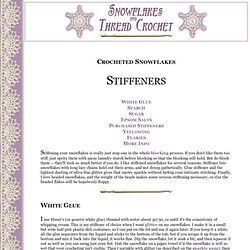 If you don't like them too stiff, just spritz them with spray laundry starch before blocking so that the blocking will hold. But do block them -- they'll look so much better if you do. I like stiffened snowflakes for several reasons. Stiffener lets snowflakes with long lacy chains hold out their arms, and not droop pathetically. Glue stiffener and the lightest dusting of ultra-fine glitter gives that snowy sparkle without hiding your intricate stitching.
---