Crochet
Get flash to fully experience Pearltrees
When I saw these cute whales, I just couldn't resist making some of my own! I decided to make mine in funky and bright colors! The pattern is easy to follow and can be whipped up pretty quickly!
HEAD: With white and 4mm hook: R1: Ch 2 then make 6 sc in second ch from hook (6) R2: 2 sc in each stitch around (12) R3: 1 sc , 2 sc in next stitch, repeat 6 times (18) R4: 2 sc, 2 sc in next stitch, repeat 6 times (24) R5: 3 sc, 2 sc in next stitch, repeat 6 times (30)
I've been in crochet overload. I swear I'm starting to get carpal tunnel syndrome in my wrists. This probably means I should cease but I find my hands itching to do something when I stop.
Blanket stitch edging is a wonderful decorative edge, but also very functional too. It not only strengthens, but can also straighten the edge of your hand stitched project. It can add a fabulous pop of color and create a clean, uniform look to the bottom of a scarf or garment. Blanket stitch edging is also a useful stitch for joining pieces together. To begin, all you'll need is a tapestry or yarn needle, yarn of your choice, and the item that you'll be stitching on. Thread your needle with a tail,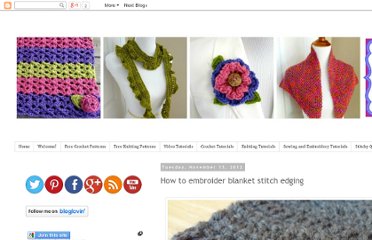 I saw this bag and it totally drove me crazy!
Here is my tutorial showing how to construct this wonderful layered flower and then make it into a Blooming Flower cushion/pillow. First of all I would like to say that this pattern is not my own .
Granny squares are among our most popular crochet projects, with good reason; they are versatile, easy to crochet, and endlessly intriguing.