Crochet Critters
Koala Bear Amigurumi. I found a Koala Amigurumi Pattern in the Woman's Day website and I have some off-white and gray organic cotton yarns on hand, so I made a pair of these small little stuffed koalas for my kids in reverse color.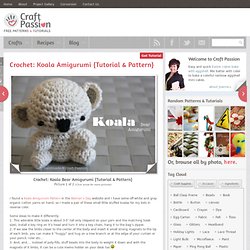 Some ideas to make it differently: 1. This adorable little koala is about 3-5″ tall only (depend on your yarn and the matching hook size), install a key ring on it's head and turn it into a key chain, hang it to the bag's zipper. 2. If we sew the limbs closer to the center of the body and insert 4 small strong magnets to the tip of each limb, you can make it "huggy" and hug on a tree branch or at the edge of your curtain or your pencil, ruler etc… 3. And, and…. instead of poly-fills, stuff beads into the body to weight it down and with the magnets of it limbs, it can be a cute memo holder on your desk too. Lollo the African Flower Bear pattern by Heidi Bears. Hi everyone :) I am hoping in the next weeks to re-write the pattern to include a more concise version.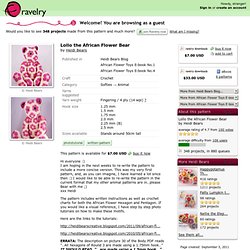 This was my very first pattern, and, as you can imagine, I have learned a lot since then :) I would like to be able to re-write the pattern in the current format that my other animal patterns are in…please Bear with me ;) xxx Heidi The pattern includes written instructions as well as crochet charts for both the African Flower Hexagon and Pentagon. If you would like a visual reference, I have step by step photo tutorials on how to make these motifs. Crochet Creatures - Crochet Turtle Patterns from WomansDay.com. Roman sock.
---