Crochet & Knitting
Knittingfool - Knitting Stitch Patterns - Sweater Pattern Generators. DIY Crochet Rug With Yarn & Old T-Shirts. Free Crochet Patterns (19,000+) and over 9,000 Free Knitting Patterns. WEBS Yarn, Knitting Yarns, Knitting Patterns, Knitting Needles, Weaving Yarns at Webs. Free knitting patterns. I knit this stocking flat A) because I don't enjoy knitting in the round andB) because I think it gives greater flexibility in working fairisle and other intarsia designs.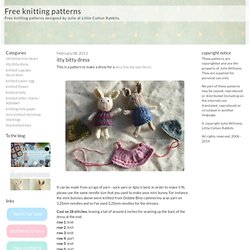 I tend to work it on double pointed needles because during heel shaping you need to switch from working one side to the other. You can knit it on regular needles but slide the work across onto a second needle at appropriate time. Apart from the stocking top it is worked in stocking stitch (knit on right side and purl on reverse) Materials:oddments of yarn.
---
rochellerudder Nov 12 2012

Thank you group I will add some videos soon. Great idea.

iloveapples Oct 14 2012

I don't know how to knit. Have any videos I can watch to learn how.

jeazette Oct 14 2012

I can't seem to stop crocheting. And I'm trying to teach myself to knit a pair of socks! Welcome!
---