Crochet 2
Priscilla's Crochet~Free Pattern Index~
bobwilson123 - Youtube Tutorials
Yes! Because along with bead sprites I also love to make amigurumi. I'm making it a mission to create my own beautiful patterns one day, but first I'll be recreating amigurumi made by talented, experienced plush designers. I will always be sure to give each designer credit. Unlike bead sprites, I may not be able to sell these creations.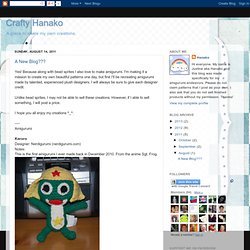 Crafty Hanako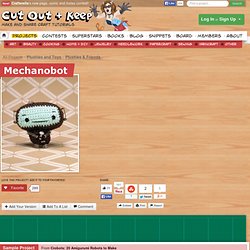 Mechanobot
Mechanobot is a hard worker Mechanobot is a hard worker. His huge rectangular head contains enough wiring for him to remember how everything works and how it can be fixed when it's broken.
Si vous êtes sur Paris, (j'ai commandé la bonne humeur et le soleil!!), je serai à "l'Atelier" pour une séance de dédicace de Granny Folies! Crédit photo l'Atelier Je ne cache pas ma joie de découvrir cette boutique, car ce sera ma première fois là bas ... de 10h00 à 12h00, n'hésitez pas à apporter vos encours, vos questions, vos crochets! 15 entrées Gratuites pour le Salon " Pour l'Amour du Fil" à Gagner! à vous de jouer! en mettant un petit com, le tirage au sort aura lieu lundi 2 avril!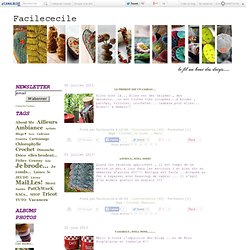 tangled happy: Blooming Flower Cushion
Daisy Square Tutorial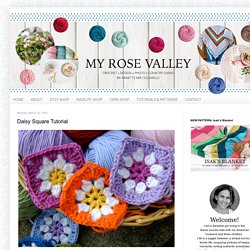 Here is a tutorial on how to make the Daisy Square. I am using clusters for the petals to give them a little bit of a pointy look. They are really easy and quick to make, and if you don't have three kids clinging on to you all the time, and a part time job you could make a full blanket in a swisch! NEW INFO 25 Sep 2011: For you who live in the USA, the only thing you need to change in the abbreviations is the treble crochet which is as double crochet in the US. Se abbreviation in italic in this tutorial. I am using UK abbreviations as follows (US terms in italic): ch = chain sl st = slip stitch tr (dc) = treble crochet (US double crochet) cl = cluster mc = make cluster made from 3 treble stitches yo = yarn over beg = beginning rep = repeat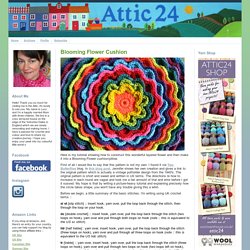 Here is my tutorial showing how to construct this wonderful layered flower and then make it into a Blooming Flower cushion/pillow. First of all I would like to say that this pattern is not my own . I found it via Two Butterflies blog. In this blog post , Jennifer shows her own creation and gives a link to the original pattern which is actually a vintage potholder design from the 1940's.
How To Crochet A Super Star Baby Afghan
Sac De Mamie | kilucru
Univers du crochet • Accueil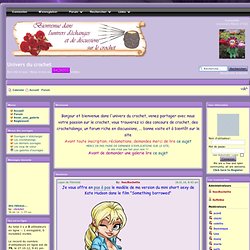 le Crochetalong est un projet que nous allons construire ensemble, un ouvrage commun, travaillé, discuté, échangé ensemble cliquez sur l'image pour aller directement dans le projet et en savoir plus Fin le 31 octobre c'est pour bientôt il est trop rigolo et vite fait, les petits adoreront Il est orignial et fera un super cadeau il finira le 30 novembre c'est bientôt
Flower Looms: Cluster Stitch Flower V2
Mardi 24 novembre 2009 2 24 / 11 / Nov / 2009 13:03 - Par Tiamat Patron du jour, un peu spécial je dois dire... Comme je pars en vacances demain matin je tenais à vous donner un peu plus qu'un patron du jour et j'ai donc décidé de vous en mettre plusieurs.
Crochet: Patrons pour les vacances... - Le blog de Tiamat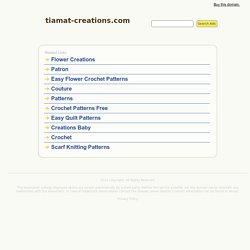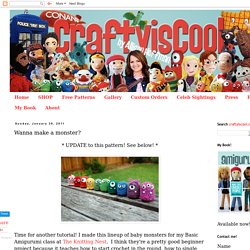 Time for another tutorial! I made this lineup of baby monsters for my Basic Amigurumi class at The Knitting Nest . I think they're a pretty good beginner project because it teaches how to start crochet in the round, how to single crochet, how to increase, and basic construction and customization of amigurumi. Let's begin, shall we? Baby Monster's Guide to Basic Amigurumi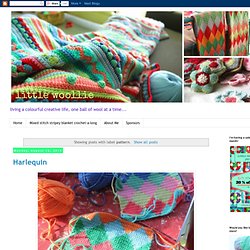 pattern
Hello! So here is the next bit of the crochet along! I think last time I had finished the chevron stripe pattern, so after that section I have added rows of sc in 3 colours. Starting with the right side facing, I have done 1row of sc in dark blue, then turned and gone back, so ending up with a double row of sc. Then I've repeated this in pale pink, and mid blue.
Tuto de fleurs .... - Prenons le temps
Je dois envoyer des fleurs à Nanou avec les explications, donc je dois rechercher dans mon Binzzzzz et vous avez été nombreuses à me le demander. Alors si vous voulez des fleurs mais ne savait pas les faire, voilà mes explications et surtout celles des autres avec de nombreux tutos en images. Le crochet n'aura plus de secret pour vous :