Creativity Pearlers
Writing /communication. StoryTelling. Five Manifestos for the Creative Life. By Kirstin Butler How a numbered list can start a personal revolution.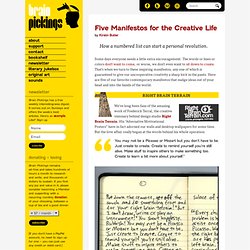 Some days everyone needs a little extra encouragement. The words or lines or colors don't want to come, or worse, we don't even want to sit down to create. That's when we turn to these inspiring manifestos, any one of which is guaranteed to give our uncooperative creativity a sharp kick in the pants. Matt Cutts: Try something new for 30 days. Nine ways of resting the mind.
From Rigpa Wiki Nine ways of resting the mind (Tib.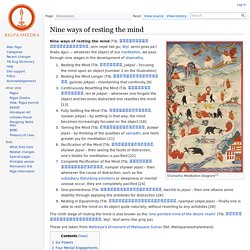 སེམས་གནས་པའི་ཐབས་དགུ་, sem nepé tab gu; Wyl. sems gnas pa'i thabs dgu) — whatever the object of our meditation, we pass through nine stages in the development of shamatha. Resting the Mind (Tib. འཇོག་པ་, jokpa) – focusing the mind upon an object [number 2 on the illustration]Resting the Mind Longer (Tib. རྒྱུན་དུ་འཇོག་པ་, gyündu jokpa) – maintaining that continuity [9]Continuously Resettling the Mind (Tib. 33 Ways To Stay Creative. Seamos creativos! Wisdom and Inspiration. Creativity.
---