Creative Commons
Case Studies
Whether you're looking for inspiration, business models, or precedents, the CC Case Studies are a perfect place to start.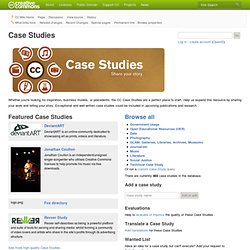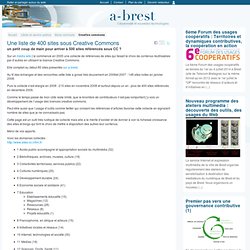 @ Brest - Une liste de 400 sites sous Creative Commons
Sur un média wiki j'ai commencé en 2005 une collecte de références de sites qui faisait le choix de contenus réutilisables par d'autres en utilisant la licence Creative Commons.
CC / Usage non commercial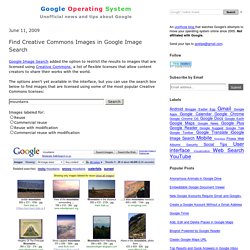 Google Image Search added the option to restrict the results to images that are licensed using Creative Commons, a list of flexible licenses that allow content creators to share their works with the world. The options aren't yet available in the interface, but you can use the search box below to find images that are licensed using some of the most popular Creative Commons licenses:
Abondance > Actualités > Yahoo! propose un filtre sur les images en Creative Commons Le moteur de recherche d'images de Yahoo! propose depuis peu un nouveau filtre sur les images disponibles en Creative Commons et donc réutilisables sous certaines conditions demandées par le créateur du fichier.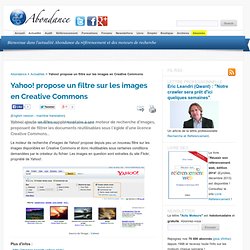 Yahoo! propose un filtre sur les images en Creative Commons - Ab
Plateformes de contenus/Réseaux soc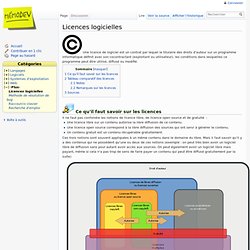 De Memodev.
Comparaison des différentes licences
The Commons Deed is not a legal instrument.
Licence CC0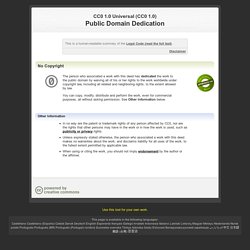 Proposition de traduction de la licence « Creative Commons Zero 1.0 »
En juillet dernier, Framasoft animait le plus long atelier de l'histoire des Rencontres Mondiales du Logiciel Libre : un traducthon courant pendant toutes les rencontres. En effet, fidèles au poste dans la chaleur cuisante d'une salle de classe au dernier étage de l'ENSEIRB, des bénévoles de Framalang, Benjamin Jean de VeniVidiLibre.org, Alexis Kauffman et moi-même accueillions les courageux visiteurs ayant trouvé leur route jusqu'au traducthon 2.0, pour la plupart venus avec la ferme intention de nous aider à traduire le livre libre : « Imagine there is no Copyright ».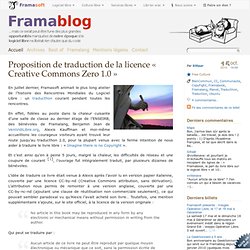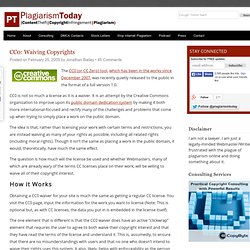 CC0: Waiving Copyrights | PlagiarismToday
The CC0 (or CC Zero) tool, which has been in the works since December 2007, was recently quietly released to the public in the format of a full version 1.0. CC0 is not so much a license as it is a waiver.
Tout est parti d'un commentaire, sous un billet de Calimaq (par ailleurs passionnant comme toujours).
De la validité de la licence CC0 dans le droit français - Un ame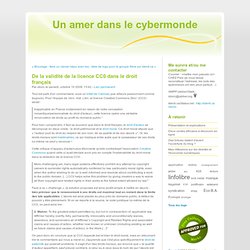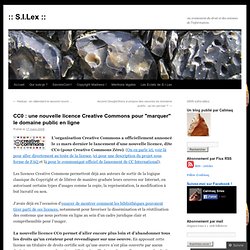 CC0 : une nouvelle licence Creative Commons pour "marquer" le do
L'organisation Creative Commons a officiellement annoncé le 11 mars dernier le lancement d'une nouvelle licence, dite CC0 (pour Creative Commons Zéro). (On en parle ici, voir là pour aller directement au texte de la licence, ici pour une description du projet sous forme de FAQ et là pour le communiqué officiel de lancement de CC International). Les licences Creative Commons permettent déjà aux auteurs de sortir de la logique classique du Copyright et de libérer de manière graduée leurs oeuvres sur Internet, en autorisant certains types d'usages comme la copie, la représentation, la modification à but lucratif ou non.
You are using a tool for freeing your own work of copyright restrictions around the world.
CC0
CC0 FAQ
These FAQs contain information that you should familiarize yourself with before using CC0. The information provided below is not exhaustive – it may not cover important issues that may affect you. The FAQs are intended to supplement, not replace, our existing FAQs.
Almost one year ago we launched a study of how people understand "noncommercial use." The study, generously supported by The Andrew W.
Defining Noncommercial report published
CC / Institutions culturelles
Youth media portal Vibewire.net has relaunched today with integrated Creative Commons licensing options. Vibewire has been publishing young people's voices on the things that matter to them since 2002. The latest revamp of the website allows contributors to CC licence their content–whether it be a blog entry, article, review, interview, story, short story, poem or comment–under their licence of choice.
Powerhouse Museum goes all CC | Creative Commons Australia
Egypt: Looking out to Sea, Port Said | The Commons: Brooklyn Museum Collection
Brooklyn Museum Licenses Works Under CC
Tafeltennis-interland Nederland-China - Open Images
Open Knowledge Foundation Blog » Blog Archive » Large collection
Le Blog de la Recherche - Collège des Bernardins
Blog du Collège des Bernardins dont les articles sont sous CC BY-NC-SA 2.0 Fr.
Pour plus d'info, contactez-moi ;-) by romainpouzol Apr 28
CC / Usages par les médias
Arte Radio
CC / Usage pédagogique, recherche
The Neurocommons
AntWeb
GreenXchange
Cyberthèses / Université Lyon 2
CC / Ressources pédagogiques
CC / Difficultés et validité juridique