#CRE | associations
More + Menu Join IREM Now Find a Professional
IREM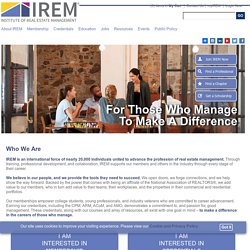 SIOR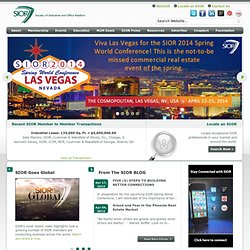 Office Lease: 58,000 Sq. Ft. / 5 Acres = $15,000,000.00 Hank Pruitt, SIOR, CCIM, Pruitt Realty, San Antonio, TX William Littleton, SIOR, MCR, Colliers International, Phoenix, AZ Industrial Lease: 30,480 Sq. Ft. = $495,300.00 Adam Gibbs, SIOR, GLD Commercial Real Estate Advisors, Cedar Rapids, IA Erik Murray, SIOR, CCIM, Lee & Associates Kansas City, Overland Park, KS Industrial Sale: 8,160 Sq. Ft. = $0.00 Jon Savoy, SIOR, CCIM, Lee & Associates of Michigan, Southfield, MI Geoffrey Hill, SIOR, CCIM, Newmark Grubb Knight Frank, Southfield, MI
CCIM
CoreNet Global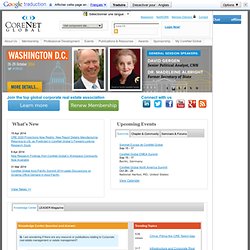 What's new in the Knowledge Center? Corporate real estate directly relates to companies whose primary business is not real estate but who need real estate to compete, make a profit and add shareholder value. CoreNet Global is unique in that we are the only professional association that serves this niche, otherwise known as corporate occupiers or corporate end users. Examples include Coca-Cola, Microsoft, Whirlpool, Ford, Bank of America and many others, mostly comprising the Fortune 1000 and the Forbes Global 2000.
Earn a certification and outpace the competition PMI credentials distinguish you in the job market and can help you move ahead. Several certifications including the PMP® validate a range of education and experience levels in project management.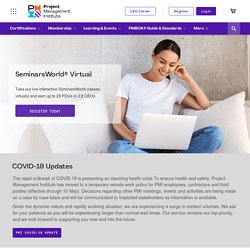 ICSC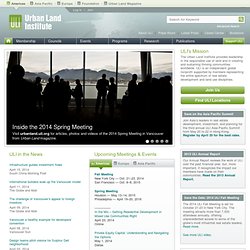 Fall Meeting New York City — Oct. 21−23, 2014 San Francisco — Oct. 6–8, 2015 Spring Meeting Vancouver, British Columbia — April 9−11, 2014 Houston — May 13−14, 2015 ————— Introduction to Pro Forma Modeling with Excel Jan. 20, 22, 27, and 29, 2014 Online Real Estate Development Process: Part II Jan. 22−24, 2014 Washington, D.C. Real Estate Finance II Jan. 29-31, 2014 Washington, D.C.
Top Healthcare Visionaries HeadlineBOMA's MOB Conference With many unknowns surrounding healthcare reform, there's at least one certainty—policy changes will affect patient care delivery, and consequently, the future of medical real estate. On April 30 and May 2, two prominent healthcare experts will address attendees of the 2014 Medical Office Buildings and Healthcare Facilities Conference to share their experiences and insights that will enlighten healthcare real estate professionals.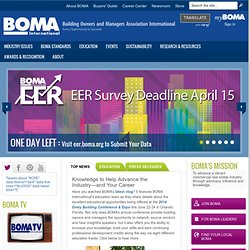 BOMA
NAIOP
ICSC
Contact Us Forgot Your Member ID? REITs in 2013: A Decidedly Mixed BagGlobeSt.com - Jan 16, 2014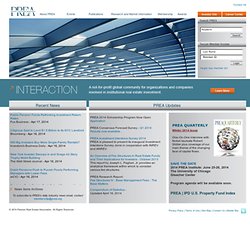 PREA
Tax vote brings good news for green building On Thursday, the Senate Finance Committee took an important move in advancing draft legislation that would renew a series of tax breaks that expired at the end of last year. The "Expiring Provisions Improvement Reform and Efficiency (EXPIRE) Act;" passed the committee on a voice vote. The EXPIRE Act includes a number of important elements that will continue to enhance the efficiency of the building industry, particularly to the existing Energy Efficiency Commercial Building Tax... LEED addenda update: April 2014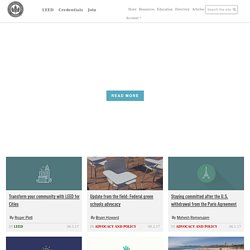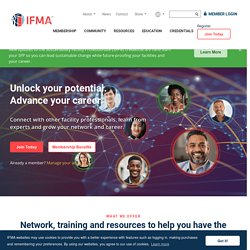 Happy World FM Day! 28 June 2012 Join IFMA, Global FM and facility practitioners today, June 28, to celebrate the fourth annual World FM Day. More: Happy World FM Day! Sustainability Webinar Series now Available 21 June 2012
IFMA
NAREIT