Crafting-blogs
A Stitch Wrangler.
Crocheting. Knitting. Eclectic Chica. Large Royal Earrings - Free Crochet Pattern. Materials: Size 7 crochet hook Crochet Thread size 10Sewing needle.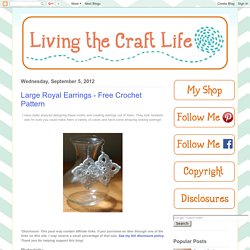 S4S- Fun Stuff! Today, I feel so lucky to have some visitors-- some well known ones!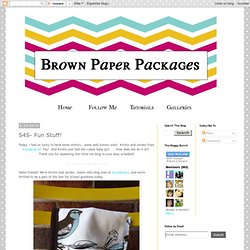 Kirstin and Jordan from kojodesigns! Yay! And Kirstin just had the cutest baby girl. . . How does she do it all? SUNFLOWER DESIGNS. Operation Marigold: A Hat for a Cause (with Pattern & Tutorial) Welcome to Operation Marigold, in which Snowcatcher and I are joining forces to honour our friend the Goatmother, and with her all who are battling cancer.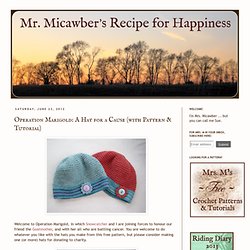 You are welcome to do whatever you like with the hats you make from this free pattern, but please consider making one (or more) hats for donating to charity. If you'd like to be part of Operation Marigold, here is some helpful information from Snowcatcher: "Hats for chemo patients should be soft, cover the entire head and be washable. Keep in mind some cancer patients are unable to tolerate wool or animal fibers. Introducing the Love Bumps Beanie! The Love Bumps Beanie is here!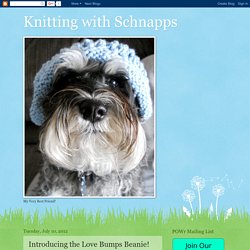 Thank you Gaynell for the name. This comfy textured hat uses a gathered stitch to create the 'bumps'. The pattern itself is very simple. It might take a few tries to master the gathering stitch, but it's well worth the effort. I tried to explain it clearly........I hope I did! Enough Love to go around. Enough Love to Go AroundUS terminologyDK (8ply) hook F/3.75mm – gives an 8inch square (this is what would give me a 12" square in Worsted Weight)This square requires blocking upon finishing to get proper shaping for corners.All stitches are into a stitch unless indicated they are in a chain space.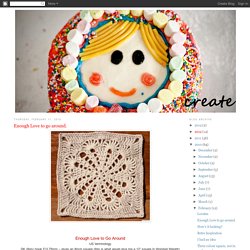 The beginning chain three of each row can be replaced by a CHAINLESS DOUBLE CROCHET*To perform a chainless double crochet please 1. Start with a magic loopCh3 (=DC), Ch1, DC, Ch1 , [DC, Ch1, DC, Ch1]*3 Join last chain to 1st DC. Frankenanya's Blog. Webflake Monday. You knew this was coming, right?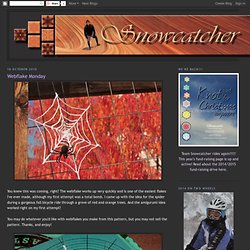 The webflake works up very quickly and is one of the easiest flakes I've ever made, although my first attempt was a total bomb. I came up with the idea for the spider during a gorgeous fall bicycle ride through a grove of red and orange trees. And the amigurumi idea worked right on my first attempt! You may do whatever you'd like with webflakes you make from this pattern, but you may not sell the pattern. Blue Alvarez - DIY. S Deutscher Blog. Free Shawl Knitting Cheat Sheet – Laylock Knitwear Design. Shawls that you can knit until you run out of yarn are the bread-and-butter of knitting, to me.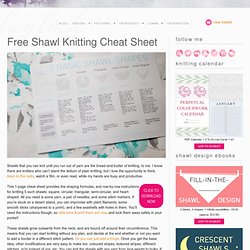 I know there are knitters who can't stand the tedium of plain knitting, but I love the opportunity to think, listen to the radio, watch a film, or even read, while my hands are busy and productive. This 1-page cheat sheet provides the shaping formulas, and row-by-row instructions for knitting 5 such shawls: square, circular, triangular, semi-circular, and heart-shaped.
All you need is some yarn, a pair of needles, and some stitch markers. If you're stuck on a desert island, you can improvise with plant filaments, some smooth sticks (sharpened to a point), and a few seashells with holes in them. Chinese Waves Pouch | moogly. This week brings a quick knit pattern, with simple crochet edging!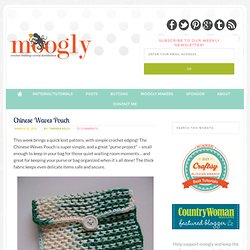 The Chinese Waves Pouch is super simple, and a great "purse project" – small enough to keep in your bag for those quiet waiting room moments… and great for keeping your purse or bag organized when it's all done! The thick fabric keeps even delicate items safe and secure. I made this one back in 2009 – luckily I wrote down the pattern! It's stood the test of time and still looks like new! Straight Needles: US 5 – 3.75 mm Hook: US F/5 – 3.75mm Peaches & Creme Ombres (shown), or other worsted weight yarn Button. Jackie E-S Design Collections published by HeartStrings FiberArts. Sign up for free Want to help me with some of the costs of providing free educational resources and newsletters?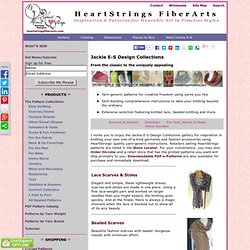 Your thank you donation, small or large, is very much appreciated. "Your patterns are just fabulous ... unique and yet based on tradition. " - Jennifer C. Felted Thanksgiving Oven Mitt. The thought of Thanksgiving puts me right into the heat of my mother's kitchen.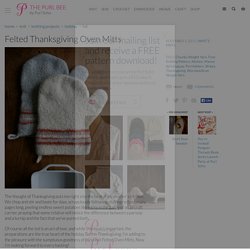 We chop and stir and baste for days, scrupulously following stuffing recipes many pages long, peeling endless sweet potatoes like we're in the galley of an aircraft carrier, praying that some relative will notice the difference between a parsnip and a turnip and the fact that we've pureed both. Of course all the toil is an act of love, and while the meal is important, the preparations are the true heart of the holiday.
So this Thanksgiving, I'm adding to the pleasure with the sumptuous goodness of hand knit Felted Oven Mitts. Annie's Attic - Shop Our Store. Free Craft Patterns | Knitting & Crochet | Red Heart Yarn | Purple Kitty. Bandana Cowl. Working at Purl Soho, I have a front row seat to the parade of effortlessly chic people that give our neighborhood its renowned style. From here I can report that, for men and women alike, this season's prevailing trend in neckwear is the bandana. Jauntily tied around the neck, it tops off everything from Sunday's T-shirt and jeans to Friday's night-on-the-town dress!
Shawl Collar Cowl. A few days ago a friend of mine sent me a picture of some wool socks with an accompanying message, "Today is the greatest day. " Now, these socks weren't a gift from me or made by me; they weren't even handmade at all. But I knew exactly why he was so excited. I knew, because it's how I feel about neckwear: Fall is here! Victorian Enchantment Shawl. Victorian Enchantment Shawl Free Lace Shawl Knitting Pattern The shawl is worked from the center out with a knitted-on border. It is worked with 2 strands of yarn: lace weight wool and lace weight mohair. FINISHED MEASUREMENTS: 72" (182 cm) square. Materials: Knit Picks Shadow Tonal 100% merino wool lace weight yarn 440 yards (402 meters) / 50 gr, color Gypsy Shadow - 5 skeinsGGH Kid Melange lace weight mohair yarn (65% Mohair, 30% Nylon, 5% Wool) 273 yards (250 meters) / 25 gr, color red - 8 balls.
Twisted Willow Bracelet - pattern. One day I played with different yarn leftovers and got the bracelet :))) Short instruction is provided below. Однажды я "игралась" с разными остатками пряжи и получился браслет :)) Просто так. Инструкции на русском ниже. Если у вас есть вопросы или вы нашли неточности/ошибки пожалуйста сообщите мне. Страница дизайна на Ravelry. Ocean Waves Quilts: Potato Chip Scarf.......... I think this is called "The potato Chip scarf" because you can't make just one! I haven't had any time for sewing, but some mindless knitting was done while riding in the car. This is a super easy pattern that can be done easily while watching tv.
Potato Chip Scarf. How to make a recycled pocket wall organizer. Free Crochet Patterns, Free Knitting Patterns, Video Tutorials and Giveaways from StitchAndUnwind.com. Free Crochet Patterns, Free Knitting Patterns, Video Tutorials and Giveaways from StitchAndUnwind.com. Alan Dart. Tichiro - knits and cats. VO Knits by Veronica O'Neil. Tin Can Knits - Knit Design by Alexa Ludeman and Emily Wessel. Hanni's Frühchen-Nadel-Arbeiten - Home. B. organic. CardMaker Magazine. Transform Your Space. How to Make Dorset Buttons. How to Make Your Own Sock Blockers. Creative DIY Tips & Project Ideas For Homemakers.
Recipes, Kids Crafts, DIY Ideas, Tutorials And More. » Blog Archive » Handmade Necktie FREE Giveaway. Little Red Infinity Dress Tutorial. How to Make Plastic Yarn (Continuous / Single-Strand Strip Cutting Method) Preemie Hats for Charity. Crochet Flower Tutorial. ♥Frauen helfen Frauen♥ Nikki's Studio. Delights-Gems. Stitches in Style. Owl cable hat. M'Lady's MP3 Player Bag. Lily Pad - easy crochet pattern. Baby chicks in Eggshell crochet Pattern. Masters Prayer Shawl. How to make... Amateur Craft Mom. Tilta Swift. Cose di lana fatte a mano. Jess gets crafty: Simple bootie pattern. $5 in Paris (KUAS Original Pattern) Creating EverLaughter. Yvonne´s kreative Ecke. Nubbie Scrubbies. Fully Custom Hooded Scarf. Fishbone Designs.
Happy to help « Interlock Bindoff : Knitty Spring+Summer 2011. Patterns by c2knits. Blog. Selbermachen-Tipp: Blumenkette häkeln (Seite 2) Knitted Sunflower Pattern | Freckles Family. How to Knit Lace | Free Vintage Knitting Patterns. Property Bag | naehen-schneidern.de. Strick-Ideen. Lotus Baby Blanket Pattern | needyl - making things into new things.
Wollmeisen-Eierwärmer. Chantimanou handSpinnerey | Tipps, Anleitungen, Material und mehr… International Talk Like A Pirate Day. Arsenic & Old Lace KAL « Will Work For Yarn. Lana Grossa - Stricktipps: Kreuzanschlag. Isager - Stitches. Tutorial - starting a shawl with a garter tab. Ats Crafts UK home. Welcome to the Craft Yarn Council of America and Warm Up America! Purlescence — luxury knitting supplies. Knit-O-Matic Free Knitting & Crochet Patterns. Geometric Panopoly.
---