Crafting-blogs
A Stitch Wrangler
Eclectic Chica
Materials: Size 7 crochet hook Crochet Thread size 10Sewing needle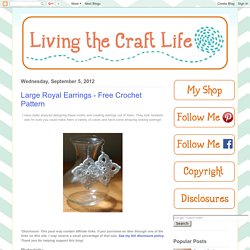 Large Royal Earrings - Free Crochet Pattern
Today, I feel so lucky to have some visitors-- some well known ones!
S4S- Fun Stuff!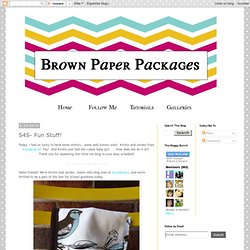 SUNFLOWER DESIGNS
Operation Marigold: A Hat for a Cause (with Pattern & Tutorial)
Welcome to Operation Marigold, in which Snowcatcher and I are joining forces to honour our friend the Goatmother, and with her all who are battling cancer.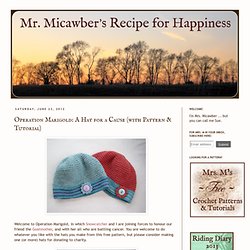 Introducing the Love Bumps Beanie!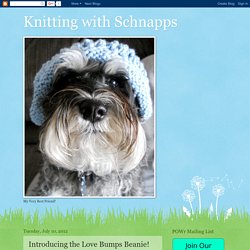 The Love Bumps Beanie is here! Thank you Gaynell for the name.
Enough Love to go around.
Enough Love to Go AroundUS terminologyDK (8ply) hook F/3.75mm – gives an 8inch square (this is what would give me a 12" square in Worsted Weight)This square requires blocking upon finishing to get proper shaping for corners.All stitches are into a stitch unless indicated they are in a chain space.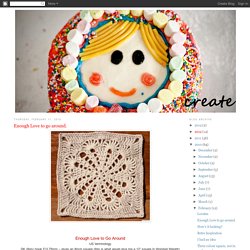 Frankenanya's Blog
You knew this was coming, right?
Webflake Monday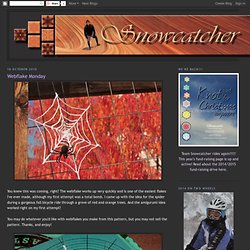 Blue Alvarez - DIY
s Deutscher Blog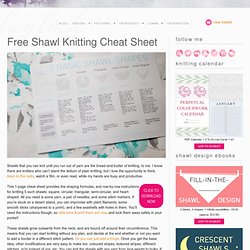 Shawls that you can knit until you run out of yarn are the bread-and-butter of knitting, to me.
Free Shawl Knitting Cheat Sheet – Laylock Knitwear Design
This week brings a quick knit pattern, with simple crochet edging! The Chinese Waves Pouch is super simple, and a great "purse project" – small enough to keep in your bag for those quiet waiting room moments… and great for keeping your purse or bag organized when it's all done!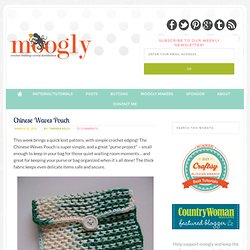 Free Pattern: Chinese Waves Pouch | moogly
Want to help me with some of the costs of providing free educational resources and newsletters?
Jackie E-S Design Collections published by HeartStrings FiberArts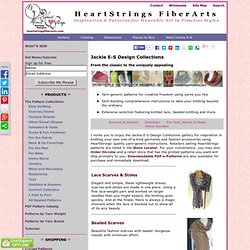 Felted Thanksgiving Oven Mitt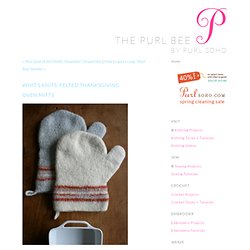 The thought of Thanksgiving puts me right into the heat of my mother's kitchen. We chop and stir and baste for days, scrupulously following stuffing recipes many pages long, peeling endless sweet potatoes like we're in the galley of an aircraft carrier, praying that some relative will notice the difference between a parsnip and a turnip and the fact that we've pureed both. Of course all the toil is an act of love, and while the meal is important, the preparations are the true heart of the holiday. So this Thanksgiving, I'm adding to the pleasure with the sumptuous goodness of hand knit Felted Oven Mitts. Now I'm looking forward to every basting! The Materials
Annie's Attic - Shop Our Store
Free Craft Patterns | Knitting & Crochet | Red Heart Yarn | Purple Kitty
Bandana Cowl
Working at Purl Soho, I have a front row seat to the parade of effortlessly chic people that give our neighborhood its renowned style. From here I can report that, for men and women alike, this season's prevailing trend in neckwear is the bandana. Jauntily tied around the neck, it tops off everything from Sunday's T-shirt and jeans to Friday's night-on-the-town dress!
Shawl Collar Cowl
A few days ago a friend of mine sent me a picture of some wool socks with an accompanying message, "Today is the greatest day."
Victorian Enchantment Shawl Difficulty level:
Victorian Enchantment Shawl.
One day I played with different yarn leftovers and got the bracelet :))) Short instruction is provided below.
Twisted Willow Bracelet - pattern
Ocean Waves Quilts: Potato Chip Scarf..........
I think this is called "The potato Chip scarf" because you can't make just one!
How to make a recycled pocket wall organizer
Free Crochet Patterns, Free Knitting Patterns, Video Tutorials and Giveaways from StitchAndUnwind.com
Free Crochet Patterns, Free Knitting Patterns, Video Tutorials and Giveaways from StitchAndUnwind.com
Alan Dart
Tichiro - knits and cats
VO Knits by Veronica O'Neil
Tin Can Knits - Knit Design by Alexa Ludeman and Emily Wessel
Hanni's Frühchen-Nadel-Arbeiten - Home
b. organic
CardMaker Magazine
Transform Your Space
How to Make Dorset Buttons
How to Make Your Own Sock Blockers
Creative DIY Tips & Project Ideas For Homemakers
Recipes, Kids Crafts, DIY Ideas, Tutorials And More
» Blog Archive » Handmade Necktie FREE Giveaway
Little Red Infinity Dress Tutorial
How to Make Plastic Yarn (Continuous / Single-Strand Strip Cutting Method)
Preemie Hats for Charity
Crochet Flower Tutorial
♥Frauen helfen Frauen♥
Nikki's Studio
Delights-Gems
Stitches in Style
owl cable hat
M'Lady's MP3 Player Bag
Lily Pad - easy crochet pattern
Baby chicks in Eggshell crochet Pattern
Masters Prayer Shawl
How to make...
Amateur Craft Mom
Tilta Swift
cose di lana fatte a mano
Cobblestone Road Women's Socks by Michelle Mattingly
Jess gets crafty: Simple bootie pattern
$5 in Paris (KUAS Original Pattern)
Creating EverLaughter
Yvonne´s kreative Ecke
Nubbie Scrubbies
Fully Custom Hooded Scarf
Fishbone Designs
happy to help «
Interlock Bindoff : Knitty Spring+Summer 2011
Patterns by c2knits
blog
Selbermachen-Tipp: Blumenkette häkeln (Seite 2)
Knitted Sunflower Pattern | Freckles Family
How to Knit Lace | Free Vintage Knitting Patterns
Property Bag | naehen-schneidern.de
Strick-Ideen
Lotus Baby Blanket Pattern | needyl - making things into new things
Wollmeisen-Eierwärmer
chantimanou handSpinnerey | Tipps, Anleitungen, Material und mehr…
International Talk Like A Pirate Day
Arsenic & Old Lace KAL « Will Work For Yarn
Lana Grossa - Stricktipps: Kreuzanschlag
Isager - Stitches
Tutorial - starting a shawl with a garter tab
ats Crafts UK home
Welcome to the Craft Yarn Council of America and Warm Up America!
Purlescence — luxury knitting supplies
Knit-O-Matic Free Knitting & Crochet Patterns
Geometric Panopoly