Yarn Shops
Designer Yarn Sale - The Best in Discount Designer Sale and Closeout Yarns
You are going to love this new bag! It is classy and gorgeous. It can easily accommodate all your purse essentials, knitting tools, and a bulky knitting project!
Great Yarns (Everett, WA)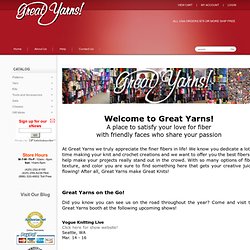 Lana Pura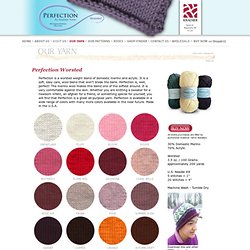 Kraemer Yarns: Our Yarn: Perfection Worsted
Perfection is a worsted weight blend of domestic merino and acrylic. It is a soft, easy care, wool blend that won't break the bank. Perfection is, well, perfect! The merino wool makes this blend one of the softest around.
Pearl Cotton 3/2 - Halcyon Yarn, Quality and Value for Fiber Artists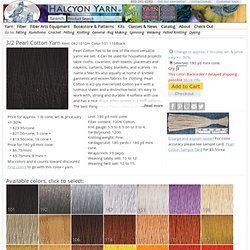 Pearl Cotton has to be one of the most versatile yarns we sell. It Can be used for household projects: table cloths, coverlets, dish towels, placemats and napkins, curtains, baby blankets, and scarves - to name a few! It's also equally at home in knitted garments and woven fabrics for clothing. Pearl Cotton is a 2-ply mercerized Cotton yarn with a lustrous sheen and a distinctive twist.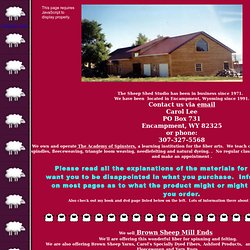 The Sheep Shed Studio
The Sheep Shed Studio has been in business since 1971. We have been located in Encampment, Wyoming since 1991.Contact us via emailCarol LeePO Box 731Encampment, WY 82325or phone:307-327-5568We own and operate The Academy of Spinsters, a learning institution for the fiber arts. We teach carding, spinning on both wheels and spindles, fleeceweaving, triangle loom weaving, needlefelting and natural dyeing. . No regular classes for these activities just contact us and make an appointment . Please read all the explanations of the materials for sale.
Hello Yarn — Home
Yarns by type - 4ply / Fingering - Aran / Worsted - British - Chunky / Bulky - Cotton, Linen & plant fibre yarns - DK (double knit) - Hand dyed - Lace - Organic - Sock yarn - Sportweight - Quirky / Textured yarns - Silk - SALE YARNS By brand - Adele's - Alchemy Yarns - Artisan Yarns - BC Garn - Berroco - Blue Moon Fiber Arts - Blue Sky Alpacas - Brooklyn Tweed - Brown Sheep - Cascade Yarns - Colinette - Debbie Bliss - DyeForYarn - Eden Cottage - Erika Knight - Fancy Tiger Crafts - Freia - Habu - Hand Maiden - Isager - Jade Sapphire - Jamieson's - Jarol Pure British - Jill Draper Makes Stuff - Kettle Yarn - Knit Collage - Koigu - Lang - Madelinetosh - Malabrigo - Misti Alpacas - Navia - Old Maiden Aunt - Orkney Angora - Quince & co. - Rico - Rowan - Schoppel Wolle - Shalimar - Shilasdair - Skein - Squoosh - Sublime - Temaricious - The Fibre Company - Tilli Tomas - Toft - The Uncommon Thread - Wollmeise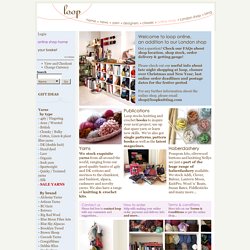 Loop's online knitting shop
Tutorial: Handmade Handkerchiefs Andrew carries a handkerchief, but we've had troubling finding ones that have an interesting design. The solution?
craft blog : tutorials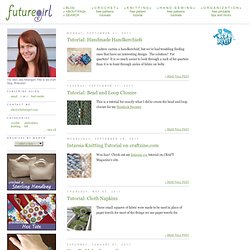 Faroe Island Wool Yarn