Cosas
Max My Dream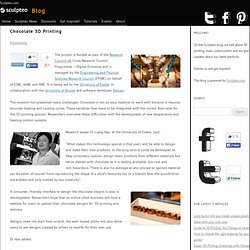 Chocolate 3D Printing
The project is funded as part of the Research Council UK Cross-Research Council Programme – Digital Economy and is managed by the Engineering and Physical Sciences Research Council (EPSRC) on behalf of ESRC, AHRC and MRC. It is being led by the University of Exeter in collaboration with the University of Brunel and software developer Delcam . The research has presented many challenges.
Pepper Lynn | Sweet Cinnamon Iced Coffee
It doesn't take more than a cursory glance to see that I am my father's daughter given my fair skin, dark hair, and chicken legs, yet as I grow older, the traits I inherited from my mom are becoming increasingly manifest. I see in myself her fighting spirit, her penchant for fashion accessories, and – perhaps the most obvious to me – her love for all things coffee. She taught me my first lessons in coffee brewing, and I still remember the times we'd stop in to Starbucks and indulge in mocha Frappuccinos during my teenage years. It usually happened when we were out shopping for clothes or makeup, just us girls enjoying a fun day together. For me, it wasn't solely about the pleasure found inside that plastic cup; our relationship was nourished as we sipped, chatted, and shopped. Fast forward 10 or 15 years, and here I am, suddenly a mother of two and living a drastically different life.
What if you could change the look of your home without having to do a thing? This heat-reactive paint has a number of amazing applications (more pictured below), but one of the most impressive is the color-changing wallpaper shown step-by-step here. As the temperature rises within a room the flowers on the branches slowly bloom, breathing additional life and color into a given space. As night falls and cooler temperatures prevail, the colorful flower print slowly fades back to a mellow green. Not limited to just wallpaper, of course, this same strategy by Shi Yuan can be applied to posters or other decorative objects – and can encourage people to touch and otherwise interact with normally stationary and passive designs. Likewise, as a reminder of each passing day, the cooling of night can erase the current date on your wall-mounted calander and show the passing of time into the next.
Heat-Activated Paint for Color-Changing Interior Designs
Liquid Wood: Fantastic 100% Organic Bio-Plastic Material
It looks like wood, feels like wood, is even made of wood – but it shifts shape and solidifies like plastic, bringing together the most powerful material assets of two of the most used materials on the planet. Lingin (an often-discarded element of regular wood) is combined with natural resins, flax and fibers that can be injected into molds and form extremely complex, precision-shaped objects normally made of conventional, non-biodegradable petroleum-based plastics. The result has been dubbed Arboform by its German inventors, and may well revolutionize the worlds of material science and mass production. Just like wood, it breaks down quickly and organically into eco-safe by-products like water and carbon dioxide. It is also made from a leftover part of trees that is unused during the paper-making process – over 100 million pounds of its main ingredient are created as a simple side-effect of the existing pulp industry. What can be made of Arboform?
_lkl0nubaeS1qiuxzyo1_500.gif (500×375)
There is virtually no limit to what you can decorate with color-changing tiles (from Inventables ). Daytime cityscapes turn into urban night scenes as the temperature in a room shifts. Notable applications include showers, floors and others surfaces likely to be exposed to temperature variations over time. While some of these are simply colored and relatively inexpensive there are all kinds of untapped design potentials yet to be explored. Perhaps they would make a good interior design match for an exterior application of some light transmitting concrete .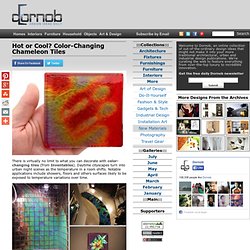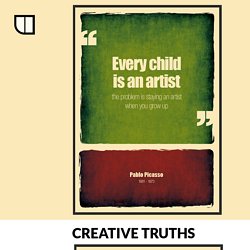 Creative Truths Nice series called Creative Truths by Shirley-Ann Dick . 28th of September 2010 Probably Related Commands