Cooperatives/ Green Business
Sonoma County GoLocal Cooperative (16)
| OrganicLea – A workers' cooperative growing food on London's edge in the Lea Valley
Home :: California Center for Cooperative Development
Statement on the Co-operative Identity
International Co-operative Alliance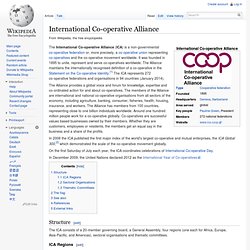 The International Co-operative Alliance (ICA) is a non-governmental co-operative federation or, more precisely, a co-operative union representing co-operatives and the co-operative movement worldwide.
SHARE EXCHANGE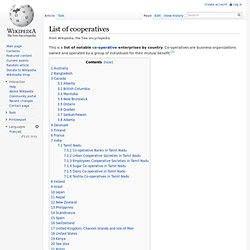 This is a list of notable co-operative enterprises by country .
List of cooperatives - Wiki
A cooperative ("coop"), co-operative ("co-op"), or coöperative ("coöp") is an autonomous association of persons who voluntarily cooperate for their mutual, social, economic, and cultural benefit. [ 1 ] Cooperatives include non-profit community organizations and businesses that are owned and managed by the people who use its services (a consumer cooperative) or by the people who work there (a worker cooperative) or by the people who live there (a housing cooperative), hybrids such as worker cooperatives that are also consumer cooperatives or credit unions, multi-stakeholder cooperatives such as those that bring together civil society and local actors to deliver community needs, and second and third tier cooperatives whose members are other cooperatives.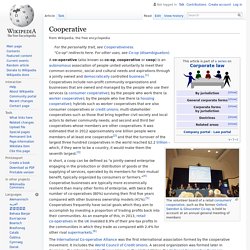 USDA - Cooperatives