Cooperatives/ Green Business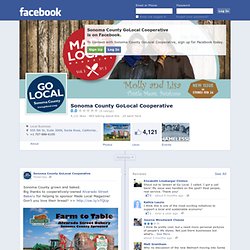 Attention GO LOCAL Coop Members: we want to see YOU at the 5th annual Member Gathering on April 3rd! Click find out more and RSVP >> http://ow.ly/v7XAc Highlights will include a photo booth with Michael b. Woolsey Photography, video shot b...y CMedia Lab, a live broadcast by KSRO Newstalk 1350, beverages by Lagunitas Brewing Co, Kendall-Jackson, and revive drinks, and appetizers from your favorite GO LOCAL restaurants. * Note: the annual gathering is only for business, organization and resident members.
Sonoma County GoLocal Cooperative (16)
March Open Day Sunday 30 March at Hawkwood, 12-4pm This month our open day marks the culmination of the Cultivate Festival – an opportune moment to get out there and get growing as the season begins. 12-1pm Introductory workshop on sustainable beekeeping All day Seasonal horticultural tasks – get planting! All day Plant stall, focus on fruit and […] Festival time
| OrganicLea – A workers' cooperative growing food on London's edge in the Lea Valley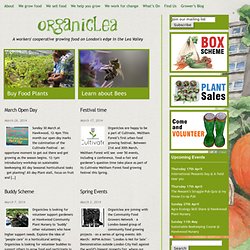 Home :: California Center for Cooperative Development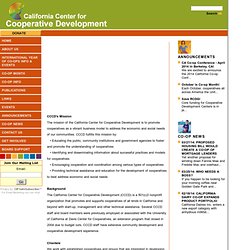 CCCD's Mission The mission of the California Center for Cooperative Development is to promote cooperatives as a vibrant business model to address the economic and social needs of our communities. CCCD fulfills this mission by: • Educating the public, community institutions and government agencies to foster and promote the understanding of cooperatives • Identifying and disseminating information about successful practices and models for cooperatives • Encouraging cooperation and coordination among various types of cooperatives • Providing technical assistance and education for the development of cooperatives to best address economic and social needs Background The California Center for Cooperative Development (CCCD) is a 501(c)3 nonprofit organization that promotes and supports cooperatives of all kinds in California and beyond with start-up, management and other technical assistance.
International Co-operative Alliance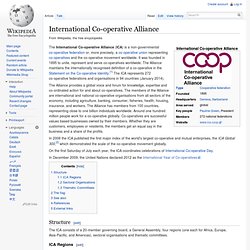 The International Co-operative Alliance (ICA) is a non-governmental co-operative federation or, more precisely, a co-operative union representing co-operatives and the co-operative movement worldwide. It was founded in 1895 to unite, represent and serve co-operatives worldwide. The Alliance maintains the internationally recognised definition of a co-operative in the Statement on the Co-operative Identity.[1] The ICA represents 272 co-operative federations and organisations in 94 countries (January 2014). The Alliance provides a global voice and forum for knowledge, expertise and co-ordinated action for and about co-operatives. The members of the Alliance are international and national co-operative organisations from all sectors of the economy, including agriculture, banking, consumer, fisheries, health, housing, insurance, and workers.
We're happy to announce FAMILY BICYCLING WORKSHOPS! Do you wish mom, dad, junior, and even grandma knew how to ride together on the road? Join the Coalition for a FREE workshop where the whole family learns to ride together safely and confi...dently. Who gets to ride on the side walk?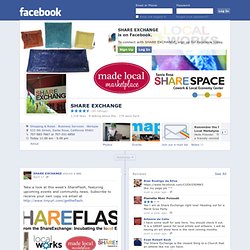 SHARE EXCHANGE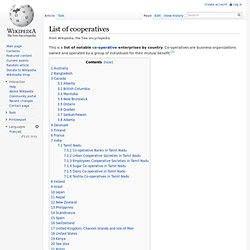 This is a list of notable co-operative enterprises by country. Co-operatives are business organizations owned and operated by a group of individuals for their mutual benefit.[1] Australia[edit] Bangladesh[edit]
List of cooperatives - Wiki
A cooperative ("coop") or co-operative ("co-op") is an autonomous association of persons who voluntarily cooperate for their mutual social, economic, and cultural benefit.[1] Cooperatives include non-profit community organizations and businesses that are owned and managed by the people who use its services (a consumer cooperative) or by the people who work there (a worker cooperative) or by the people who live there (a housing cooperative), hybrids such as worker cooperatives that are also consumer cooperatives or credit unions, multi-stakeholder cooperatives such as those that bring together civil society and local actors to deliver community needs, and second and third tier cooperatives whose members are other cooperatives. The International Co-operative Alliance was the first international association formed by the movement. It includes the World Council of Credit Unions. A second organization was formed later in Germany, the International Raiffeisen Union.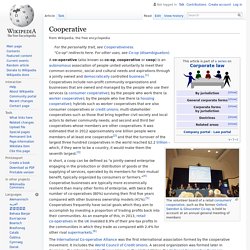 USDA - Cooperatives