Cooking
From turkey & the trimmings to festive baking, the new issue of Jamie Oliver's magazine has all you need for a happy holiday The 115 recipes in the new issue of Jamie Oliver's award-winning magazine contain all you need for a family Christmas to remember.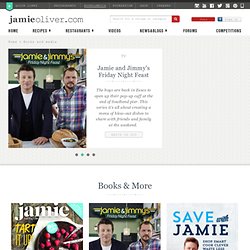 Jamie Oliver | Books & TV | cook with jamie
branzoaice retete culinare: branzoaice
Творожники и сырники, 94 рецепта
Сырники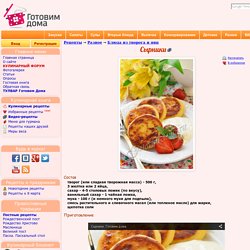 Состав
Roasted Vegetable Lasagna
…cu cirese si alune de padure! Initial, am vrut sa fac doar o budinca simpla de caramel, (reteta de la Maya) si-am ramas cu gandul la ea.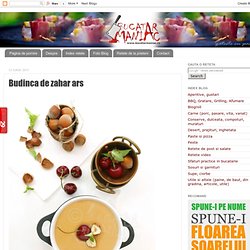 Budinca de caramel / budinca de zahar ars ~ bucatar maniac
Ingrediente: • Leuștean – 100 gr • Sare de/pentru masă – 18 gr (1 lingură) • Carne de pui, piept, carne macra, crud – 640 gr (3 jumătăți de piept de pui) • Apă plată – 3500 ml • Ceapă – 70 gr • Legume asortate Minestrone – 450 gr • Paste, din porumb, negătite – 40 gr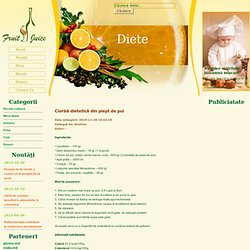 Ciorbă dietetică din piept de pui
Burrito
Ingrediente: • 3 piepturi mari de pui (aproximativ 450 gr fiecare) • 1/2 linguriță boia iute • 1/2 linguriță sare (opțional) • 1 vârf de cuțit piper negru măcinat
Pui Tandoori (pentru 6 porții)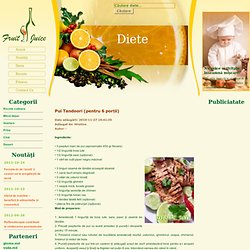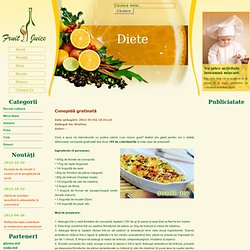 Cine a spus că mâncărurile cu puține calorii n-au niciun gust? Astăzi am găsit pentru voi o rețetă delicioasă: conopidă gratinată! Are doar 185 de calorii/porție și este ușor de preparat!
Conopidă gratinată
Ingrediente: • 2 linguri de ulei vegetal; • 3 cartofi curățați și dați pe răzătoare; • o ceapă medie; • 1 ou bătut ușor; • 2 linguri de făină; • jumătate de linguriță de sare.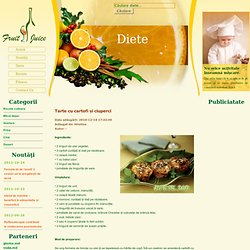 Tarte cu cartofi și ciuperci
Ingrediente: • 120 grame bulgur (grâu zdrobit, cu granulație mai mare decât grișul); • 5 lămâi; • 2 roșii; • 2 cepe mici de primăvară (verzi); • o legătură de pătrunjel; • 12 frunze proaspete de mentă; • câteva frunze proaspete de coriandru; • 3 lingurițe ulei de măsline; • 6-12 creveți gătiți; • Sare și piper după gust.
Tabouleh libanez cu creveți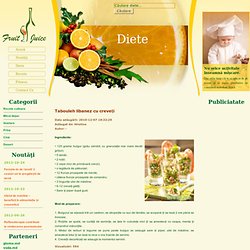 Ingrediente: • 1/2 cană fulgi ovăz • 1 cană apa (sau lapte 0%, după cum vă place) • 1 linguriță scorțișoară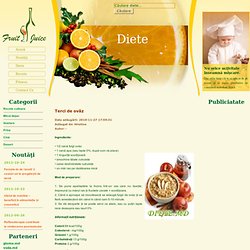 Terci de ovăz
E bun, e cremos și laptele condensat îi dă o aromă mai specială.
Orez cu lapte (Budincă de orez)
Recete
Ingrediente Carne de vită – 700 gr. 4 feluri diferite de delicatese din carne "Meat House", cu masa totală 1 kg. - Servelat "PASTORAL"
Intro
Oven-Fried Onion Rings …
Blueberry Cornmeal Pancakes | My Life Runs On Food
In addition to watching my sister and I during the day, our new babysitter initially promised Mom a good lunch for us.
real onion dip | brooklyn supper
Dip is kind of tied up in ideas of the past. First, you have an entire type of plate dedicated to it, and then there's a notion that dip is something that comes in a foil packet. Chip'n'dips are fun to talk about, but I serve chips and dip in a bowl.
oven fries perfected | brooklyn supper
Oven fries are a lot like regular fries except you don't have to bother with deep frying. The secret to truly crisp oven fries is rinsing and soaking the potatoes in icy water to rinse the starch away. I resisted this step for a long time and had soggy potatoes as a result.
Salata de oua
Salata de cartofi
Salata din ou si ceapa verde
Reţete culinare
Supa cu piept de pui si branza topita
File de peste in crusta de susan
Salata greceasca Tsatsiki
Branzoaice cu stafide
Ardei umpluti cu cascaval si oua
Ragu de legume
Mananc inteligent
How to Make Fried Rice
Caramel Cream Cheese Custard (Flan de Queso)
Holiday Recipes: Menus, Desserts, Party Ideas from Food Network