Cooking Blogs
Live Laugh Eat — Live Every Moment. Laugh Every Day. Eat Good Food. Kuih Lapis. This recipe is an old traditional one which is unlike the new ones which has sago/tapioca flour added, making the kuih very bouncy (ngan).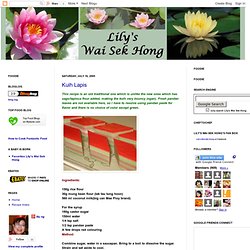 Fresh pandan leaves are not available here, so i have to resolve using pandan paste for flavor and there is no choice of color except green. Ingredients: 150g rice flour 30g mung bean flour (lek tau tung hoon) 560 ml coconut milk(big can Mae Ploy brand) Aartipaarti. Ranji's Kitchen Corner. Sinner's Food Gallery. Food Wishes Video Recipes. Farmersgirl Kitchen.
Chilled Mango Cheesecake. It's the mango season here, an aromatic tropical fruit.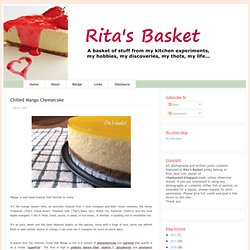 I love mangoes and their many varieties, the honey Chokanan (Thai's Chauk-Anan), Elephant tusk (Thai's Nuen Jan), Water lily, Alphonso ('s) and the local Apple mangoes. I like it fresh, dried, juiced, in salad, in ice-cream, in sherbet, in pudding and in smoothies too. It's so juicy, sweet and the taste depends largely on the species, some with a tinge of sour, some has whitish flesh or pale yellow, yellow or orangy. I can even eat 2 mangoes for lunch on some days. Recipe Swap Roundups. Chicken Recipe SwapChicken with Artichokes and Feta; Artichoke Stuffed Chicken Florentine; Indian Chicken Curry; Chicken Cacciatore; Honey-Balsamic Chicken; Chicken Puttanesca Wrapped in Parchment; Stuffed Chicken Rollettes; Chicken and Pineapple Quesadillas; French Onion Chicken Casserole; Orange Chicken Packets; Crunchy Sesame Chicken Tenders; Chicken with Green Olives, Black Beans and Saffron Rice Easy Weeknight Meals Recipe SwapBacon, Spinach and Goat Cheese Pasta; Green Chile Cheeseburgers; Crabmeat Primavera Pasta; Whole Wheat Spaghetti with Kalamata Olives & Capers; Spicy Asian Turkey Lettuce Wraps; Balsamic Glazed Chicken (or "Sticky Chicken"); Bubble and Squeak; Pierogi and Kielbasa Bake; Beef Au Jus Sandwiches; Chicken Tortilla Soup; Roasted Vegetables with Lentils and Crispy Chickpeas; Acapulco Delight; Spaghetti al Limone with Shrimp; Chicken Bruschetta; Tuna Casserole.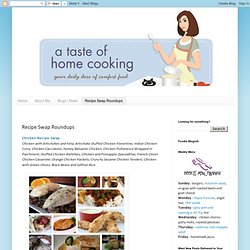 Tastorama.
---