Cooking Blogs
Live Laugh Eat — Live Every Moment. Laugh Every Day. Eat Good Food.
Hi there. How's 2014 treating you so far? I wrote part of this post a few weeks ago and then…I started a new full time job and my life has been crazy! Like, I wake up at 5 am every morning (!!). I hope to be back to tell you more about all of that…soon.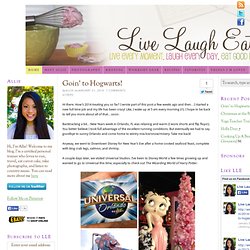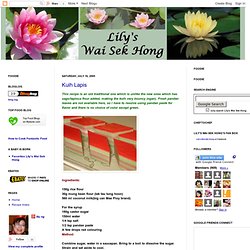 Kuih Lapis
This recipe is an old traditional one which is unlike the new ones which has sago/tapioca flour added, making the kuih very bouncy (ngan). Fresh pandan leaves are not available here, so i have to resolve using pandan paste for flavor and there is no choice of color except green. Ingredients: 150g rice flour 30g mung bean flour (lek tau tung hoon) 560 ml coconut milk(big can Mae Ploy brand)
aartipaarti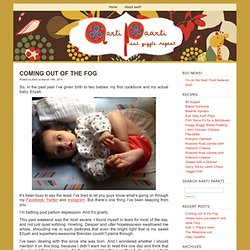 Now that I've got that classic stuck in your head, let's talk about salt and pepper shall we? These two just might be the most basic, most rudimentary, most overlooked spices in my pantry, and yet they are to me the most fundamental. Especially salt.
Ranji's Kitchen Corner
Slowly cooked dishes are really worth waiting for. Chicken tikka masala which is one of our favourites tastes heavenly when slowly cooked. They are so juicy, tender and all the flavours have blended in. The meat is melt in your mouth delicious. One of the best things i ever cooked.You have just got to try it.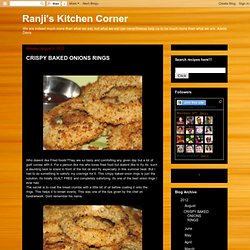 Sinner's Food Gallery
This fascinating pork on a stick recipe is American cuisine in a nutshell. City cooks, who couldn't get chicken, would take scraps from much-cheaper-at-the-time pork, and build something similar to what you see here; but that's not what makes this delicious mock drumstick so American. Why this represents the true spirit of American food, is that long after chicken became cheap and plentiful, people kept making and eating this anyway. Yes, in cities across the Rust Belt, people decided that the only thing better than one kind of fried chicken leg, was two kinds of fried chicken leg.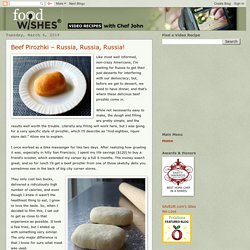 Farmersgirl Kitchen
The light fresh flavours of the recipes in My Vietnamese Kitchen by Uyen Luu seem very appealing now that the festive season is over. The Author Uyen Luu hosts a Vietnamese supper club in her East London apartment where she cooks dishes she learned from her mother, she also holds Vietnamese cookery classes and teaches people from all over Europe. Visit Uyen's blog and find out more about her interests, including photography and film making. The Photographer Clare Winfield specialises in photographing food, her work has appeared in magazines and cookery books. Introduction The book has a foreword by Raymond Blanc who met Uyen durng the filming of his television series, How to Cook Well.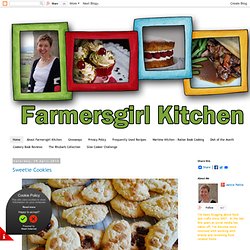 Chilled Mango Cheesecake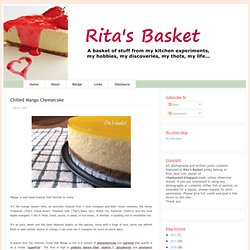 It's the mango season here, an aromatic tropical fruit. I love mangoes and their many varieties, the honey Chokanan (Thai's Chauk-Anan), Elephant tusk (Thai's Nuen Jan), Water lily, Alphonso ('s) and the local Apple mangoes. I like it fresh, dried, juiced, in salad, in ice-cream, in sherbet, in pudding and in smoothies too. It's so juicy, sweet and the taste depends largely on the species, some with a tinge of sour, some has whitish flesh or pale yellow, yellow or orangy. I can even eat 2 mangoes for lunch on some days.
Recipe Swap Roundups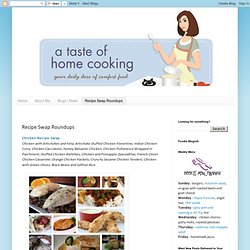 Chicken Recipe SwapChicken with Artichokes and Feta; Artichoke Stuffed Chicken Florentine; Indian Chicken Curry; Chicken Cacciatore; Honey-Balsamic Chicken; Chicken Puttanesca Wrapped in Parchment; Stuffed Chicken Rollettes; Chicken and Pineapple Quesadillas; French Onion Chicken Casserole; Orange Chicken Packets; Crunchy Sesame Chicken Tenders; Chicken with Green Olives, Black Beans and Saffron Rice Easy Weeknight Meals Recipe SwapBacon, Spinach and Goat Cheese Pasta; Green Chile Cheeseburgers; Crabmeat Primavera Pasta; Whole Wheat Spaghetti with Kalamata Olives & Capers; Spicy Asian Turkey Lettuce Wraps; Balsamic Glazed Chicken (or "Sticky Chicken"); Bubble and Squeak; Pierogi and Kielbasa Bake; Beef Au Jus Sandwiches; Chicken Tortilla Soup; Roasted Vegetables with Lentils and Crispy Chickpeas; Acapulco Delight; Spaghetti al Limone with Shrimp; Chicken Bruschetta; Tuna Casserole
Tastorama