Cooking and house keeping
Well this pearl is in short, web pages that have something to do with cooking and house keeping (though, mostly cooking) I hope you like it, I liked it :)
Kitchen Helpers. I found these helpful charts last week and just had to share!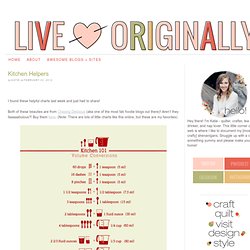 Both of these beauties are from Chasing Delicious (aka one of the most fab foodie blogs out there)! Aren't they faaaaabulous?! Buy them here. (Note: There are lots of little charts like this online, but these are my favorites). Explore Cornell - Home Gardening - Introduction - StumbleUpon.
Salty. Sweet. Cocktails. Innovative Modern Baby Products and Stylish Toddler Gear - Boon Inc.
---