Why curate
Curation And The Human Web... Posted by Tom Foremski - November 16, 2010 There is no doubt in my mind that the topic of curation and the Internet, is an important one and that it will be a dominant topic in 2011.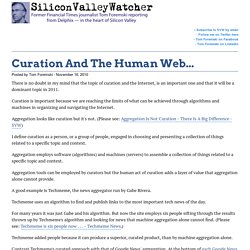 Curation is important because we are reaching the limits of what can be achieved through algorithms and machines in organizing and navigating the Internet. But What About the Content? Curation, Aggregation, and Creation. Perhaps the biggest pain point for many organizations isn't getting their video online, but rather getting their video created in the first place.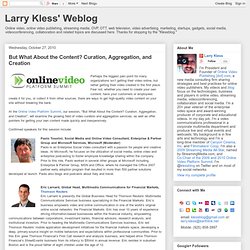 Fear not; whether you need to create your own content, have your customers or employees create it for you, or collect it from other sources, there are ways to get high-quality video content on your site without breaking the bank. At the Online Video Platform Summit, our session, "But What About the Content? Curation, Aggregation, and Creation", will examine the growing field of video curation and aggregation services, as well as offer pointers for getting your own content made quickly and inexpensively. Confirmed speakers for this session include: Paolo Tosolini, Social Media and Online Video Consultant, Enterprise & Partner Group and Microsoft Services, Microsoft (Moderator) Paolo is an Enterprise Social Video consultant with a passion for people and creative ideas. Why Curation Is Important to the Future of Journalism | Mfarhanonline.
News curation: finally, social media's killer app? FORTUNE -- Even the most casual social network user will admit that the Facebook or Twitter experience can be overwhelming -- that merciless stream of status updates and shared content, which sometimes feels less like a stream and more like a deluge, waits for no man, woman, or Web crawler.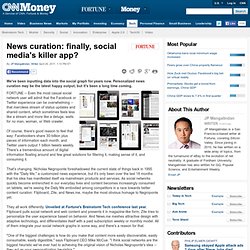 Of course, there's good reason to feel that way: Facebookers share 30-billion plus pieces of information each month, and Twitter users output 1 billion tweets weekly. There's a tremendous amount of digital information floating around and few great solutions for filtering it, making sense of it, and consuming it. That's changing. Nicholas Negroponte foreshadowed the current state of things back in 1995 with the "Daily Me," a customized news experience, but it's only been over the last 18 months that his idea has manifested itself via mainstream products and services.
Curation - The Third Web Frontier. Posted by Guest Writer - January 8, 2011 Here is a guest article by Partice Lamothe - CEO of Pearltrees (Pearltrees is a consulting client of SVW.)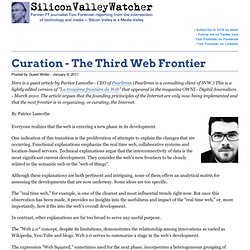 This is a lightly edited version of "La troisième frontière du Web" that appeared in the magazine OWNI - Digital Journalism - March 2010. The article argues that the founding pricinciples of the Internet are only now being implemented and that the next frontier is in organizing, or curating, the Internet. Content Curation versus Content Creation | Uptown Treehouse Blog. As many of us know, in the social media marketing game content is king!
Without anything to Tweet about or post about on Facebook our communities would fall by the wayside and our customers would stop listening to us. For most brands, the first question that must be answered before starting a social media strategy is "Where do we find good content to post about?" Content Strategy: How and Why to Curate Content. Most of us understand the value of sharing information.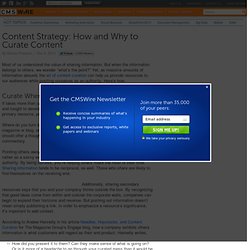 But when the information belongs to others, we wonder "what's the point?" Yet, as massive amounts of information abound, the art of content curation can help us provide resources to our audiences while positing ourselves as an authority. Here's how. Curate When You Can't Create. The Content Strategist as Digital Curator. The term "curate" is the interactive world's new buzzword.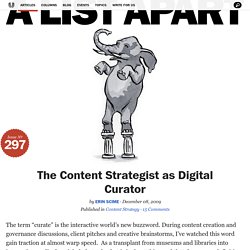 During content creation and governance discussions, client pitches and creative brainstorms, I've watched this word gain traction at almost warp speed. As a transplant from museums and libraries into interactive media, I can't help but ask what is it about this word that deserves redefinition for the web? Curation has a distinguished history in cultural institutions. Why Impresarios (Not Algorithms) Will Rule Web Video. According to a number of predictors, and my friends, 2011 is going to be the year of curated video.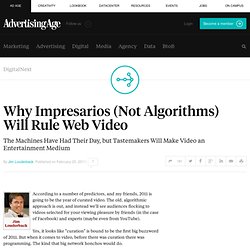 The old, algorithmic approach is out, and instead we'll see audiences flocking to videos selected for your viewing pleasure by friends (in the case of Facebook) and experts (maybe even from YouTube). Yes, it looks like "curation" is bound to be the first big buzzword of 2011. But when it comes to video, before there was curation there was programming. Content Strategy: The Philosophy of Data. Not that familiar with "content strategy?"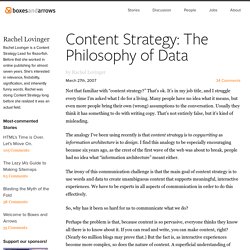 That's ok. It's in my job title, and I struggle every time I'm asked what I do for a living. Many people have no idea what it means, but even more people bring their own (wrong) assumptions to the conversation. Why Social Media Curation Matters - Technorati Blogging. Over the past few weeks I've raved about the current raft of social media curation start-ups.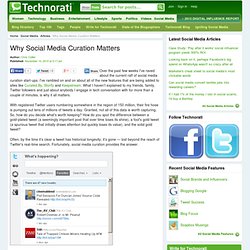 I've rambled on and on about all of the new features that are being added to sites like Curated.By, Storify and Keepstream. What I haven't explained to my friends, family, Twitter followers and just about anybody I engage in tech conversation with for more than a couple of minutes, is why it all matters. With registered Twitter users numbering somewhere in the region of 150 million, their fire hose is pumping out tens of millions of tweets a day.
Granted, not all of this data is worth capturing. Curating the Best of the Web: Video.
---