UBUNTU
Reconstructor: Creating Your Own Ubuntu Distribution. Reconstructor is an Ubuntu GNU/Linux CD Creator that allows you to modify an existing Ubuntu distribution and save as your own Linux distribution.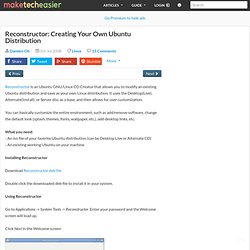 It uses the Desktop(Live), Alternate(Install), or Server disc as a base, and then allows for user customization. You can basically customize the entire environment, such as add/remove software, change the default look (splash, themes, fonts, wallpaper, etc.), add desktop links, etc. Funny And Interesting Linux Commands - Part II - MyLinuxBook. In part-I of this article series, we covered many interesting and funny Linux command line utilities.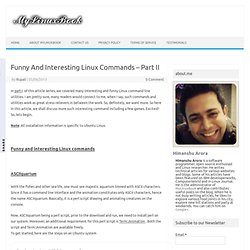 I am pretty sure, many readers would connect to me, when I say, such commands and utilities work as great stress relievers in between the work. So, definitely, we want more. So here in this article, we shall discuss more such interesting command including a few games. Excited? The funny side of Linux command line - MyLinuxBook. Have you ever seen a train running on Linux command line?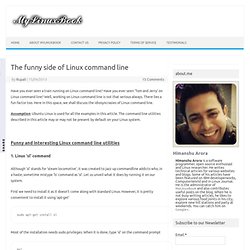 Have you ever seen 'Tom and Jerry' on Linux command line? Well, working on Linux command line is not that serious always. What is UPR? Albert Cardona - Tips from an Ubuntu user. Home | lab | find me | science | publications | software | toolbox | site map Centered mostly around Ubuntu, dwm and gnome, which is what I use, and also a few applications such as Blender.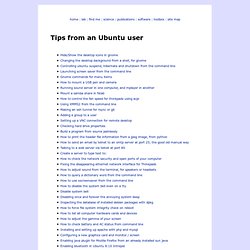 Hide/Show the desktop icons in gnome. 30 Things I did After Installing Ubuntu 13.04 Raring Ringtail. And here we go again.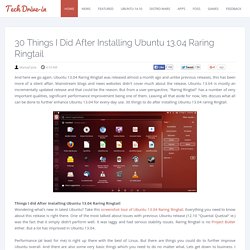 Ubuntu 13.04 Raring Ringtail was released almost a month ago and unlike previous releases, this has been more of a silent affair. Mainstream blogs and news websites didn't cover much about the release. How to install GNOME 3.8 on Ubuntu. If you want to try Ubuntu 13.04, but prefer a different desktop than Unity, Jack Wallen shows you how you can install the latest iteration of GNOME Shell (3.8) and why you should give it a try.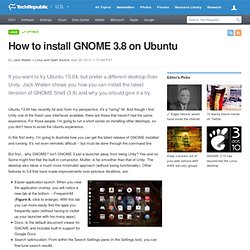 Ubuntu 13.04 has recently hit and, from my perspective, it's a "raring" hit. And though I find Unity one of the finest user interfaces available, there are those that haven't had the same experience. For those people, I'm going to run a short series on installing other desktops, so you don't have to avoid the Ubuntu experience. In this first entry, I'm going to illustrate how you can get the latest release of GNOME installed and running. Fuduntu: An Innovative Old Linux Revisited. By Jack M.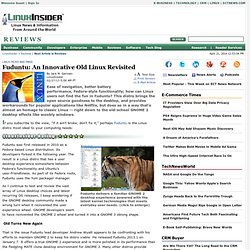 GermainLinuxInsider 02/27/13 5:00 AM PT Ease of navigation, better battery performance, Fedora-style functionality; how can Linux users not find the fun in Fuduntu? How to change your privacy settings in Ubuntu's Unity Dash. Jack Wallen shows you how to protect your privacy by changing a setting in Ubuntu Unity's search dash.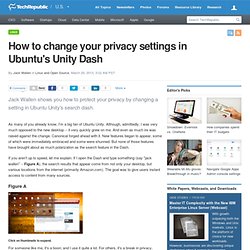 As many of you already know, I'm a big fan of Ubuntu Unity. Although, admittedly, I was very much opposed to the new desktop -- it very quickly grew on me. How To Roll Your Own 13.04 Ubuntu Gnome Remix. Well now that news is out in the wild that Ubuntu Gnome 13.04 is now an official Ubuntu derivative, you're probably wanting to test it out.
Problem is, there is no ISO for it. That makes it pretty hard to try it out… We were expecting to find an ISO ourselves after the news broke and came up short, and because of that, we decided to simply 'roll our own'. Cleaning up a Ubuntu GNU/Linux system  If you're new here, you may want to subscribe to my RSS feed and if you have questions related to your ubuntu system post question to our forums.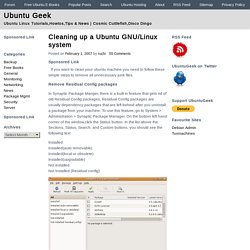 Thanks for visiting! Sponsored Link If you want to clean your ubuntu machine you need to follow these simple steps to remove all unnecessary junk files. Ubuntu's New Display Server 'Mir' Gets Demoed [Video] A day after its reveal the first video demos of Mir in action have been shown off by one of its developers, Thomas Voß. In the first Voß demonstrates Mir runnong on Ubuntu Touch, replacing the 'SurfaceFlinger' compositor currently used. It's described as a 'preview', and is running solely on GLES: Ubuntu Cleanup: How to Remove All Unused Linux Kernel Headers, Images and Modules | Ubuntu Genius's Blog.
January 8, 2011 by Ubuntu Genius Unless you have a totally fresh install of Ubuntu, you have probably noticed that each time you boot up, the GRUB boot menu lists a bunch of previous Linux kernels which you can boot into. While this can occasionally come in handy – like if you can't boot into the new kernel after an upgrade – those previous kernels, images and modules are usually just wasting space. While you can go into Synaptic, search for all the bits and pieces of previous kernels, and mark them for removal, here is a much easier method. In a terminal, simply paste the following command, and it will remove all but the current kernel (if you've upgraded your system, or had an update with a new kernel, please reboot your machine before running this):
---