Graphic design
GIMP. Artweaver. 9 Websites To Manipulate And Have Fun With Your Photos | Free and Useful... Don't Forget to participate in a contest where you can win an amazing e-Commerce template from TemplateMonster.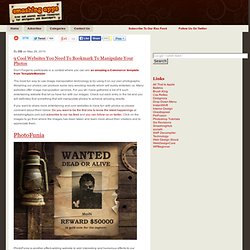 The most fun way to use image manipulation technology is by using it on our own photographs. Morphing our photos can produce some very amusing results which will surely entertain us. Many websites offer image manipulation services. For you all I have gathered a list of 9 such entertaining website that let us have fun with our images. Check out each entry in the list and you will definitely find something that will manipulate photos to achieve amusing results. Aviary. 10 High-Quality Free Tree Bark Textures. In this set, you'll find 10 high-resolution and large-scale tree bark texture stock images.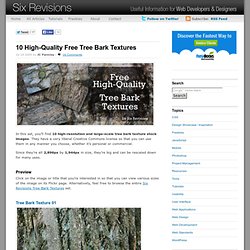 They have a very liberal Creative Commons license so that you can use them in any manner you choose, whether it's personal or commercial. Since they're all 2,896px by 1,944px in size, they're big and can be rescaled down for many uses. Preview Click on the image or title that you're interested in so that you can view various sizes of the image on its Flickr page. Free High Resolution Wood Textures. In this texture pack, you will find 7 large-scale, high resolution (1448 x 972 pixels) textures that are available to you for free for any personal or commercial purpose, distributed under the GNU General Public License.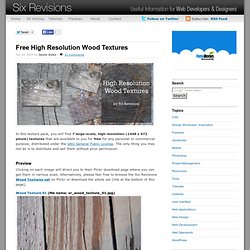 The only thing you may not do is to distribute and sell them without prior permission. Preview Clicking on each image will direct you to their Flickr download page where you can get them in various sizes. Alternatively, please feel free to browse the Six Revisions Wood Textures set on Flickr or download the whole set (link at the bottom of this page). Wood Texture 01 (file name: sr_wood_texture_01.jpg) 45 Totally Awesome Tutorials And Techniques To Become A Master Of... Don't Forget to participate in a contest where you can win an amazing e-Commerce template from TemplateMonster.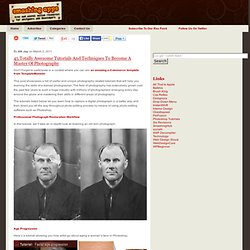 This post showcases a list of useful and unique photography related tutorials that will help you learning the skills of a trained photographer. The field of photography has extensively grown over the past few years to such a huge industry with millions of photographers emerging every day around the globe and mastering their skills in different areas of photography. The tutorials listed below let you learn how to capture a digital photograph in a better way and then direct you all the way throughout photo-editing process by means of using photo-editing software such as Photoshop. Professional Photograph Restoration Workflow.
Tutorials
Katharina & Paul Wilkins' Home Page. By: Paul Wilkins pwilkins at lashwhip dot com Pixelize is a program I wrote that will use many scaled down images to try to duplicate, as closely as possible, another image.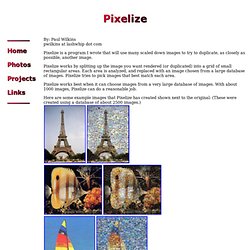 Pixelize works by splitting up the image you want rendered (or duplicated) into a grid of small rectangular areas. Each area is analyzed, and replaced with an image chosen from a large database of images. Pixelize tries to pick images that best match each area. Adobe Photoshop Lightroom 3. Select your language and operating system Thank you for your interest in evaluating Adobe® Photoshop® Lightroom 5 software.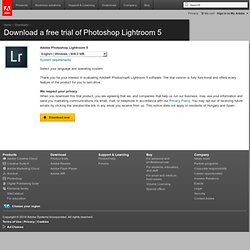 The trial version is fully functional and offers every feature of the product for you to test-drive. We respect your privacyWhen you download this trial product, you are agreeing that we, and companies that help us run our business, may use your information and send you marketing communications via email, mail, or telephone in accordance with our Privacy Policy. You may opt-out of receiving future emails by clicking the unsubscribe link in any email you receive from us. This notice does not apply to residents of Hungary and Spain.
---