Programing
Programming. Software Development. Mega Collection Of Cheatsheets for Designers And Developers. Cheatsheets and various quick reference guides are available for almost any type of software and language these days.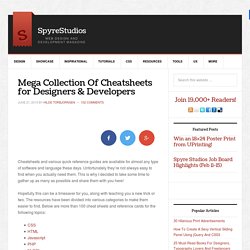 Unfortunately they're not always easy to find when you actually need them. This is why I decided to take some time to gather up as many as possible and share them with you here! Hopefully this can be a timesaver for you, along with teaching you a new trick or two. Programming. Learn to Program using Python: Lesson 1, Getting Started — Devel.
Preface Prerequisites Why Use Python Let's Write a Program Where Do We Go From Here?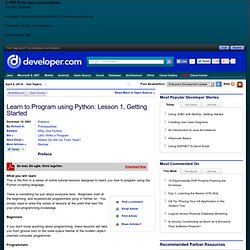 Review Preface What you will learn This is the first in a series of online tutorial lessons designed to teach you how to program using the Python scripting language. Codepad ( Online > compiler for C/C++/Python/... Free Programming Tools: Editors, Debuggers, Disassemblers, Help. Free Programming Tools / Resources You can find tools, resources and utilities for a wide variety of programming tasks below.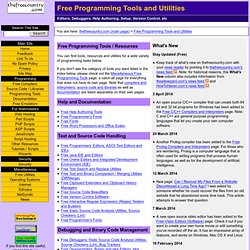 If you don't see the category of tools you want listed in the index below, please check out the Miscellaneous Free Programming Tools page, a catch-all page for everything that does not have its own page. Note that compilers and interpreters, source code and libraries as well as documentation are listed separately on their own pages. Help and Documentation. Using Symlinks in Windows for Fun and Profit. You may have heard of symlinks, or symbolic links, before, but weren't quite sure what they're good for.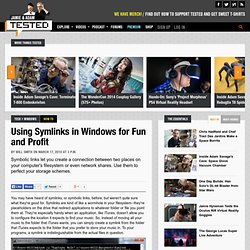 Symlinks are kind of like a wormhole in your filesystem--they're placeholders on the drive that redirect applications to whatever folder or file you point them at. They're especially handy when an application, like iTunes, doesn't allow you to configure the location it expects to find your music. So, instead of moving all your music to the folder that iTunes wants, you can simply create a symlink from the folder that iTunes expects to the folder that you prefer to store your music in.
To your programs, a symlink is indistinguishable from the actual files in question.
---